All the world is a road for man on a mission
10:00 UTC+8, 2017-10-03
0
A 26-year-old Indian man has been attempting to cycle the world alone to spread the message of peace and friendship as envisaged by Mahatma Gandhi.
10:00 UTC+8, 2017-10-03
0
Wang Rongjiang / SHINE
Wang Rongjiang / SHINE
Dnyaneshwar Yeotkar is a man on a mission. The 26-year-old from the western Indian state of Maharashtra has been attempting to cycle the world alone to spread the message of peace and friendship as envisaged by Mahatma Gandhi.
That Gandhi is his ideal does not come as a surprise as his hometown, Wardha, was in the forefront of the Indian freedom movement and remains a bastion of Gandhian values of nonviolence and civil disobedience. It was inevitable that some of those ideals stuck with him like words to a page.
In 2008, at the age of 16, Yeotkar walked across India without a dime in his pocket. He was roughed up and left for dead on the banks of a river on the assumption that he was a thief, taken as a beggar elsewhere and lived among the rat-eating tribal community in north India. For a devout vegetarian, that was a shocker but he survived by eating leaves.
He returned home in 2010, much wizened, and completed his studies. Not surprisingly, he ventured into social service — virtually a non-paying job. His NGO, Maitri Sadhana, roughly translated into "friendship, dedication," involved 15 college students as volunteers. The two characters are Sanskrit words that also reflect his spiritual bent of mind. It was during this period of activism that he realized that the helpless and the children needed the real friendship of the community. He saw his work more as a duty and responsibility rather than charity.
A chance reading of a book, "No Destination: Autobiography of a Pilgrim," gave a new purpose in his life. The book details the travelogue of two Indians who walked nearly 13,000km across the world at the height of Cold War in the 1970s.
With only his ideals for support, and a letter from the Indian Foreign Minister Sushma Swaraj asking Indian missions abroad to offer him all assistance, he set off on his cycle last November. He labeled his trip "Vishwa Maitri Yatra," or "World Peace & Friendship Trip." By the time he reached Shanghai last week, he had traversed through China's Taiwan, Myanmar, Vietnam, Laos, Cambodia, Thailand, Singapore and Indonesia.
He says it isn't the tourist spots that interest him but people. And he meets them everywhere — on the roads, in the hospitals, in schools and universities and temples.
Wang Rongjiang / SHINE
Wang Rongjiang / SHINE
There were also instances when he encountered tigers (northeast India) and woke up in a tent to find himself sleeping next to snakes (Laos). He had to deal with bureaucratic hurdles at some places but his faith in humanity wavered little. He relied heavily on little mercies from the local people while making lifelong friendship with others.
In Yangon, Myanmar, after officials denied him permission to spend a day with the elderly at the home for the aged, he persisted for three days until they relented. "We sang and played musical-chairs," says Yeotkar. "Some of the old women were like kids, raising hands and demanding they be given the chance to sing.
"They were all happy. And it was satisfying for me too.
"These people must have a lot of things buried inside them. When I interacted with them, they exploded with joy…"
In Taiwan, he encountered typhoon for the first time in his life. It was afternoon and he had just left a village. As strong winds hit the region, he tied himself — and his bike — to a tree and stayed that way for two full days, all the while looking up to see if the tree would hold on against the winds and rain. It did, and by the time it had subsided he was famished.
In southern Thailand he was bitten by dogs. He sought help for seven days until an English teacher in a local college took him to hospital. If that was not enough, she looked after him for 12 days until he was fit enough to move on.
"I stayed with the teacher and her family for 12 days. She even cooked vegetarian Indian food by watching YouTube," he says.
Really, people simply don't cease to amaze.
As he heads to Beijing with stops in Wuxi, Nanjing and a few other places, we can only wish him well as he rides further into the unknown.
Ti Gong
Q: How did you plan your route before you started on your world trip?
A: I never asked anybody about the cycling route around the world. I spent three years planning everything. On the road, three or four times along the way I changed my plans because I had to decide which route was best for me.

I mostly prefer countryside where I can meet local people and maybe stay with them. Small routes are best because I can see nature and I can connect to the local people. In cities it is difficult because there are lots of traffic and crowd.
Q: Have you kept a diary or a blog of your daily experience? How do you share this experience with others?
A: I have a Facebook page (vishwamaitritour). When I have the Internet, I post what I have done, what my experience was, what I am thinking or the problems I am facing and how many people I have met. I also have a website (www.vishwamaitri.com) about my journey on why I am doing this cycling tour. Vishwa means world and maitri means friendship. Both are Sanskrit words. It gives a spiritual meaning to my journey.

On my Facebook page, I have 300 followers with the page. When I don't have the money for the next destination, they help me with contributions. In Indonesia, my camera, my diary … everything was stolen. It was a difficult time. But I will continue writing my diaries wherever I go. It's a good way to understand myself. I am thinking of publishing a book after my journey for young people.
Ti Gong
Q: What's your favorite quote of Mahatma Gandhi and your understanding about it?
A: In Mahatma Gandhi's biography, there are many inspiring stories. But quotes standout:

"Best to lose yourself in the service of others" and "Be the change that you wish to see in the world."
When I read Gandhi, I could feel he was a normal person like me and born in a normal family. He made many mistakes in life, but he tried to do good things. That part of him inspired me. On the other hand, he was a great personality in the world. He would say "don't believe in me, because I am changing every time." I keep this in my mind. On my journey, I change myself and improve myself all the time. Sometimes I am wrong, sometimes I am good.
Gandhi's philosophy covers the whole of us. I want to follow his ideas to change myself and do new things. I don't mean to change others or the world. Through the journey, I am practicing his words so that I understand patience, understand gratitude, and understand surrender. I want to find myself the best way to serve others.
Q: How do you deal with the uncertainty on the road? Was there any moment when you regretted, or despaired or feared?
A: One of Gandhi's followers, Vinobha Bhave, traveled around India to collect donations for land for poor people. When you go anywhere to do good things, you don't think about yourself. You don't feel scared or fear anything because you do good things to people. All the people who are related to you are your friends. You feel like you are with your families. There are people who may treat you badly, but you don't think of that or don't care.

Besides, on the road you will have many problems, every second there is a possibility that you may get killed. But once you start the journey, you don't think about these things. I am out of India for almost a year. I have never thought about these things. If I did, I would never be able to do anything.
My whole journey depends on the goodness of people, the nature and all the creatures on the way.
When I have a problem, I try to find out a solution. It's all about action. Other things don't matter.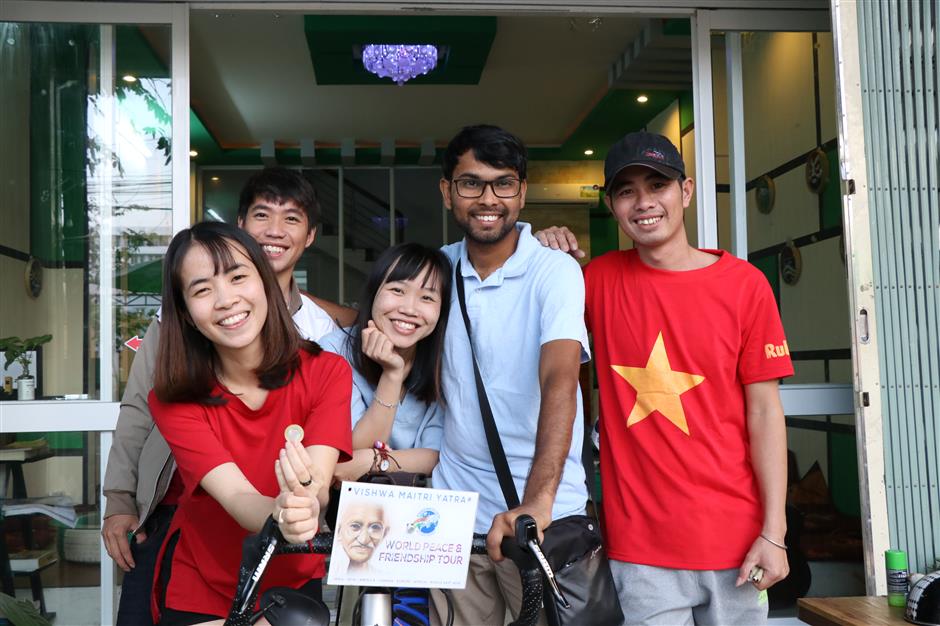 Ti Gong
Source: SHINE Editor: Liu Qi Special Reports