Simple white rose says it all at Grammys
10:00 UTC+8, 2018-02-03
0
The fashion accessory of the Grammy Awards is simple – a single white rose, either pinned or conveniently left with a long stem for red carpet vamping.
10:00 UTC+8, 2018-02-03
0
AFP
The fashion accessory of the Grammy Awards is simple — a single white rose, either pinned or conveniently left with a long stem for red carpet vamping.
The message, of course, is a serious one as the music industry looked to follow up the anti-sexual misconduct show of black looks at the Golden Globes. This time, stars were called on to grab a white rose in solidarity. Many did, both men and women, with some also wearing the Time's Up pins that popped up at the Globes to support the new coalition of the same name in defense of women.
Erin Cunningham, fashion news director at Refinery29.com, wasn't sold on the white roses, going forward at least.
"It seemed kind of last-minute. As these awards show continue, organizations are going to have to figure out a way beyond just carrying or holding something on the red carpet to take the movement forward. I think the first time, seeing everyone in black at the Golden Globes, really made a statement, but we need to evolve past just wearing something on the red carpet."
Tiffany Reid, senior fashion editor at Cosmopolitan, said ignoring such red carpet moments is precarious.
Overall, the usual wacky carpet at the Grammys was more subdued than in years past. There was plenty of black, both traditional tuxedos and dresses and more edgy outfits.
But there was also lots of color: Sir Elton John and his Gucci sequin and crystal embellished jacket in blue, gold and silver and his yellow acetate sunglasses and "Elton John" rings. He was equally bedazzled as he performed "Tiny Dancer" with Miley Cyrus during the show.
Lady Gaga, Katie Holmes and Kelly Clarkson were among those who decided on black for the red carpet, including Cyrus in a nicely done pantsuit by Jean Paul Gaultier. She changed into a red tulle gown by Zac Posen to perform.
"She's been on kind of a hiatus on the red carpet and seeing her in something that's really classic and toned down, I think she looked really beautiful," Cunningham said of her black outfit.
Others who walked the carpet focused more on structure.
"Ladies also chose to wear statement-making, voluminous, almost architectural designs. Cardi B, for example, wore a dress that looked almost as if it had angel wings, while Ashanti's gold skirt billowed out in a fun lampshade silhouette," said fashion editor Rachel Torgerson.
Suiting was clearly an inspiration for women at the Grammys. Andra Day did it beautifully in bright pink for a long dress with red trim, tuxedo lapels and pocket details. Eve wore a sophisticated crystal-encrusted striped suit by Naeem Khan, the jacket worn without a top underneath.
Torgerson praised other such touches. "Anna Kendrick went with a high-waisted plaid pantsuit, while Kesha's navy blue ensemble had country vibes," she said.
Plenty of men went for classic black tuxes, but not all. Zayn Malik chose a pink suit with notch lapels from Richard James. Sam Smith was in vibrant green and DJ Khaled in deep red velvet, accompanied by his year-old son Asahd in a little matching look.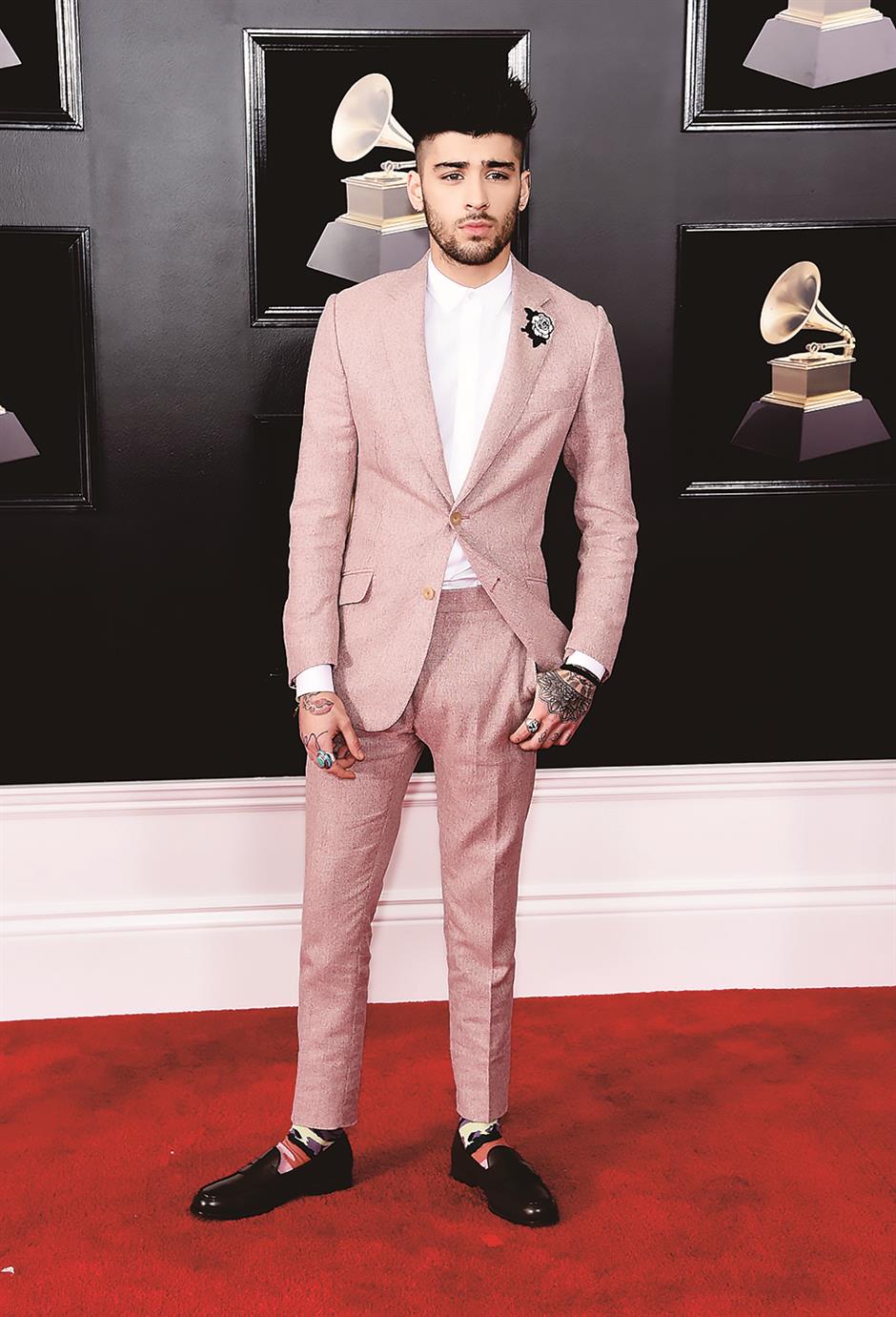 AFP
Overall, few stars went out of the box as in previous years.

"It seems that people really played it safe and I'm not sure why that is," Cunningham said. "It would have been nice to see more of those JLo in Versace moments."
Speaking of Gaga, her lace cat suit with a full statement skirt was by Armani Prive. Her long platinum hair was swept back in a fishtail braid. The look earned her high praise all around on a carpet that wasn't quite as star-studded as usual.
Another name on top of best-dressed lists: Lana Del Rey in a custom Gucci ivory double silk crepe gown with crystal star embroidery, a soft draped V-neck and a long crystal rope necklace. She completed the look with a headpiece made of silver and crystal stars and metallic high heel platform shoes.
"In terms of just a beautiful dress, it stood out," Cunningham said.
AFP
Reid praised Hailee Steinfeld's strapless white body hugger with a center slit at the front. She paired it with high purple boots that had a metallic sheen.
"I loved that she was very minimal with her look. I would have gone without the boots but I still loved the dress on her and the beauty was great. The hair was sleek, pulled back. It was very minimal," she said.
She lauded the pregnant Chrissy Teigen in a full-on silver sequin dress by Yanina Couture. It was belted above the waist, had sleeves with slits at the forearms that fell below the wrists and included a center slit. "I think she's taking maternity style to the next level," Reid said. "At certain angles you couldn't even tell that she's pregnant."
But Gaga was her best dressed.
"She gave me a Khaleesi 'Game of Thrones' vibe," Reid said.
The black was a definite carry-over from the Golden Globes, but also an expression that some designers are showing more black on runways, she said. "The world is definitely not what it used to be," Reid said. "We're not as happy as we all were, but it's been a very dark season in couture."
Cunningham was among those in the Gaga camp. "I liked it," she said. "I don't think it was anything crazy or unexpected but I appreciate that she figured out how to make a statement without wearing meat."
Source: AP Editor: Fu Rong Special Reports