Mexican girl Lucero discovered her roots in Shanghai
18:11 UTC+8, 2018-04-08
0
Mexican Lucero came to China because of her mother's roots, but now she's found her love and career here: China has completely changed her life.
18:11 UTC+8, 2018-04-08
0
Holin's words:
As the Chinese saying goes, a girl who loves smiling won't have a bad luck. I don't know whether it's true, but someone who loves smiling is indeed always welcome for most people.
Lucero is such an adorable girl. During our two hour interview, a warm smile was always shining on her face, just like the sunshine of that enjoyable afternoon.
Lucero is brave and independent, while keeping a deep attachment to her family. Although she's been away from home in Mexico for 10 years, Lucero is still a home girl in her heart. She said if she had a baby, she hoped her family could be with her during that important time.
To some extent, Lucero's coming to China was to find her mother's Chinese roots, and to know and understand the Chinese culture that's in her blood. She's done it.
Now I will not ask Lucero questions like, "Where will you be in ten years?" I supposed I already know the answer – she will be back with her family in Mexico living a happy life.
But one thing is for sure, just like she said, she will always have that connection with China.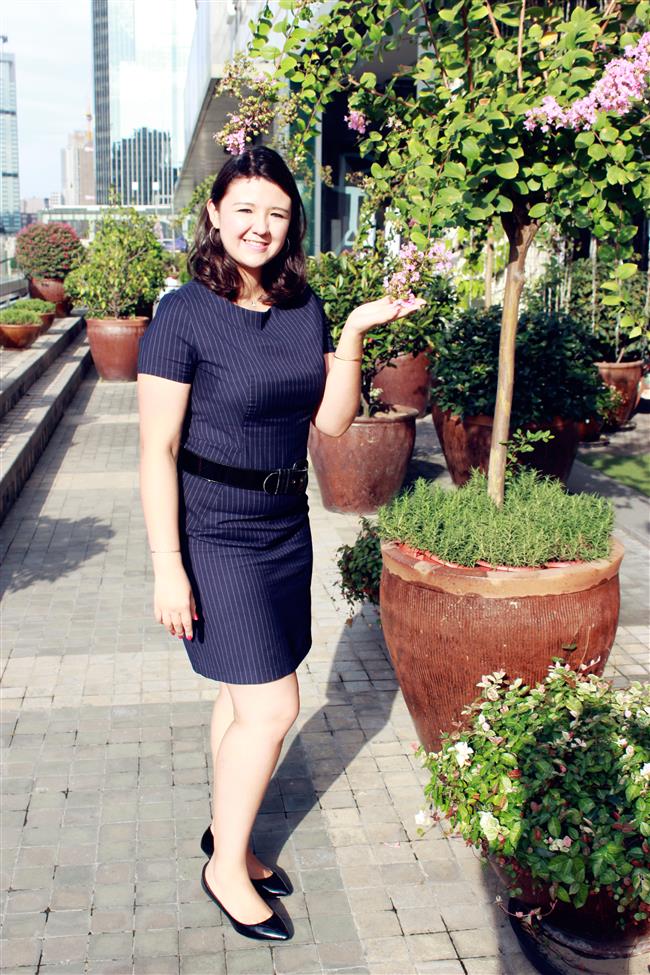 Holin Wang / SHINE
Name: Lucero Garza Lam
Nationality: Mexican
Job: Contract Manager
Years in Shanghai: 10


Holin: It has been a decade. Do you still remember the reason you came to Shanghai and why you picked Shanghai to live for such a long time?
Lucero: Yes, sure. My very early time here was in 2005. That time I was studying Chinese in Mexico. I came with my classmates for a small tour. We stopped by different cities and then we maybe stayed altogether for two weeks.
I would say Shanghai was a very modern city at that time. Shanghai's infrastructure was developed at that time, comparing to Beijing and Guangzhou. It was amazing! It was completely different. It was so impressive as the city was organized. You know the part of Pudong area, there are many building over there.
Now, after 10 years, I see the improvements and developments. It is been like so fast and so amazing!
Staying in Shanghai is my dream. I wanted to come and experience Chinese culture. As you know, Shanghai is a financial center. My major is related to international trade and economy, so Shanghai is a perfect place for me to understand and experience.
Holin: Could we say that this special tour has changed you?
Lucero: Actually, it changed my life completely! Every single day when I was in Mexico, I just kept thinking about my goal to make it happen, and the way I did was to apply for the scholarship to do my Master in Shanghai. So I didn't stop, I just followed my dream.
I can say that I am so proud and I am here with you guys. You know my happiness. It is one of my best choices and decisions I have made in my life. Shanghai changed my life. China changed my life completely.
Holin: And I remember that you told me your mother is Chinese, right?
Lucero: My family is mixed. My mother is also a mix of Chinese and Mexican, so it's been like many generations. I am always very curious. I was born in Mexico, and living there in the influence of Chinese culture.
It was always this curiosity to push me to really understand how things are in China, how are the Chinese people.
Holin: So I guess when you really came here, there must have been no cultural shock for you?
Lucero: Actually no, I was fine with everything. I love Chinese food. I feel like home.
Holin: Would you please tell me more about the history of your mother's nationality?
Lucero: It is a long story. My great-grandparents, they met in Mexico. My grandmother was Mexican, and my grandfather was Chinese. They got married in Mexico. Before the cultural revolution, they came to China to see the relatives. Unfortunately, they couldn't leave the country, and then they had to stay in China. Thus, my grandmother's four children were born in Mexico, while my mother and one of my aunts were born in China. So, eventually they spent like more than 20 years over here.
My mom was born here, she lived the way with the Chinese culture. My family was originally from Guangzhou, so she can speak fluent Cantonese. My mom always told me the story about how they lived here. Since that time, I was wondering how China was right now. It would be a good opportunity to see how China develops...
Holin: Try to recall the moment when you told you mother you wanted to go back China?
Lucero: She was happy, because she felt that I was connected with her. She always supports me and encourages me. And I think I can understand more about her roots now.
Holin: What about your father?
Lucero: My father was concerned and worried about me because he didn't have the opportunity to come to China that time.
I applied for the scholarship to study my master degree here when I finished my college in Mexico. After I finished my study, I got a job in Shanghai. I am currently working in a company that mainly does building materials. I am a contract manager for purchasing department. I have already stayed in this company for almost six years. It is my very first job after I finished my study.
Holin: It sounds you are a stable person. Let's have a prediction. Will you still be here in ten years?
Lucero: I thought about it. I would like to stay in China... I don't know. I have to say I found my love partner in China and also my professional career, and I grew up.
But if you have family like children, it is a little bit hard to raise them over here because you are alone… I mean your family are not with you. So I am not sure. It depends when the time comes, but I will always connect to China.
Holin: By the way, do you have children now?
Lucero: I don't have a child yet. I have been married for two years, and we are planning to have a baby, maybe next year. But we see that having a kid in Shanghai it is not so hard, but...
I hope my family could be with me in that important moment of my life. But every time when I called them to come to Shanghai and stay here… they have a life over there.
Holin: Let's go back to 2005. Could you recall the very first moment you came to Shanghai?
Lucero: I remember at that time we took some free time and we did some shopping, and we got lost. We found a very nice Chinese girl, and at that time, my Chinese was not very good. The people I traveled with couldn't speak a single word in Chinese. So she was very helpful, and she accompanied us to the place we wanted to go. That was something I didn't expect. She was so nice, and she took time to help us.
Holin: And now, how do you spend your weekends here?
Lucero: Normally I spend weekends with my husband and we also call our friends. My husband is from India, and he is the only child in his family. It is difficult. So he spends half a year in Shanghai, and half a year in India.
He loves Shanghai as well. Normally we will discover new places in Shanghai, for example, Qibao or some places near Shanghai, maybe Suzhou, Hangzhou, or Moganshan. We like being in touch with nature.
Holin: Which place in Shanghai do you like best and why?
Lucero: My best place is the Bund, because it is just one block from my office. Every time I finish my lunch, I can just go out and enjoy the view of the Bund. It is so amazing! You can see the Pearl Towel, the Finance Building, and all these buildings. The river is so calm, and you can see people taking photos. It is a place you can feel you are in China, but also gives you another perspective like you are maybe in Europe. It is very nice.
I also like Xintiandi. It is a fancy place. For business purposes, I can take customers there. Good food, good environment, the lighting over there is amazing. Not just Chinese food, you can also get international food there.
Holin: What do you love about Shanghai?
Lucero: It is so modern… you will feel that you are in another world. And people for example, you will see them in the parks, or everywhere, exercising, doing tai chi, dancing. I like this small thing about people. They enjoy their life. You can see people, they have pressure, but they still have time with their family, and also have their hobbies. I like that about Shanghai.
Holin: Then what do you hate about Shanghai? Do you have any suggestions to change it or make it better?
Lucero: I found Shanghai is kind of annoying. People are smoking in the rooms. I know the new regulation about this and they start to care about this. But some people don't listen. I think we should put more pressure (on people), it is good for everyone (if smoking is restricted). We have a beautiful city, and we need to take care of it.
Another thing is about the sharing bikes. It is a good service, but the problem is that they are using the pedestrian spaces to park the bikes. I think it could be nicer if there were designated places to park them.
Holin: Yes, the city government has already taken some steps for both things. And compared to your country, are there any shortages in Shanghai?
Lucero: We have different problems, so it is a little bit hard to compare. But I think we have similar things in terms of people, people coming here and leaving here, it is very crowded. Traffic jams you know, we share the same problem. Shanghai has good infrastructure, it keeps getting better. In my country, it is very slow. I hope my country can follow what China is doing.
I think when I compare China to Mexico, China is doing better than Mexico. For example, safety… I feel very safe in China. In my country, you should be more aware.
I think the younger generations should take care of the city. Parents should encourage them to learn more about the environment, to make them love nature more.
Holin: Do you have any impressed memory during your life?
Lucero: I never thought I would be here. Many people tell you, you just stay in your country, and get married… you just lead the normal life other people have.
When I came to China, and I started dreaming and working for my goal, I found the world is so big. You can go anywhere you want. It opened my mind. I've met so many people from different places, not just Chinese. That makes me feel thankful for life. I learned a lot of things leaving home.
What does Lucero want to say to herself in the future? Have a look! Lucero is sending a message to herself 10 years from now!
Source: SHINE Editor: Han Jing Special Reports