Helping the handicapped on dual fronts
16:03 UTC+8, 2018-08-10
0
Buy for Two (Buy42) aims to raise funds to help the handicapped and also hires people with disabilities to assist with donated items.
16:03 UTC+8, 2018-08-10
0
Yu Shiyao, 32, first heard of Buy for Two (Buy42), an online charity store, in 2012 when she had just graduated from Bentley University in Massachusetts of the United States and was about to take up an intern position with an American company.
Her career plan was to accumulate sufficient funding and company contacts that she could apply to nonprofit causes.
An online post from Buy42 changed that path entirely. The post, she recalls, sought donations of unused items for charity auctions, with the proceeds going to special shoes for elderly people suffering from leprosy.
"I was intrigued by the idea immediately," Yu says. "I had visited charity stores in the US and Europe, and Buy42 had moved such stores online. I thought it was a great idea, especially for China, where e-commerce was booming."
Yu contacted the founder of the website and expressed her interest. After several talks, she decided to return to China and get involved in the project.
"The team there convinced me that I really didn't need vast amounts of money or other resources before doing charity work," she says. "They taught me I could grow with the charity."
At that time, Buy42 had been operating online for about a year. Its founder, Zhou Xian, was also inspired by charity stores in Britain when he decided to bring the concept to China.
Ti Gong
The goal of the store was to help more than 80 million disabled persons with training and employment. The store encouraged the public to donate unused items and hired disabled persons as staff.
At that time, the Shanghai team had only three people. Two years after Yu joined, she was promoted to chief executive officer. Under her management, the website underwent big changes and proceeds increased nearly fivefold. The program was recently selected as one of the best charities in the city by local civil affairs authorities.
One of the biggest changes Yu wrought was to rely on companies and no longer accept individual donations. Yu explains that the move would better utilize the charity's work force and that surplus products from companies ensured better quality and more hygienic products.
"Every year we were receiving tens of thousands of packages of donations from all over the country, but after sorting through them, we found that nearly 70 percent of the items were of insufficient quality to sell," Yu says. "We had to rehabilitate them or recycle them. That work cost us a lot of labor and was never our forte. We decided that we should focus on our original purpose and accept donations only from enterprises."
Buy42 also moved from its own website to Taobao.com, China's largest e-commerce platform, and to youzan.com, eliminating concerns about overloaded servers and other technical problems.
On the two websites, consumers can now find clothes — both inexpensive outdated styles donated by fashion companies and relatively high-end styles donated by independent designers — and jewelry, mother-and-baby products, toys, household goods, office supplies and books.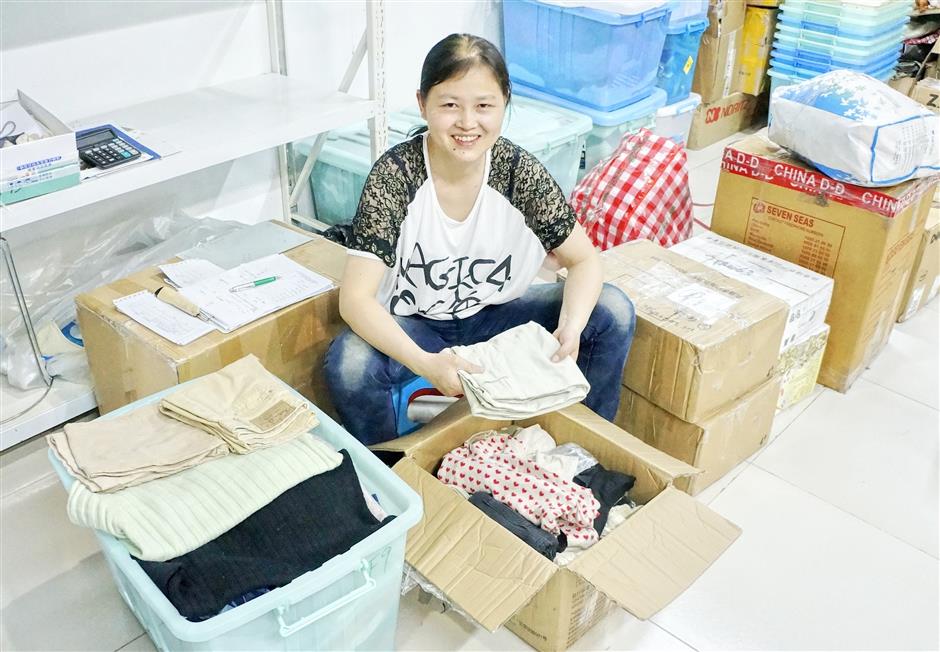 Ti Gong
Meanwhile, as one of the few Chinese mainland institutions capable of dealing with multiple types of charity auctions, the website started to cooperate with other charities by providing them a sales platform. It once helped Love Save Pneumoconiosis, an organization that aids people in China suffering from a lung disease caused by dust inhalation, by helping store, pack and sell 100,000 face masks at a charge of only 10 percent of the storage cost.
"Every year we publish our annual financial reports on our website and social networking accounts to assure the public that every penny goes to the intended cause," Yu says.
Last year, after a long preparation, Buy42 opened up six physical stores in Shanghai. The stores still accept individual donations. Local residents responded by donating all sort of products, such as blankets and comforters, to the stores.
The online and physical stores have also created more than 100 jobs for disabled people, from cleaners and cashiers to shelf stockers.
"We don't care about their physical or mental disability," Yu says. "We focus only on what they can do. Our criteria for hiring staff is called 'strengths perspective'."
The shop assistants in the stores include the deaf and mute. They wear tags that say "please follow me to the cashier" or "please follow me to the changing room."
People with mild mental disabilities are hired to do item matching, like finding companion pairs of shoes from a pile of donations.
People with schizophrenia mostly work for the graphics team.
"Most of our staff are 20 to 30 years old, and many of them are highly educated," Yu says. "They became disabled because of accidents or other mishaps, but here they are the most important people to us."
Yu said she wants to develop Buy42 into an institution akin to Goodwill, an American charity and auction platform that has run for more than a century.
"I hope charity stores will eventually be in every community and all people will help others through donations, purchases and volunteer work," she said.
Ti Gong
Source: SHINE Editor: Liu Qi Special Reports