Fitness helps women fight gender roles
16:21 UTC+8, 2018-09-14
0
"Don't let other people tell you how to live. Stand up for yourself."
16:21 UTC+8, 2018-09-14
0
Joan Zheng / SHINE
Ma Xiaojun, a professional fitness coach, pushes her classes with unrelenting gusto and fights the concept that all women have to look the same.
"Come on! You can do it!" she calls out.
Ma, 29, is a paragon of fitness with toned muscles and tanned skin.
"I believe I'm on the right path to make the world a better place," she says.
Born in Dandong, Liaoning Province in northeastern China, Ma has perfected skills in jogging, skating and basketball since childhood. She once worked as a bank teller, but walked away from a handsome salary to go into fitness because it suited her personality and goals better.
She certainly exudes passion for her chosen career. In less than one year, she won qualification for national and vocational fitness, group certification from the Aerobics and Fitness Association of America and eight certifications of Les Mills group fitness class.
Ma is area manager of Lujiazui at SUPERMONKEY, a fitness brand with more than 40 studios in China, featuring registered group classes and no annual binding fees or deceitful trainers offering unsolicited advice.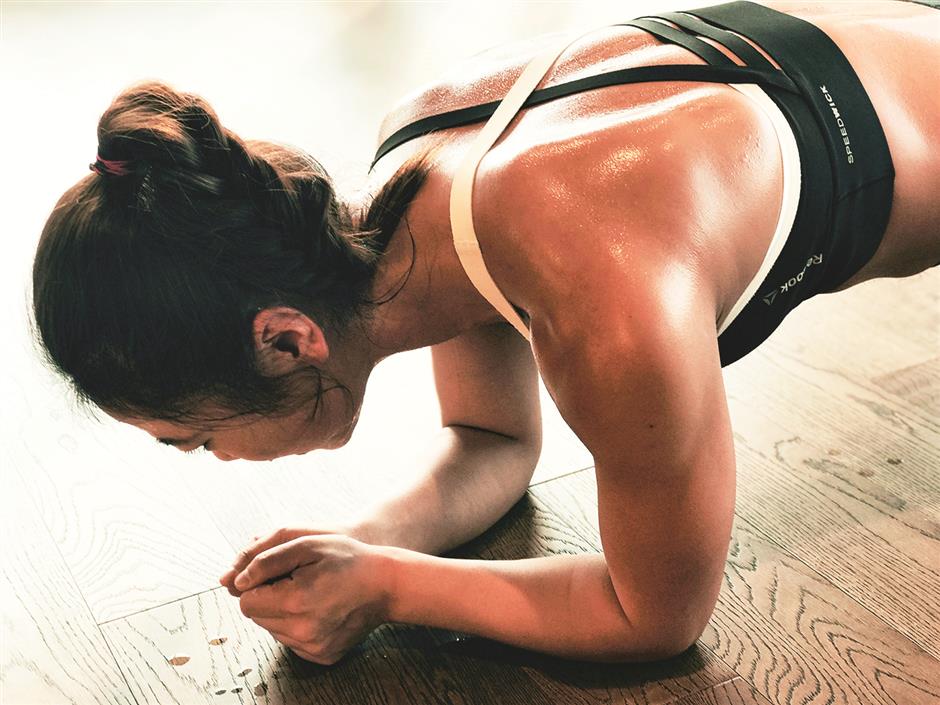 Ti Gong
Many girls sign up for Ma's trading because they want to attain the Chinese ideal of a slim figure, thin limbs and waist, flat stomachs and no bulging muscles. They want themselves to look skinny and able to provoke people's protectiveness.
"At first, many of my members cry out for skinny shapes, but later, their aesthetic standards change," says Ma, indicating a growing number of female fitness lovers come to realize the beauty of proportioned and curved body shape.
"I understand that a slim body is considered beautiful, but I am also glad to see perceptions change to appreciate that women do have curves."
In a sense, she is fighting body-shaming, which is still rooted in many aspects of culture.
During the US Open, many netizens derided the "too muscular" and "built like a man" shape of internationally-famed player Serena Williams.
There are countless examples of women being shamed on social media for being too skinny, too fat, too plain, too sexy, too flat-chested or too buxom.
Ma says she herself have been "shamed" for her bronze, sculpted arms.
"Actually, I'm quite proud of how I look," she says. "It makes me feel kind of unique. I truly appreciate myself and I am quite content the way I am."
Tong Lin, 25, an advertising manager and fitness aficionado who splits her time between Shanghai and Wuhan, says regular work-outs improve her physical and mental health.
"People's negative comments used to haunt me and narrowed down my horizon," she says, showing off her biceps with pride. "Fitness has helped me gain confidence and feel beautiful just being myself."
Young women today are under a lot of pressure to conform to ideal images of wives, lovers and mothers.
Unmarried women in their late 20s and beyond are particularly prey to comments about their lifestyle.
Ma has a simple message for them: "Don't let other people tell you how to live. Stand up for yourself."
In June 2016, China's State Council approved the 2016-20 National Fitness Plan.
It aims to raise public awareness of health and fitness and encourage citizens of all ages to make regular exercise part of their lives.
According to the General Administration of Sports of China, more than 43 million people are expected to be exercising regularly by 2020.
That exercise can take many forms, from traditional gyms and organized outdoor exercise events to burgeoning boutique group fitness studios, fitness apps and even through Virtual Reality and Electrical Muscle Stimulation.
Courtesy of SUPERMONKEY / Ti Gong
The array of choices means that everyone can find a fitness plan to suit their daily lives.
Fitness brands like SUPERMONKEY, SpaceCycle, Le Fit and Sweat & Co have emerged in China. More people are heading to barre classes, cycling studios or Crossfit facilities for more purposeful exercise.
"The new fitness regimes have benefited from the Internet," says Samuel Fan, 38, a globe-trotting chef and amateur marathon runner in Shanghai.
"It will bring more creative derivatives in other fields, like fashion and cosmetics."
For many people, especially those of the young generation, working out has become the new hot social trend instead of an intense and intimidating task.
Song Xinyi / SHINE
Man Man, 24, a professional fitness coach and bodyjam enthusiast, says regular exercise can help prevent some diseases and ease the pressures of modern urban life.
Ma agrees. A fitness plan can transform a person and become an "irreplaceable" element in one's life, she says.
After a cardio class, Ma took a photo of her fitness members and sent it to their WeChat discussion group.
Shared achievement is important in keeping to a fitness regime.
Fitness can also open up social experiences.
"I have broadened my horizon by getting to know more people from fitness classes," says Molly Zhang, 23, jewelry designer and cafe owner based in Shanghai who spends significantly large amount of money on fitness training.
"Hitting the gym with my friends has now become a new entertainment."
Ma is so popular that her group classes are quickly booked out. It's a demanding but rewarding job, she says.
"Being a fitness coach genuinely fills me with joy," she says. "The connections built with my members and their trust are priceless to me."
In preparation of Les Mills instructor qualification, Ma devotes herself in teaching spin for a training camp focusing on propitious bodybuilding.
Ma has been chosen as the CXWorx class presenter at the 2018 Les Mills live filming event in Shanghai next month.
She will also participate in the bikini fitness competition held by the Chinese Bodybuilding Association.
"I hope more people will become involved in exercising," she says.
"And I hope someday to build my own fitness empire."
Source: SHINE Editor: Fu Rong Special Reports