Mall makeover: more than mere shopping
17:21 UTC+8, 2018-09-18
0
Malls are no longer simply about shopping. Designers are increasingly focusing on giving customers a broader experience – from rooftop farmhouses to concerts and lifestyle centers.
17:21 UTC+8, 2018-09-18
0
Malls are no longer simply about shopping. Designers are increasingly focusing on giving customers a broader experience – from rooftop farmhouses to concerts and lifestyle centers.
Changning District
The Place

The Place offers a fully integrated retail and office complex. The 110,000-square-meter shopping center offers a diversity of international brands from fashion to entertainment to health and family fun, as well as almost 1,000 parking spots.
Catering to families and kids, the mall has regular exhibitions and events like the ongoing "Barbapapa" theme event based on the pink, blobbish shape-shifting character.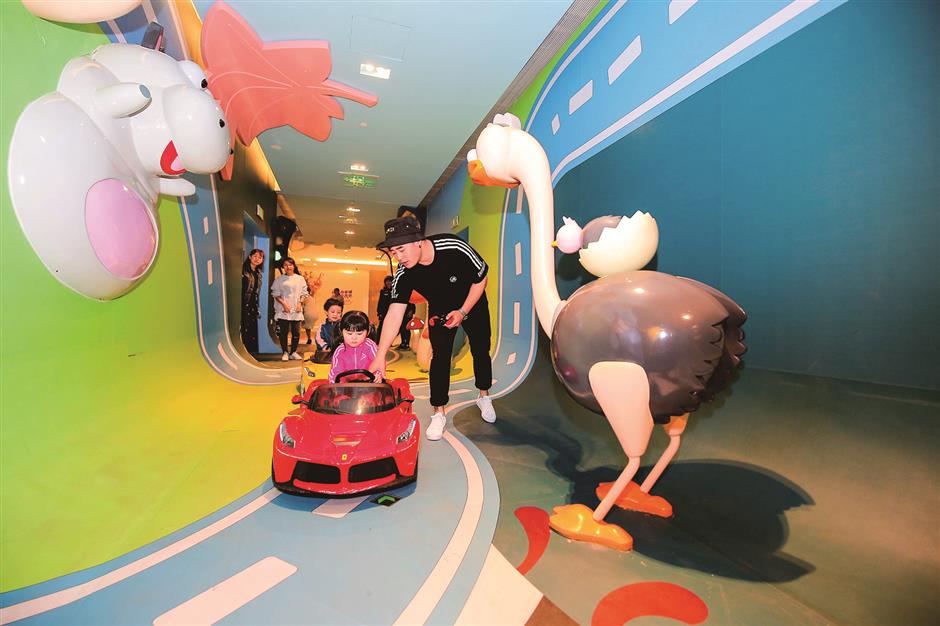 At "Barbapapa," parents and kids can work together to arrive at the virtual reality skiing station or land on the frozen planet and enjoy the snowscape with Barbapapa. They can also explore the space sand land under the Stargate.
On the second floor, there is a buggy car area, an ergonomic and fun place for children, featuring three stages including the "Forest Kingdom," "Underwater World" and "Brilliant Skies." Children can soar with the birds in this sky-themed area, which is guaranteed to provide an enthralling experience.
In line with The Place's focus on kids, are the music rooms where children can sing along with and dance to the most popular songs of the 1980s and 90s, and the organic farmhouse on the rooftop. Visitors can also experience all the fun of their childhood with the use of bright, dazzling colors and life-size cartoon figurines outside the mall.
Address: 100 Zunyi Rd
Transportation: ****
Services: ****
L'Avenue
As a shopping center with fashionable luxury and classy lifestyle brands in the Hongqiao Economic and Technological Development Zone, L'Avenue is leading the development of Hongqiao's commercial area into a new international consumer landmark with a free parking program for weekends and holidays.
You can find all of the best-known names of high fashion — Dior, Louis Vuitton, Fendi — with beauty, jewelry and home decor additions like Sephora to round off a whole elegant lifestyle theme.
L'Avenue was designed by famed Japanese architect Jun Aoki as a piece of art. The unique shape of the building looks like an elegant dress when seen from a distance.
Art exhibitions also play an important and charming role at L'Avenue. It held "The Journey" photography exhibition of work by French photographers in September 2017, and then organized an installation art exhibition called "The Magic Swirl" with three artists from various art fields during the Christmas season, which enabled consumers to enjoy the artistic atmosphere up close.
Address: 99 Xianxia Rd
Transportation: ****
Services: ****
Xuhui District
Iapm mall

Iapm mall Shanghai is another successful example of late-night shopping center, after apm in Hong Kong. On Huaihai Road M., the mall offers a brand-new trendy shopping experience for discerning customers, with more than 120,000 square meters of retail area.
As its name shows, this mall offers an "international" shopping experience at all hours — both "am" and "pm." Retailer brands in iapm are open until 11pm, while dinning outlets and the IMAX cinema open until midnight or even later, offering late-night convenience for busy executives and night owls for shopping or a social outing.
It enhances shopper experience with digital convenience as well entertainment — including virtual reality and augmented reality.
Address: 999 Huaihai Rd M.
Transportation: ****
Services: ****
Grand Gateway 66
Spanning over 400,000 square meters, the Grand Gateway 66 project comprises a premium shopping mall of 130,000 square meters, 225-meter-high office twin towers and three blocks of high-end serviced apartments.
It has recently gone through a comprehensive upgrade. The North Tower reopened this month, changing it with 100 new brands and increasing the proportion of international brands to 43 percent and increasing space for food and beverage and lifestyle outlets to 30 percent from 20 percent.
After its three-year upgrade, Grand Gateway 66 will be a world-class destination that embraces both aesthetics and more modernized functions, and will stand even taller as a landmark in Shanghai.
Address: 1 Hongqiao Rd
Transportation: ****
Services: ****
Pudong New Area
Super Brand Mall

The 16-year-old Super Brand Mall in Lujiazui is a large-scale mall offering a combined gross floor area of 250,000 square meters, with 10 upper ground floors and three underground floors.
Based on the motto "all aged of customers, all-day shopping experience, one-place satisfaction," the mall strives to meet modern home entertainment and shopping needs in order to break the general large commercial building layout mode, with a whole new concept of an indoor commercial pedestrian street, together with the innovative design of bridges, stairs and circular viewing platform.
Parents and kids can find their own fun at this "kids' third home."
Address: 168 Lujiazui Rd W.
Transportation: ****
Services: ****
Huangpu District
Shanghai K11 Art Mall

With the vibe of art, exhibition, retail, nature and people, Shanghai K11 Art Mall is lighting up the imagination among younger shoppers. It has brought art appreciation, humanistic culture, green design and the thrill of shopping together. Designed with a garden concept, the mall combines art appreciation and multilateral dialogues with top international fashion brands to create a revolutionary business model.
In regard to the field of professional art, K11 is devoted to building a harmonious relationship between the domestic and international art circles by encouraging free and healthy communication between different cultures, nations and peoples. K11 has also collaborated with different leading art organizations and international artists, inviting them to participate in K11 art projects and forge an international arts playground.
Address: 300 Huaihai Rd M.
Transportation: ****
Services: ****
Minhang District
VivoCity Shanghai

The 120,000-square-meter VivoCity Shanghai is a large-scale, interactive and experiential mall.
As Singapore's flagship brand to Shanghai, it aims to enliven the lifestyle of Minhang's residents and infuse the district with vitality.
The five-story mall features more than 280 shops ranging from entertainment to fashion and accessories, food and beverage, kids' learning and lifestyle.
Level five is a 10,000-square-meter open-air Sky Park, comprising three interactive corners: Adventure Park, Sky Farm and VivoClub.
The Sky Park offers a space for locals who like to have some outdoor fun and excitement.
VivoClub is made up of a VIP lounge and a kids' club featuring a mini cinema, library and complementary preschool classes.
There is also a full calendar of exciting happenings, including local and international performances, exhibitions, charity events and concerts.
Address: 1507 Qixin Rd
Transportation: ***
Services: ****
Even more malls are opening soon
Hongqiao Lihpao Plaza
Hongqiao Lihpao Plaza in the Hongqiao CBD is due to open next May.
As an urban green-island garden and eco-office complex, it has a total floor area of 235,000 square meters, including 70,000-square-meters commercial space.
The mall features seven themed areas for different fun experiences. Jiufen combines the nostalgic feeling with modern commercial elements, covering Taiwan specialties, gifts and catering.
The Secret Garden area is decorated in a floral theme to create a garden-like, pure, natural feeling. Future World has light and shadow elements to create a leisure space of the future, while Fantasy Land creates a sci-fi interactive space with virtual reality and interactive 3D projection.
Crystal Plaza
Crystal Plaza will open in the Pudong New Area next May. The complex integrates a boutique shopping center, six Grade A office buildings and high-end residential buildings.
Crystal Plaza shopping center covers 68,000 square meters, including four commercial buildings. The mall has been designed with three themed zones: My Stadium (sports), My Kids (children) and My Foodie (F&B). Crystal Plaza has a long-term strategic cooperation deal with the online Kids app Caibeike and the sports online community Hupu Sports.
L+Mall
Covering more than 140,000 square meters, L+Mall in the Lujiazui area will open by the end of this year.
It will feature the Galeries Lafayette and other international brands. Each floor of the 12-story building will have a different design style and theme. The first and fifth floor will be a double-floor design.
Source: SHINE Editor: Su Yanxian Special Reports