Trend-setters get personal at fashion week
08:00 UTC+8, 2018-10-22
0
After a week of several splendid runway shows, diversified showrooms and mind-blowing presentations, the 2019 spring-summer Shanghai Fashion Week drew the curtain on Wednesday.  
08:00 UTC+8, 2018-10-22
0
After a week of several splendid runway shows, diversified showrooms and mind-blowing presentations, the 2019 spring-summer Shanghai Fashion Week drew the curtain in success on Wednesday.
Themed on "Personal Expression," this year's fashion week expanded its scale over the city. The eye-catching tent at the downtown fashion hub of Xintiandi saw established homegrown brands like Ji Cheng, Reclothing Bank, C.J.Yao and Anirace make guest appearances on the trendy Shanghai runway.
Courtesy of Huang Wanbing
Courtesy of Huang Wanbing
A dozen promising young designers also unveiled their works of imagination, among them was Huang Wanbing. Cooperating with Xintiandi this season, Huang held a runway show at Taiping Lake, along with an art installation piece of hers showcased on the ground floor of Xintiandi Style.
Inspired by the French film "La Cicatrice Interieure," the designer presented her latest works with her new brand, At-One-Ment. Featuring structural cuttings of silk, gauze and exquisitely innovative jacquard, the designer tried to capture how modern women strive to fight against the loneliness and pain inside, and find one's own glory.
Courtesy of DAKS
Courtesy of DAKS
Being a major player in the global fashion industry, Shanghai this year greeted a few internationally renowned brands, such DAKS.
The London-based luxury label started the celebration of 125 years since it was founded, with a refined show at Fashion of Bailian along Suzhou Creek. Models strutted out on a lavishly-set English garden on a summer's day, in outfits of chiffon, georgette and cotton, with a highlight of the brand's classic check prints. The color palette varied from lemon yellow to wood green, and orange to pink hues.
Courtesy of Labelhood
A hotbed for China's rising fashion design talent and a not-to-be-missed section of each year's fashion week, Labelhood this season took a big step by teaming up with Power Station of Design and the runways stretched out right below the Power Station of Art's signature chimney.
Entitled "The Magic Power," the four-day event saw 20 runway shows and two designer co-branded events, showcasing some of the most creative and robust Chinese fashion design force. All the designers' brands were selected from more than 100 applicants around the world by a panel of seven, including Lu Xiaolei, vice secretary of the Shanghai Fashion Week committee, Joanna Gunn, Lane Crawford chief brand officer, Vogue Italy deputy editor-in-chief Sara Maino and fashion blogger Susie Bubble.
Courtesy of Labelhood
"It's quite crucial for those designers' brands, most of which are start-ups, to be able to work with such a serious art museum like PSA," said Tasha Liu, founder of Labelhood. "Art is a fundamental inspiration for fashion design."
Liu believes it's important for fashion producers "to show their respect to art," and better connect with the public.
Both industry and public shows were scheduled to cater to all demands, making it a favored haunt for fashionistas over the weekend.
"From day one we wanted to present the first fashion festival open to the public in the country," said Liu, who also runs a buyer's store of the same name on Fumin Road. "We want to establish a 'fashion democracy,' connecting with the young generation in the language of fashion, in the hope that through us, general consumers can be exposed to and react to the most sophisticated and creative designs in China that those fashion insiders do."
Courtesy of Labelhood
The festival of fashion, which wrapped up on October 14, saw the runway shows held in three venues at the former power plant, spanning from the backyard garage to the seventh-floor rooftop hall overlooking the whole museum.
"The roughness of the setting poses as perfect backgrounds for the vigorous fledging brands, and also becomes key stimulus for the presentations," Liu said. "It was full of surprises. We encourage the designers, who have just begun their career, to improvise with what they had on site and deliver their ideas to the maximum with the lowest cost."
Courtesy of Labelhood
Courtesy of Labelhood
Samuel Yang, founder of acclaimed designer brand Samuel Gui Yang, rescheduled his evening show at the garage to noon, to make full use of the sunlight streaming in through the wide gap of the concrete walls. The view of swaying trees from outside became a natural background that many mistook for a large LED screen.
"It looked like a painting, along with the antique vases and containers scattering around," Liu recalled.
Yang's 2019 spring-summer collection traced back to "power dressing," featuring jackets with padded shoulders, knee-length skirts and turtle neck sweaters, but with a touch of traditional Chinese elements. To echo with the theme of "The Haunted Vase," the vase-shape cutting dominated the collection, with a color palette of vermilion and mustard yellow, and patterns of bamboo leaves and jadeite.
Courtesy of Labelhood
Courtesy of Labelhood
Angel Chen stunned the audience with a setting of fishing villages in coastal Guangdong Province, the highlight of which was a neon-lit festooned truck. Models strutted the runway presenting in Chen's latest spring-summer designs inspired by Mistress Ching, a female pirate roaming the China seas in the early 19th century. The Central Saint Martins graduate showcased a playful use of lace, weaving, knots and grids, along with patterns that resemble pirates' tattoos and elements of Chinese dragons, treasure troves, pirate ships as well. Rebellion and boldness are the keywords.
"Five years ago, our young designers studying in the West would rather be recognized as international designers. After a long way of going out and coming back, today, Chinese designers are savvier to trace it back to their cultural roots, to showcase in a much more subtle way the Oriental elements in their designs," Liu observed.
Courtesy of Ontimeshow
To cement the role of "Asian's biggest order-placing season," Shanghai Fashion Week is beefing up on its professional service to provide stronger support for designers and their brands, especially in business sector, via the major forms of trade shows and showrooms.
Other than Mode and Shanghai Showroom at Shanghai Exhibition Center on Yan'an Road M., Ontimeshow is a major trade show organizer during the fashion week. Expanding over two spacious exhibition halls on the West Bund, the trade show displayed more than 300 brands, and received some 12,000 buyers, fashion editors and influencers.
Courtesy of Ontimeshow
According to Xie Mengyun, partner of Ontimeshow, the market feedback is "quite positive."
"About 60 percent of the brands on display are our regular clients, some of them told us they want to come back next season, directly on site," Xie told Shanghai Daily.
All the brands on display were displayed in two exhibition halls during the four-day event that ended on October 14. One-fourth of them were stationed in Hall B1, which are mostly mature in business modes, such as Angel Chen, taking up 26 booths with appealing presentations.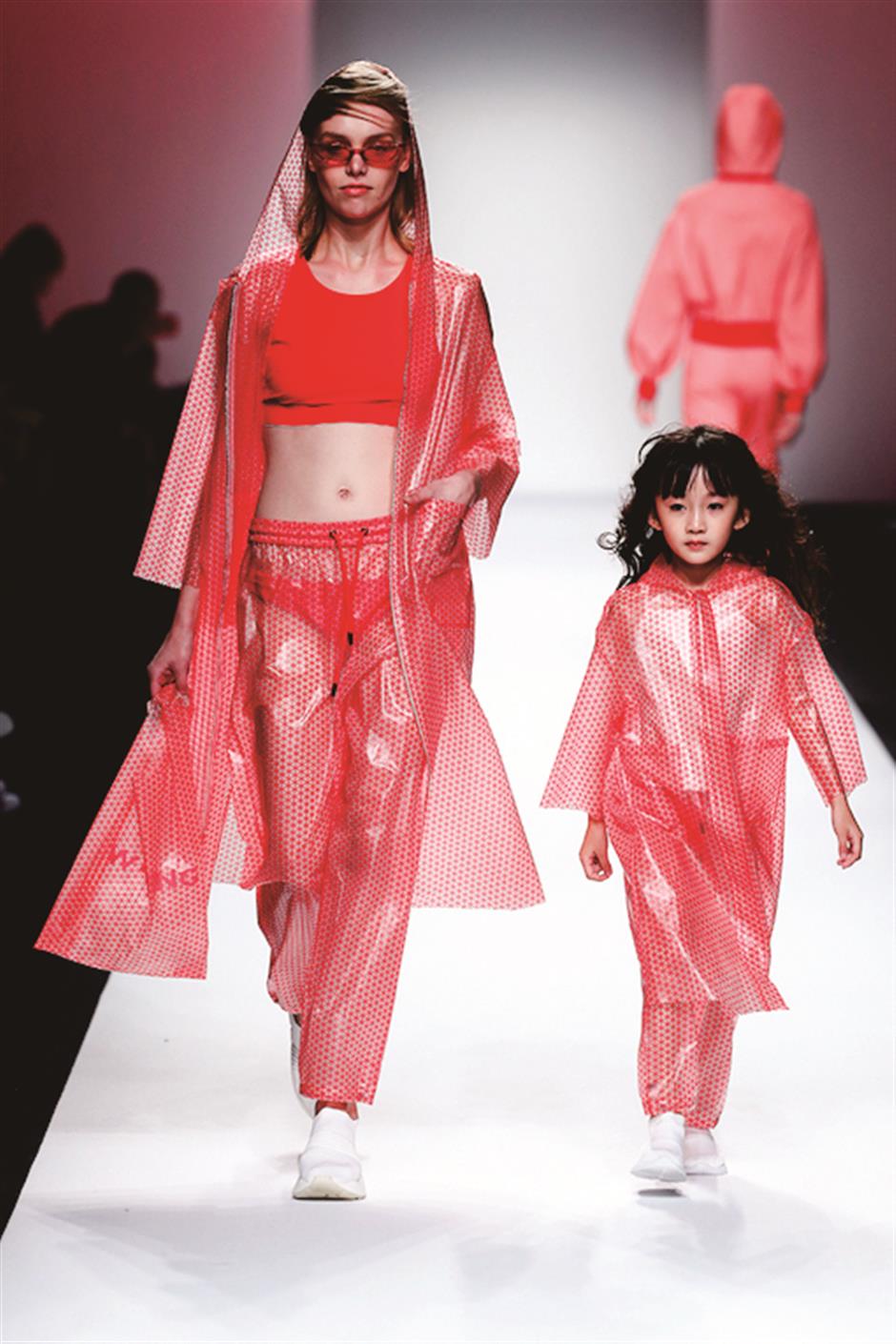 Courtesy of W. Rong
The rising stars in Hall A included At-One-Moment by Wanbing Huang and W. Rong by Wang Changrong, who has 10 years' experience working in local womenswear labels like Exception and Marisfrolg.
"W. Rong has been with us for three seasons, with a steady growth of orders. The label has formed a precisely ranked product structure," Xie said.
China has become "a magnet for the global fashion industry thanks to its huge market potential and warm feedback," she added, saying Shanghai "surpassed Tokyo and Seoul to be the bigger fashion trend-setter in Asia."
CFDA, for the first time, brought two US designer brands Colovos and Ovadia & Sons to China at Ontimeshow, to tap into the Chinese market.
Courtesy of Ontimeshow
"Chinese designers are making a splash now," Xie said. "But many of them have the same problem: lack of sensitivity to the market."
Instead of burying heads in design, the designers should have accurate knowledge of their targeted consumers, or find better business partners to optimize the product lines, the former fashion media veteran suggested.
"After all, you can only have an influence on the industry when you secure a steady flow of orders and business projects," she added.
Source: SHINE Editor: Fu Rong Special Reports