Photographer turns unique perspective into eye-catching art
18:45 UTC+8, 2019-06-18
0
By day, Chen Yuchen, 27, works in the financial industry. By night, he is a popular Shanghai photographer who signs his works "youknowcyc."
18:45 UTC+8, 2019-06-18
0
By day, Chen Yuchen, 27, works in the financial industry. By night, he is a popular Shanghai photographer who signs his works "youknowcyc."
Chen's works are widely disseminated online, garnering fans both at home and abroad. City views of Shanghai, especially night scenes, are his favorite theme.
The flowing light and color of the city and its familiar landmarks come to life through his lens. A unique insight into Shanghai? Well, it's Shanghai all right, but see through an imaginative eye.
The pictures exude a certain sense of cyberpunk, which seems to coincide with Shanghai's nickname modu, or the "magic city." Light and shadows, and strong color contrasts in his photos blur the boundary between reality and fantasy.
"The modern city gives out a feeling of high-tech and high contrast, which is what cyberpunk is about," he says. "The new construction and old buildings, for instance, are a good example. You have to find the right angle and the right time to take the pictures to create the vibe. Of course, post processing helps as well."
youknowcyc
Since posting his first picture on Instagram "youknowcyc" in 2016, he has gained more than 130,000 followers on the platform. In the beginning, his pictures gained hundreds or thousands of "likes;" now the number has soared up to nearly 40,000. He recently also became popular on domestic social networks such as Weibo and WeChat.
Chen's photos have piqued foreign interest in the city as well as in China at large. For example, his "Two Worlds" shows two sides of the city through two landmarks: the City God Temple area and the Lujiazui skyline of skyscrapers.
Taken from an overview angle, the picture shows the ancient temple in a warm-toned hue, while behind it, skyscrapers stand tall and cold. A Russian fan posted that she plans to visit China because the picture so inspired her.
Shanghai has so many epithets — financial hub, international metropolis, cultural melting pot. But to Chen, the city is simply home, the place where he was born and raised. Beyond the skyscrapers and neon lights lie with the true attractions of the city.
"The new and the old, the traditional and the trendy. Everything blends so well here," he says.
Chen prefers to describe the city in Shanghai dialect, such as you mi dao (tasty) and you qiang diao (stylish) rather than modu, a word that originated from Japan.

His favorite area is the old town around the Bund and the Yuyuan Garden, which is full of the atmosphere of daily life.

"With the lighting, every scene in the area seems alive," Chen says.

Such feelings unfold in his pictures as well. One photo entitled "Narrow Alleyways of Old Shanghai," which has received more than 11,000 "likes" on Instagram, features a shabby wonton stall run a by a local woman, illuminated by a red lantern. A faint blue light is emitted from a window beside the stall.

"I still remember the encounter," Chen says. "My friend and I wanted a late-night snack, and the friend said he knew this wonton stall that opened at 10pm. I was curious and followed him to the lane where the booth was located. It looked plain, but the tables around it were fully occupied."

The red lantern, the blue light, the owner and patrons, and the smoke curling out of the hot wonton pot created a perfect composition in Chen's mind. He immediately took out his camera and snapped the shot.

"And the wonton wasn't bad either," he says.

youknowcyc
Followers praised that the photo for capturing the city's traditional personality embedded in a modernized society.
Chen said he became interested in photography while studying in Europe. Books and online videos were his teachers. He never shied away from trying new things. He would climb up high to find a good angle or let a drone do the job when some places are unreachable physically. Through photography, he said, he feels as if he is getting to know his hometown all over again.
"I was raised in Pudong, and was not very familiar with the other side of the Huangpu River," he says. "When I first went along the roads and lanes in Puxi to take pictures, I found a life different from what I had experienced."
To find the beauty where others don't immediately see it is probably the hardest job for a photographer. Chen says curiosity is key.
"And learning is important," he says. "I often watch movies, go to exhibitions and browse through others' pictures to get inspiration. And, of course, talking to people is another source of inspiration."
Travel broadens his photographic vision. Chen has posted pictures from other parts of China that a common traveler might not see ­— a deserted fishing village in Zhejiang Province, a white house on the coast of Hebei Province, a giant bookstore in Guiyang of Guizhou Province.
Chen says he thinks the city of Hangzhou and the Xinjiang Uygur Autonomous Region are the most beautiful places he has visited.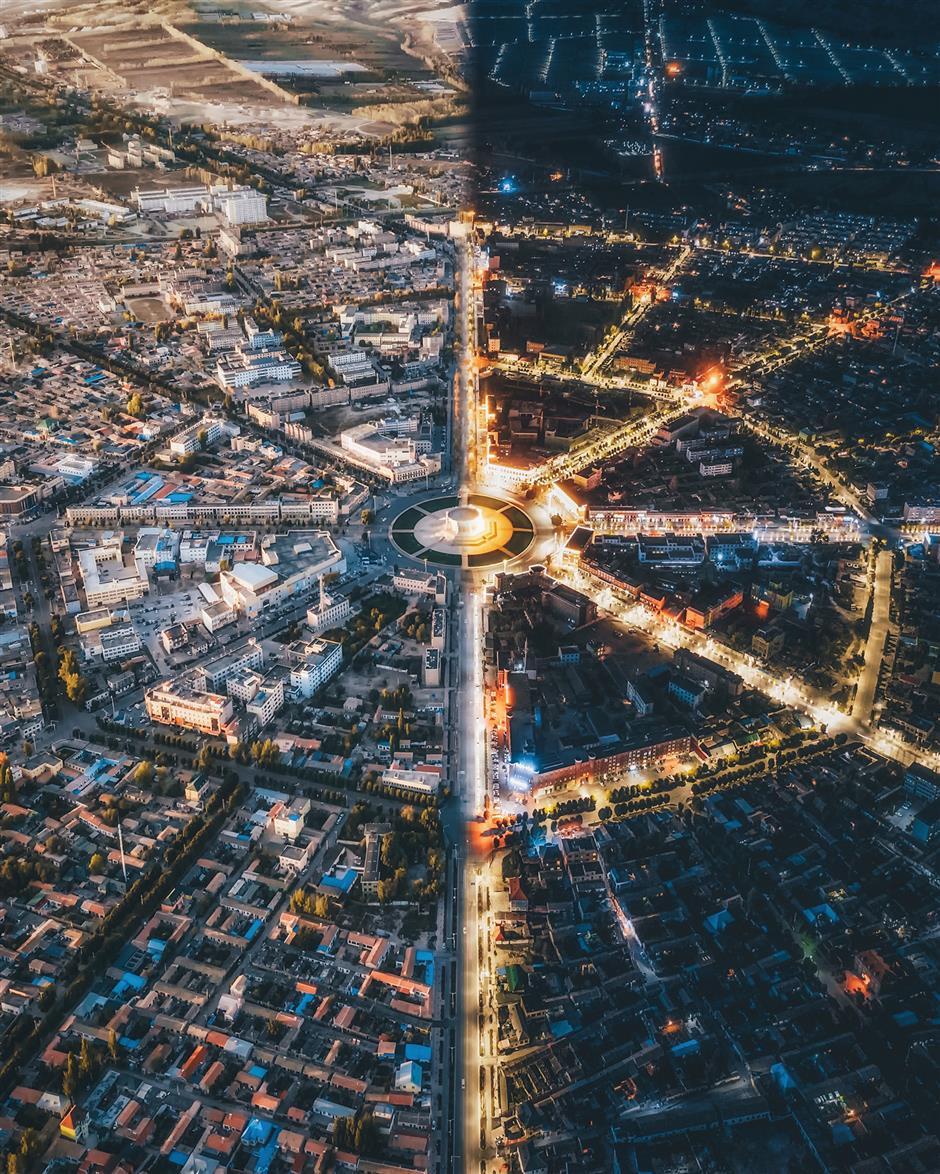 youknowcyc
"Driving along West Lake (in Hangzhou), you wouldn't realize that you are in a city if it weren't for so many people and cars," he says. "While in Xinjiang, there are so many natural scenes that can't be seen anywhere else."
After traveling, Chen is back home.
"My goal is not to take pictures of things and places others have taken, but to create pictures that are different from any others," he says.
st_ella
Source: SHINE Editor: Zhang Liuhao Special Reports