Super moms grapple with extended holiday
18:50 UTC+8, 2020-03-06
0
With schools scheduled to start online classes due to the epidemic, parents, especially mothers of two, are bracing to deal with the new-found situation. Here's some tips.
18:50 UTC+8, 2020-03-06
0
With schools starting online courses on Monday following the extended holiday due to the outbreak of coronavirus, parents, especially the mothers of two children, are bracing to deal with the new-found situation.
But the children have no such stress.
"Both my boys are happy with the prolonged holiday," says Wu Yanqing, mother of two boys, 13-year-old Dada and 3-year-old Xiaoxiao. "Dada, who is in Grade Seven, does not have to get up early to go to school and do his homework till 10pm. Xiaoxiao is even happier, playing with Dada, his dad and me."
It is the same with the two boys in Shi Ke's family. The editor-in-chief of a fashion magazine tells Shanghai Daily that her elder son Hanghang, 8, is happy to stay at home instead of going to school.
During one instance at home, Hanghang was too busy playing with his younger sibling Paopao when Shi called out only to be told: "Don't bother us."
Ti Gong
Elsewhere, Zhong Lijia, also a mother of two, sees positives from the extended holiday.
"I found out that my two daughters could play with each other happily for a long time, almost double the time than before," Zhong says. "I am also relaxed. I can have more time for myself."
But Zhong confesses that their daily routine is upset. Wu agrees as well.
"Brothers fall asleep around 11pm and get up at 9am. Their breakfast is now a brunch," says Wu.
Dada is a middle school student and Xiaoxiao is in kindergarten. Wu feels that it is important for them to keep a good balance between life and study. So she has worked out a schedule with Dada to cope with the new-found situation.
Ti Gong
Ti Gong
Two children at home may enjoy time with each other, but sometimes the little one can also be a bother to the elder one.
With the only television in the living room, Xiaoxiao was always around during Dada's online lessons. So Dada had to take his lessons in another room and lock the door from inside.
Shi Jiaolu has a similar issue, "When my elder daughter Qingqing was having online classes, she was always disturbed by her little brother Haohao."
Qingqing now prefers to do her homework when Haohao sleeps in the afternoon.
Kindergarten children do not have online lessons.
Artist and online shop owner Mao Wan now works after 10pm when the kids are asleep. During the day, she looks after her 1-year-old daughter Mango while also teaching her eldest son Doudou, 4, at home.
"Recite an old poem, multiplication table, and learn some English words every day," Mao tells Shanghai Daily of her day-time routine.
Ti Gong
With the extra stress of looking after two children, the safety of the kids is still the priority for all the mothers.
"I won't send my child to kindergarten until it is 100 percent safe," says Fan Zhijuan affirmatively. Fan has a 4-year-old son and a 19-month-old daughter. Staying with the grandparents is a big help, according to Fan.
Shi agrees. "Compared to learning, life is much more important."
The safety of the kids is also Zhong's priority, but she has another concern: "My eldest daughter is in her first year of kindergarten. I'm afraid she won't get used to kindergarten's days."
Zhong, meanwhile, is using the extra time to train her two daughters. She lets them do whatever they could, like dressing up by themselves, brushing teeth and washing face. She also insists that they put things back in the places meant for them and even clean the toys after playing with them.
"Sometimes I offer help when necessary," says Zhong. "It saves my energy and also cultivates a culture of discipline."
Ti Gong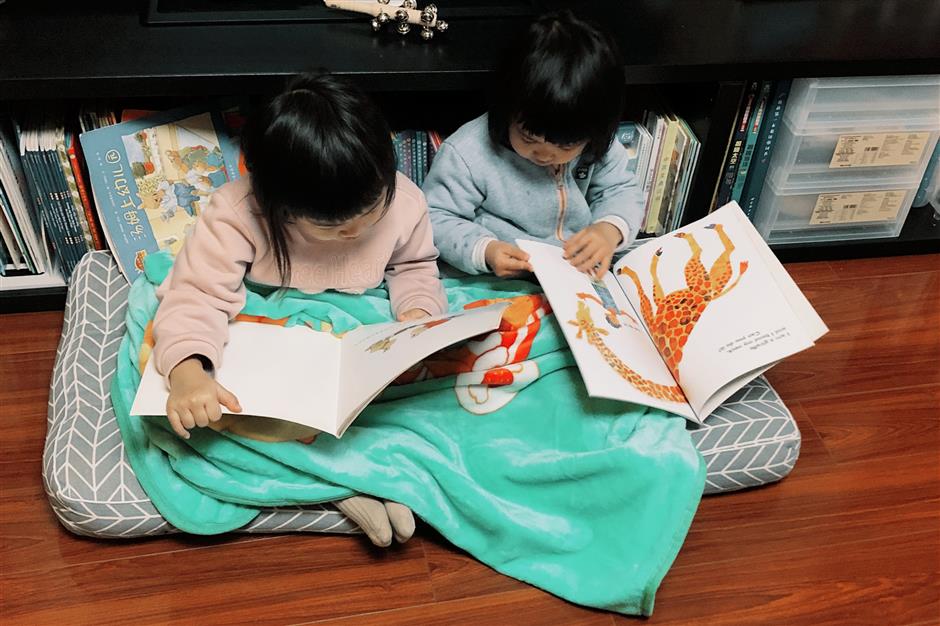 Ti Gong
Tips to deal with two kids at home
With mothers forced to deal with two "monsters" at home, they are sharing their experience on how to manage them!
Fan Zhijuan makes arrangements for activities to keep them busy. The activities include reading picture books, drawing together and making a house.
Shi Ke insists that the brothers do some housework as well, such as sweeping the floor, washing dishes and whipping the eggs.
"It can cultivate their ability and spend the time well without hurting their eyesight," Shi believes.
Shi Jiaolu prefers games.
She bought some games which can be played by a family of four, such as a video game "Mario Sports." She and her husband enjoy playing with the kids.
Mao Wan even becomes a magician. She has learned some magic tricks from TikTok, a popular video-sharing platform. Perform magic for the children, and then teach them how to do the same.
"They love it," Mao says.
Ti Gong
But all these efforts still cannot kill a child's desire to venture out.
Doudou, Mao Wan's son, draws a lot of virus pictures with dots on them that imply: "kill them." He keeps asking Mao: "Mom, when can I go out?"
Hanghang and Paopao are keen on picking deliveries — their only chance of getting out of the room.
But according to Wu Yanqing, children do need someplace to release their energy.
If it doesn't rain, Wu allows Dada and Xiaoxiao out to do some exercises, like skipping, or running or simply playing football in the community garden.
"With masks, for sure," says Wu.
"The novel coronavirus is terrible, but we will have an unforgettable memory," says Zhong. "We have this precious experience of going through these hard times together with family. We realize the importance of each other. "
Source: SHINE Editor: Wang Haoling Special Reports