No couch potatoes, volunteers work online
00:00 UTC+8, 2020-03-07
0
People staying at home during the novel coronavirus outbreak aren't necessarily just twiddling their thumbs. Some are using their skills in volunteer work online.
00:00 UTC+8, 2020-03-07
0
People staying at home during the novel coronavirus outbreak aren't necessarily just twiddling their thumbs. Some are using their skills in volunteer work online from within the confines of their four walls.
One example is a group of computer programmers who have built an online community called Wuhan2020, named after the Hubei provincial capital where the epidemic hit hardest.
Wuhan2020 aims to keep the public up-to-date with the latest factual news on the epidemic, including cases and diagnoses, medical materials in short supply in Hubei, donation channels and names of hotels accepting guests from Hubei Province.
Wang Xin is a co-founder of the community. A software architect for an e-commerce company, he launched the project on the leading software development platform Github, with the help of volunteers around the world. It took only 12 days to create and get the community up and running.
"I thought of the idea of building an online community, and other programmers had the same thought," Wang says. "I found them through a WeChat account and everybody set out to do what they could."
The community contains five subprojects — some for public use and some for programmers to help build databases about the epidemic.
The subproject on the website wh.opensource-service.cn provides detailed guidelines for people who want to donate to medical relief efforts.
After Wuhan was "sealed off" on January 23, it became a battlefield. Medical workers from all over the country rushed to the city to help but found a shortage of protection gear such as masks, hazmat suits and goggles.
People who wanted to volunteer time, money or resources needed to know where needs were the most pressing and how to connect with them.
"We found there was no platform serving volunteers," Wang says. "So that became our main focus."
The website now provides an up-to-date guide of the needs of all hospitals, based on information collected from official hospital announcements seeking help.
Another subproject, nav.werty.cn, is a navigation website. It gathers epidemic-related programs developed by other communities so that users can find information they seek. For example, which trains or flights have infected people taken? How to register for mask distribution? Which hotels are willing to book visitors from Hubei Province? Where are doctors doing online appointments?
"We thought of many ideas that we could develop, and then we found that other volunteers, companies or official institutions had already turned those ideas into reality," Wang says. "We realized that we could be a conduit to this 'gold mine.'"
Wuhan2020 attracted overseas Chinese IT specialists, and that then expanded to their foreign colleagues. Programmers, product managers, designers, coordinators and translators work together to share patch codes, modules and other things needed to build a website on Github. They addressed problems and debugging together.
"It is exciting to contribute our codes or other services," he says. "Finding an open environment of friends with common goals is gratifying. I think this is the spirit of open sourcing. People come and go, but their experience remains."
Geeks aren't the only ones not becoming couch potatoes during home isolation. Professional and amateur language experts have gathered online to translate epidemic-related news from around the world into Chinese to give the public a deeper understanding of virus impact.
The website 2019ncptoday.news.blog, based on the blogging and publishing platform Wordpress, went into operation early last month. It has collected, translated and published nearly 200 news articles from all over the world in eight languages, including English, Spanish, Japanese and Russian.
The news covers diagnosis data and death tolls, but also includes "softer" stories on how the coronavirus is changing lifestyles and impacting economies.
Tracey Zhu, a senior high-school student in Shanghai, initiated the idea of translating news. Her father often shared with her epidemic-related news on social media, which inspired her to do the project.
Fluent in English and Spanish, she published her idea on her WeChat Moment and drew heavy response from schoolmates and Chinese people studying or working abroad.
"In the era of globalization, it is significant to see how media from other countries view China," she says. "And the epidemic is a global issue now. It's important that we see how other countries are handling it."
Her effort has evolved into a team of nearly 40 members — mostly people around 20 years of age — who are responsible for translating, proofreading, editing and publishing.
After a temporary shutdown after a reader attached the link of his personal site in a comment and Wordpress thought the project was being used for marketing purposes, the website was back on air and began to exert influence on social media.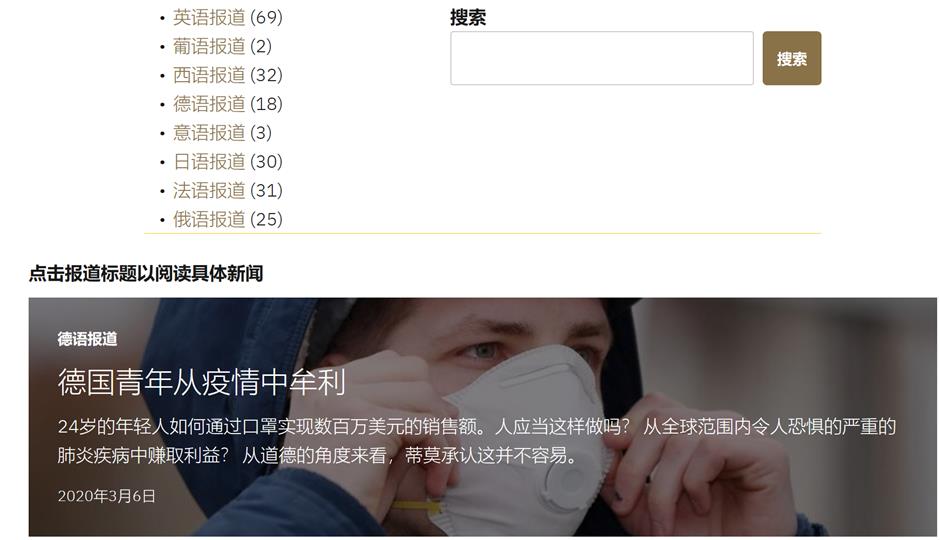 One of the volunteer proofreaders on the team calls herself Jiamin. She obtained a translation certificate when she was studying in Australia, but this is the first time she is truly engaged in actual translation work, she says.
"It is serious work for me after I finish my day job," she explains. "I read both the original story and the translation draft, pondering over the meaning of some words and discussing matters with the translator before making a final draft. I think volunteering means hard work."
Translating news, she says, requires "sensitivity."
A French-language translator who identified herself only as Anna says: "We choose news from big media news rather than tabloids to ensure authenticity and then double-check the facts. We need to learn how to pick news that is both serious but also can attract readers."
Readers of the website are appreciative and laud the efforts of the team.
"There are all kinds of information online, real and fake, and we are sometimes led to believe one thing today and something else tomorrow," says a reader in a comment on the website. "These young people are doing a great service, and I hope they will continue to keep their mind clear and sharp."
Source: SHINE Editor: Zhang Liuhao Special Reports