Countdown to 'Blossom with a Chinese Dream'
10:50 UTC+8, 2020-05-22
0
Mascots of  the 10th China Flower Expo was revealed at the one-year countdown ceremony of the event last week, which aims to create a colorful carpet of blooming blossoms.
10:50 UTC+8, 2020-05-22
0
Ti Gong
A one-year countdown to the 10th China Flower Expo was announced last week at a ceremony at the Shanghai Exhibition Center.
The expo, themed "Blossom with a Chinese Dream," will be staged in Chongming District from May 21 till July 2 in 2021, the first flower expo to be held on an island with villages and forests.
Mascots Yuanyuan and Mengmeng, which means "dreams come true" in Chinese, were officially unveiled during the ceremony. Yuanyuan and Mengmeng, a boy and a girl, bestow a traditional blessing of "good things come in two."
The design was inspired by Shanghai's magnolia flower and Chongming narcissus, with an element of green life, clear water and blue sky.
The mascots symbolize an eco-friendly and sustainable Chongming, in accordance with the expo flower peony and its emblem "flower dream."
"In the future, the expo garden will become an important functional area for the rise of Chongming central region. It will be a creative area facing the world and serving China, a green economic bearing area with low carbon and environmental protection, and an ecological civilization leading area with respect for nature and an inspiration to the future," said the city's Vice Mayor Tang Zhiping.
During the ceremony, Zhang Yinchao, secretary of China Flower Association, launched the 10th China Flower Expo's official website, which will provide customer services, park information and special activities.
A cooperation signing ceremony was held for brand partners, brand service providers and titled enterprise parks of the expo.
At the signing ceremony, China Pacific Insurance Co and China Post became the brand partners of the 10th China Flower Expo. CPIC and Chongming District will lead the construction of the world-class ecological island and provide a full life cycle insurance protection plan for the expo.
China Post will use its own network of publicity resources and a large customer base to provide quality services for the expo.
Shendi Group, Shanghai Disney Resort, Dummen Orange, Zhengda Handing and China Railway Engineering Group are the leading brands of the enterprise park, while service providers Shanghai Medicinal Materials Co and Shanghai Shengshun Garment Co are cooperative enterprises of the expo.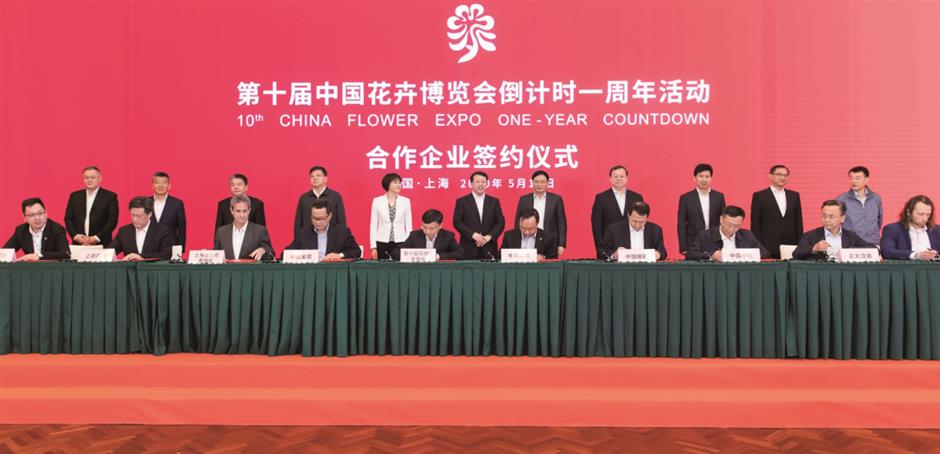 Ti Gong
Ongoing construction
Well-known for its diversified ecological assets and a 500-year-old flower cultivation history, Chongming aims to invigorate the area's natural reserves, traditional villages and towns and lay a colorful carpet of blooming blossoms.

The expo will be held at Dongping National Forest Park on Chongming Island, including the main exhibition gardens, forest park development area and a supporting service area.
In the future, the expo garden, including three indoor pavilions, will remain permanent fixtures to showcase the "flower island" vision.
The exhibition area covers 3.5 square kilometers, including 1.1 square kilometers of expo garden, 0.02 square kilometers of Dongping National Forest Park, 1.5 square kilometers of southern service area and 0.9 square kilometers of Dongping Town.
Chongming Flower Expo has also launched a series of breakthrough measures to invite senior organizations, enterprises and designers around the world to curate exhibitions and demonstrate the concept of "ecology, innovation and prudence."
At present, the venues are under comprehensive construction. Both the indoor and outdoor pavilions are being built while a large-scale tree planting in public areas has been completed.
Nearly 69,000 seedlings, including 16,000 container seedlings, and 52,000 ground seedlings are to be planted.
Among the flower suppliers, Chongming Smart Ecological Garden, a mega intelligent flower seedling base located in Hexing Village, has a highly automated planting line of nearly 100,000 square meters. It produces about 200 million seedlings every year.
The main indoor pavilions, such as Fuxing Pavilion and Century Pavilion, are under construction, as are 10 more smaller outdoor provincial and regional pavilions.
Each provincial pavilion tells its own story by showcasing floral culture with landmarks, such as the Yellow River culture at the Shanxi Pavilion and the classical Chinese gardens at the Jiangsu Pavilion.
By the end of last April, 60 percent of the ecological water system had been completed. A 7-hectare greenhouse has started capping this month to guarantee for flower cultivation.
Ti Gong
'Flower island'
As the world's largest estuary alluvial island and one of China's three major islands, Chongming is made up of about one-quarter forest area and one-third basic farmland. It provides two core water sources to Shanghai.

Each town of Chongming has formed its own "flower gallery." There will be plum blossoms in Dongping Town, cherry blossoms in Zhongxing Town, begonia in Sanxing Town and magnolia in Shuxin Town, which have adorned Chongming as the "flower island" blooming all seasons.
"My hometown is becoming more and more picturesque. The tree-lined trails in the village and the ecological corridors at the gateway to the village are like the entrance to a serene garden," said a resident surnamed Lu at Sanxing Town. Sanxing, famous for its "begonia creek," was named as one of China's most beautiful towns last year.
Chongming has become a favorite holiday destination for tourists. It attracted 18,000 visitors during the May Day holiday earlier this month. Seasonal festivals are held throughout the year, including the Strawberry Festival, Cycling Carnival, Leisure Farming Season and Bird Watching Festival.
With organic integration of its greenbelts, woodlands, rivers, rural roads and residential houses, it is estimated that by the end of this year, the added value of Chongming's tourism industry will account for more than 5 percent of the local GDP.
Source: SHINE Editor: Chen Xingjie Special Reports