Spiritual mountain haven of tranquil calm
16:55 UTC+8, 2020-06-24
0
Nestled in the hills of Japan's resort town of Karuizawa, Ed Ng and Terence Ngan's private residence provides the antithesis to their busy work life. 
16:55 UTC+8, 2020-06-24
0
Nestled in the hills of Japan's resort town of Karuizawa, Ed Ng and Terence Ngan's private residence provides the antithesis to their busy work life. It manifests the duo's organic yet sophisticated design approach, which draws inspirational elements from their travels and immediate surroundings.
Ed and Terence, founders of renowned interior design and architecture studio AB Concept, first visited Karuizawa 15 years ago when the Hoshinoya Hotel first opened its doors to the public.
"We immediately fell in love with the town. Its nature and environment, along with the accessibility and proximity to Tokyo, (a one-hour journey by bullet train) makes it a perfect destination and place to call home," Ed said. "I grew up in Hong Kong, probably one of the busiest cities in the world, so I wanted the antithesis of that. I thought it was going to be our little escape but it turned out that the place grew on us and it is now our home."

Reylia Slaby / Ti Gong
The popular resort town is known for its lush forests, revitalizing waterfalls, quaint local shops and namesake whisky. In contrast to the bustling energy of Hong Kong, where the duo are based, the town provides a complementary getaway offering both cultural and spiritual leisure.
It is also a town rich in history and foreign culture. Several famous people, including the Japanese imperial family, John Lennon and Yoko Ono, have chosen to live there.
It took them two to three years to plan their dream home and, with Japanese diligence, the house was completed within a year of construction.
"When building a house in Karuizawa there are two options: in the plateau or up in the mountain. We chose to build a house against the mountains for its elevated and ever-changing perspectives. Mountains open your prospective and view toward things," Ed said.
Ed said the main challenge is to have in mind that Japan is quite prone to earthquakes, so the building foundation requires much more sophisticated, complex engineering. Apart from that, the duo did not follow a master design plan or blueprint. Instead, they envisioned what they would like to be surrounded by, then gathered materials, objects and art that they love and have collected to compose every detail of the house.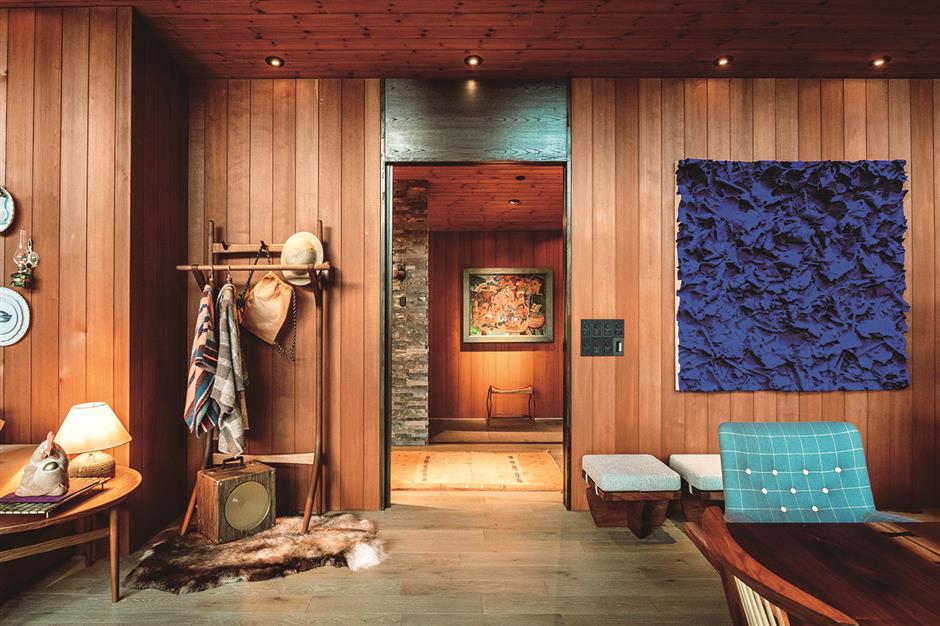 Reylia Slaby / Ti Gong
"Unlike a client project, our own residence didn't come with a design brief or deadline so we didn't really 'design.' We simply began with moving in things that we love to be around and eventually it grows into this cozy and comfortable space, our home," Ed said.
"Creating this home together was a labor of love, but much easier to execute as there were no rules and we have more freedom to do what we want. The whole process was very organic and we went with how we felt."
The most prominent feature of the Karuizawa residence is the ample use of wood.
The Japanese cedar wood is well integrated because of its texture and the peacefulness it exudes and, most importantly, its scent.
In addition, the designers chose cedar and stone as the main materials for the house so that the architecture blends into its surroundings.
The unobstructed view is a definite highlight here. "We have lived in Karuizawa during all the seasons, and the view has never failed to lure us. It has the best of all seasons: snow in the winter, lush in the spring, a cool summer breeze and a colorful autumn foliage," he said.
The distinct four seasons in Karuizawa is probably the reason the duo created the exceptional detached floating deck, with an outdoor fireplace, and a pair of Sebastian Herkner Mbrace armchairs.
The interior, 200 square meters in total, spanning two stories, is filled with vintage furniture, found pieces, design objects and artworks.

Reylia Slaby / Ti Gong
The open kitchen and dining room is furnished with chairs and stools by George Nakashima and, most notably, a vintage dining table purchased directly from the Nakashima family. The blue painting by Juri Markkula strikes a sharp contrast against the wooden walls.
The welcoming living space features furniture from various origins. One of their beloved items is an antique organic rosewood kidney-shaped desk by the window with a revolving door to keep their mini whiskey collection. The circular wooden sculpture by Paulo Rocha Das Neve, by the other window, connects the indoor with nature outside.
Downstairs in the den, a very special Frank Lloyd Wright Taliesin II lamp, made of Japanese Aizu paulownia and gold leaf, is spotted. It is one of only ten special editions which commemorates the legendary designer's 150th birth anniversary.
"Furthermore, we didn't know there are so many local shops, restaurants, galleries and art museums in the area until we moved here, which makes it a great place for resources. We incorporated many local handcrafted items acquired from antique shops which completes our Karuizawa residence design. The result is a haven that breathes light and atmosphere, a home that we want to spend time in," Ed said.
Reylia Slaby / Ti Gong
Ask The Owner
Q: What's the best thing about living in Karuizawa?
A: A serene lifestyle within the proximity of one of the busiest and most convenient cities in the world.
Q: Describe your home in three words.
A: Haven, revivify, and inspiration.
A home should be like a mirror, you should be able to see your soul reflected in it.
Q: What's the first thing you do when you get home?
A: Well, the very Japanese thing to do is to take off your shoes before entering. And then we normally head to the living room to relax.
Q: How do you unwind?
A: When it gets warm, I take out my yoga mat and enjoy my beginner's yoga stretching workout while feeling the soothing breeze on the terrace.
When it is cold, I set up my fireplace. It is an easy way to bring me to a state of meditation, just by staring at the fireplace and listening to the wood cracking sound.
Q: Where do you spend most of your time at home?
A: The living room is the space we spend most of our time in. Whether we're working, eating or simply just being there, with visiting friends or ourselves. Mainly because of the sunlight and ever-changing view.
Q: What's the view outside your window?
A: An ever-changing forest and landscape.
Q: What's your favorite object in your home?
A: My art collections.
Q: Where do you source furniture?
A: All over the world. A lot of vintage items that we've picked up in flea markets or antique shops whenever we have traveled over the past few decades.
Source: SHINE Editor: Fu Rong Special Reports