Maoming Road's haven of gelato, coffee & grub
12:46 UTC+8, 2020-09-04
0
If you are a foodie then you will be well acquainted with Maoming Road. 
12:46 UTC+8, 2020-09-04
0
Zhu Jing
If you are a foodie then you will be well acquainted with Maoming Road. Its north end connects the popular food street Wujiang Road and the world-renowned Nanjing Road W., while its south end boasts several cafes ready to give you an instant caffeine fix.

A touch of history
Just by Maoming Road N., Zhang Yuan, or Zhang's Garden, is tucked away from the busy Nanjing Road W. and between foodies' destinations of Wujiang Road and Fengsheng Li.
Zhang Yuan not only belongs to a cluster of shikumen (stone-gate) houses but also to over a century of social change and shared memories.
The legendary story of Zhang Yuan began with a British businessman who sold a country house to Zhang Shuhe in 1882. Zhang, a Wuxi native, then rebuilt the estate and turned it into a public garden. The Arcadia Hall in Zhang Yuan used to be the tallest building in Shanghai, and a place where renowned revolutionaries, such as Dr Sun Yat-sen and Cai Yuanpei, gave speeches. Chinese kung fu master Huo Yuanjia once performed here too.
Zhang Yuan has been under renovation since last year. All of the garden's historic houses and buildings have been renovated, protected and brought up to modern-day housing regulations.
Zhu Jing
Dip in gelato
The culturally-rich area is also home to some of the city's finest Italian gelato.

ALLORA is an Italian restaurant hidden inside Fengsheng Li. However, as soon as you enter the restaurant, which boasts a nice semi-outdoor parlor, a long bar showcases dozens of gelato choices that will have you salivating like a hungry cartoon character.
Zhu Jing
Here, Affogato no longer means vanilla gelato with espresso. You can have your Affogato with flavors such as coconut chocolate, sesame, peanut, taro or even pumpkin. Honeydew melon lovers are in for a rare treat, as there is a delicious gelato version on offer. Alternatively, try a gelato dish in a "spaghetti" version.
What if you want to be a bit more adventurous? Then try Antica Gelateria del Corso. You can't miss it if you walk along Maoming Road N from Nanjing Road W.
Zhu Jing
The symbolic lemon yellow is eye-catching and impressive. Apart from a wide range of gelato flavors, the shop offers freshly baked cones in four different flavors, namely: cheese, matcha, taro and strawberry.
They also offer a new limited range of innovative flavors collaborated with renowned sauce brand Heinz, such as ketchup creamz, mayo creamz and BBQ creamz.
Zhu Jing
Two scoops in a cup costs 39 yuan (US$5.7). The Heinz range will be available until September 24. If you have some time, sit down and enjoy an afternoon set composed of gelato. I would still go for the traditional cone version and lick my gelato, which is also great for taking snaps. Unlike other ice cream shops, here you will find several gift sets for special occasions too, such as a gift range of Heinz sauces and a cutlery set.
Zhu Jing
The brand now has a few locations across the city. Go and find your nearest one and have a scoop of delicious gelato.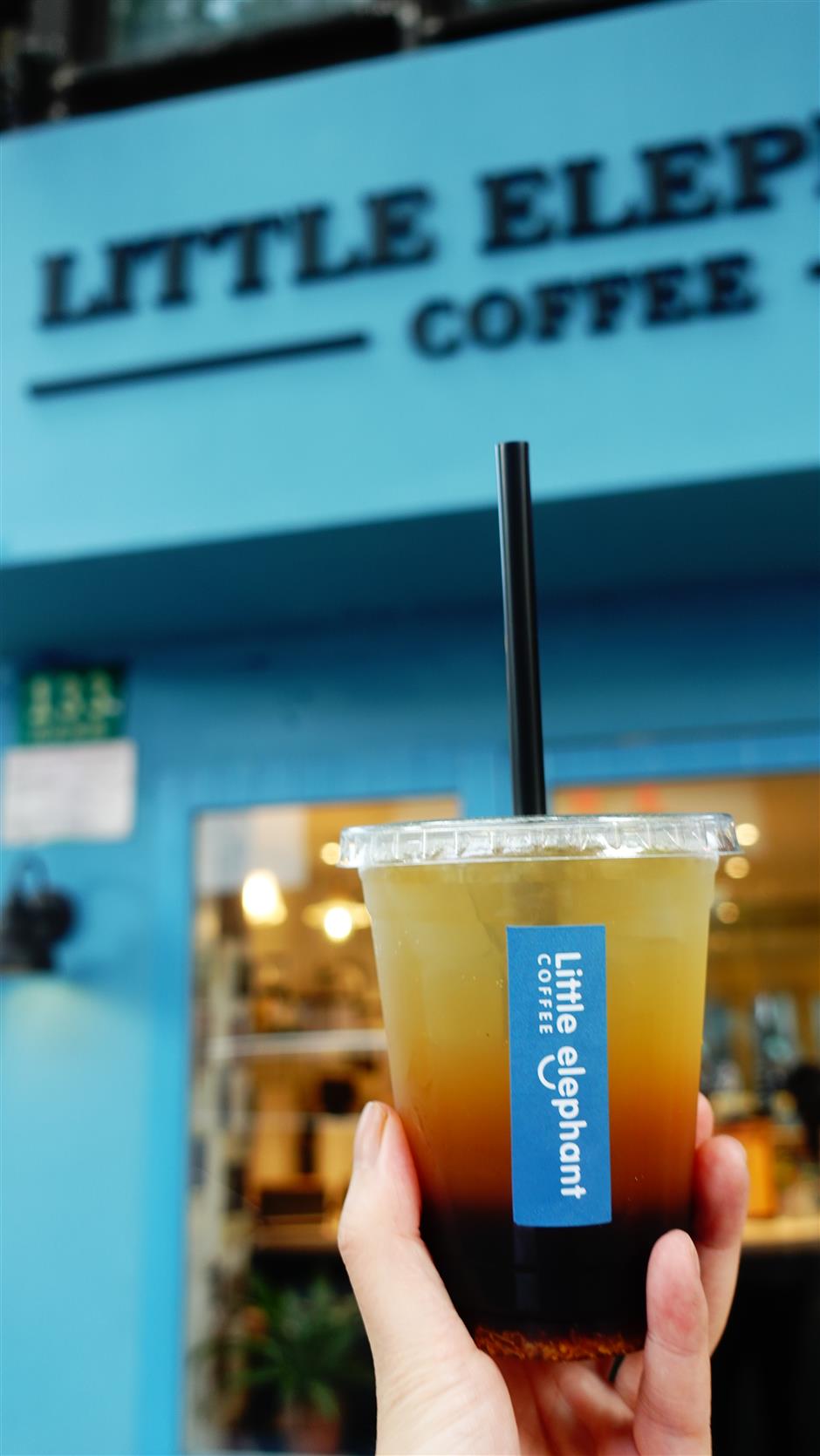 Zhu Jing
A caffeine fix
Just opposite the UNIQLO's flagship store on the crossing of Huaihai Road M. and Maoming Road S., Little Elephant Coffee and Pushing Coffee are two popular cafes.

The two have completely different styles and decor. Little Elephant Coffee creates a warm cozy living room environment inside, along with many elephant figures and dolls. Its blue facade is a design style that reminds you of those cafes regularly seen in London. With an L-shaped bar, the store has a big mirror at the back that reflects the street view, as well as bringing in sunlight. The store offers a wide range of drinks, providing three different beans to suit customers' tastes. If you love Osmanthus, you may find its signature drink appealing.
The iced layered beverage is more than just refreshing — it's tasty too. The subtle scent from the dried Osmanthus is so detectable you can even taste the flowers. Remember to stir well before drinking. Oat milk from OATLY is also available.
Zhu Jing
Pushing Coffee is a newcomer to this road. As the third establishment, its design style leads you into "space travel."
The metallic materials extend from the store facade to interior decor, from walls to stairways, and from espresso machines to stools. It's surprising to see how thick crema can be produced.
It's amazing to observe the espresso extraction process and watch how the barista pours a shot into the milk. You can even try Minor Figures, an alternative brand of milk. Coconut latte is also a hit at Pushing Coffee. The iced version is highly recommended.
The sweet coconut milk with the strong blended coffee is a perfect escape from the summer's last heatwave.
For the curious cafe hopper, go to Secret Signature.
The drink I selected was a cold brew mixed with fresh pineapple juice, which brought out tropical tasting notes hidden in the coffee. Yummy!
Source: SHINE Editor: Fu Rong Special Reports