Spotlight on Beijing City scene in autumn
19:58 UTC+8, 2020-10-20
0
Hutong culture is interesting to many Beijing-newcomers. The winding hutong reveals a local way of life, which can be traced back over 800 years.
19:58 UTC+8, 2020-10-20
0
The sun shines on the golden tree leaves. It dazzles like a spotlight onto the red walls of the Forbidden City. It projects warmth into the thousands of hutong that make up the capital city of China.

Autumn may be the best season in Beijing. It is a perfect time to ride a bike, explore the city and feel its coolness before winter arrives.
Hutong culture is interesting to many Beijing-newcomers. The winding hutong reveals a local way of life, which can be traced back over 800 years. Hutong connects hundreds, maybe thousands, of a siheyuan, a traditional house with a courtyard in the center.
The characteristics of a siheyuan don't just lie in its big gate painted in red and unique architectural style, but how this symbolic structure is interpreted into a modern version of life or business.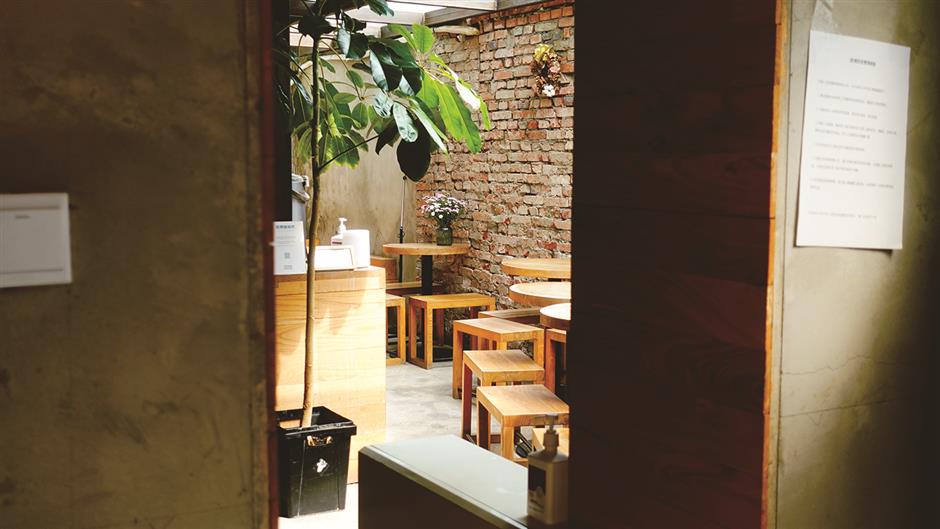 Zhu Jing
Beiluoguxiang 北锣鼓巷
Nanluoguxiang (Nanluogu Alley) is one of the best-known tourist attractions in Beijing, which is always packed with tourists. However, the north end of the hutong, or Beiluoguxiang (Beiluogu Alley), is a great place to enjoy a day in the life of a local Beijinger. Far from being busy, some Beiluogu Alley shops are hidden inside residence houses. For example, famous for its pour-over coffee, VOYAGE COFFEE used to have attractive big windows so customers could enjoy a great view of the hutong. Now, you have to walk past a small door to get into the cafe, a bit like walking in a maze. Unfortunately, the big windows are now replaced with small ones unified with the surrounding houses and it sadly has no view now.

You may find a few more cafes, bars, and restaurants along the hutong as you explore. Wake Up & Coffee is a newly opened coffee shop with a nice seating area right by the hutong. Inside there is a wall decorated with illustrations. For pet-lovers, Lovely Time provides an "intimate" afternoon tea time with a "pet of your choice." You'll find who is "on duty" on the board by entrance.
VOYAGE COFFEE
Address: 80 Beiluogu Alley
Time: 10am-6:30pm
Wake Up & Coffee
Address: 93 Beiluogu Alley
Time: 10am-7pm (Closed on Mondays)
Lovely Time
Address: 60 Beiluogu Alley
Time: 11am-9pm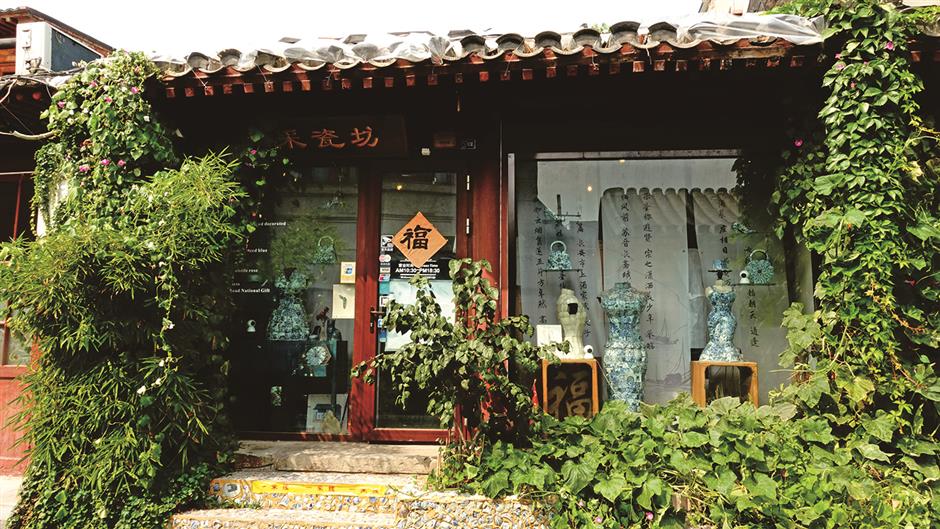 Zhu Jing
Yangmeizhuxiejie 杨梅竹斜街
The hutong stretches 496 meters from northeast to southwest. In the Ming Dynasty (1368-1644), it received the name of xiejie (crooked street). In 1750 of the Qing Dynasty (1644-1911), it was marked as Yangmeizhuxiejie in the Complete Map of Beijing. Its pronunciation was then beautified and turned into the current street name in the reign of Emperor Guangxu (1875-1908).

Today, the street may be famous for its diversified businesses but it was once known for its cultural environment. Liang Shizheng (1697-1763), a court official and calligrapher, and famous Chinese author Shen Congwen (1902-88) once lived at No.25 and No. 61 Yangmeizhu Crooked Street, respectively. Shen completed several books here, including "The Border Town." You may also find the former residences of Chinese Peking Opera artist Yang Xiaolou and Pingju Opera performer Xin Fengxia.
During the early years of the 20th century, Yangmeizhu Crooked Street housed a cluster of bookstores and publishing houses. Nowadays, Model Bookstore reveals a hint of the history. Time seems to have stopped still in the bookstore.
If you see a brass facade, stop! This is Suzuki Kitchen, a Japanese restaurant chain, a treat for both eyes and stomach. The interior decor in neutral colors is ideal for photography and there is a good selection of food and drinks.
The best-selling items include deep-fried pork chop with rice (with or without curry sauce), almond tofu pudding and a variety of sake. There is a separate room displaying crafted decorations like wind bells.
Prefer a rooftop view of a hutong? Try Soloist Coffee, which has vintage decor indoors and a nice view on the upper floor.
Model Bookstore
Address: 31 Yangmeizhu Crooked Street
Time: 10am-7:30pm
Suzuki Kitchen
Address: 10-14 Yangmeizhu Crooked Street
Time: 11:30am-2:30pm; 5:30pm-9pm
Soloist Coffee Co
Address: 39 Yangmeizhu Crooked Street
Time: 9am-7pm
Zhu Jing
Xiezuo Hutong 协作胡同
This hutong, known as Gaga Hutong, has a long history that can be traced back to the Ming Dynasty. If you want to stay in Beijing for a little bit longer, ZSPACE is a great option. Designed by Japanese architect Shuhei Aoyama, it is a multifunctional space for lease, either for corporate/private occasions or short/long-term lease (from one month onward). The cafe area is large, spreading from the site's reading section to the stunning courtyard where you can bathe in the sun. Please note that booking is required to use the cafe.

ZSPACE
Address: 40 Xiezuo Hutong
Time: 10am-8pm (cafe)
Zhu Jing
Beijing Fun 北京坊
Opposite to Yangmeizhuxiejie/Meishijie (Meishi Street), Beijing Fun is a new business block that connects a variety of top tourist attractions such as the Palace Museum, Tian'anmen Square and the National Theater, with historic buildings like the former sites of Yien Yieh Commercial Bank and the Bank of Communications, along with local business circles.

Boasting over 33,000 square meters, Beijing Fun is now home to the MUJI Hotel & Diner, Starbucks Reserve Beijing Fun Flagship, Keepland, WeWork and Page One Bookstore. In its renowned wooden decor, MUJI Hotel & Diner has a spacious lobby separated into two areas, a dining area and a reading section. Apart from books for reading, free of charge, new sealed books are for sale.
The dining area is great for a rest. You can find a good read, and enjoy a nice light refreshing meal/afternoon tea with reasonable prices. Recommendations include: Fig Chestnut Soda (19 yuan/US$2.82). It has a salty plum, two slices of fig and a maple leaf for decoration. Brown Sugar Cheesecake (29 yuan) goes best with a coffee drink, choosing from espresso-based to pour over coffees.
MUJI Hotel & Diner
Address: Bldg 2, West Section, Beijing Fun, 21, Langfangtou Alley, Meishi Street
Starbucks Reserve Beijing Fun Flagship
Address: Bldg 3, 13, Langfangtou Alley, Meishijie
Time: 8am-10pm
Source: SHINE Editor: Fu Rong Special Reports