We all scream for ice cream...
18:56 UTC+8, 2017-06-23
0
WHEN the weather drags us down, we always look for some comforting food to cheer us up: something sweet, something yummy, something chilled…
18:56 UTC+8, 2017-06-23
0
Ice cream is a top choice for many of us. We head out to three ice cream specialists in the city who offer some innovative flavors to cool the nerves and spoil the taste buds. Let's check them out!
Zhu Jin / SHINE
Al's Diner & Gracie's Ice Cream
Best known for its pancakes, Al's Diner has another specialty — Gracie's Ice Cream. A selection of 16 flavors is on offer every day though there are more than 20 flavors in total. The recipes of hand-crafted ice cream are all developed by the restaurant's co-owner Gracie.

Zhu Jin / SHINE
You can find many new flavors here. The two most popular flavors are Malt, Sea Salt & Chocolate and London Fog. The former tastes just like the mashed chilled Maltesers. The sea salt is strong enough to balance the sweetness.
Zhu Jin / SHINE
If you prefer pure indulgence of sugar and cream, try its Half Baked Cookie Dough, which will possibly remind you of your childhood — licking the back of the spoon and mixer bowl. London Fog is made of Earl Grey tea. The strong tea flavor is hard to ignore, creamy yet light.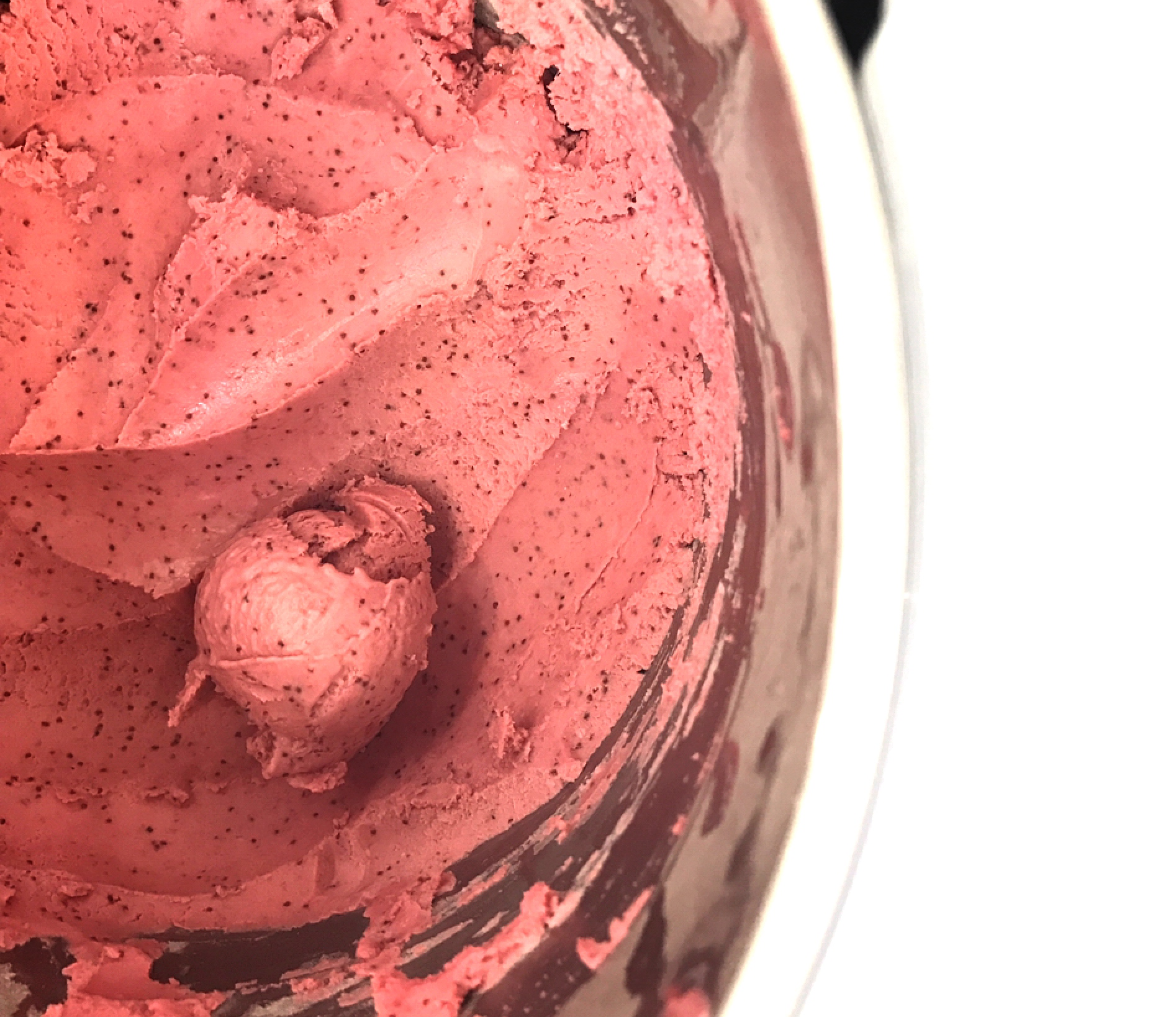 Zhu Jin / SHINE
Balsamic Strawberry & Buttermilk is made of fresh strawberries instead of frozen ones. So you possibly may get a scoop in different shades every time. The innovative combination brings out the freshness of the red fruit, adding a hint of Italian balsamic vinegar.

Four flavors are available now as dairy-free options: Mango Coconut, Orange Sorbet, Lemon & Almond Sorbet and Strawberry Lemonade. For those who love creamy taste, its Coconut flavor is a perfect substitute.

A single scoop costs 30 yuan (US$4.4) and two for 50 yuan. Waffle bowls and bamboo cones cost extra.Ice cream tubs are for sale, 90 yuan for a pint and 30 yuan for a cup.

The 12 flavors include those that are not available for sale by scoop, such as Black Sesame & Honey and Miso Caramel.

Zhu Jin / SHINE
Address: 204 Xinle

Rd (close to

Donghu

Rd)



Tel: 5465-1259

Opening hours:

9am-12am



Offer:

Buy one get one for free every Wednesday from 5pm



Recommend:

Balsamic Strawberry & Buttermilk, Malt, Sea Salt & Chocolate



Zhu Jin / SHINE
Casa Di Sorbetto
The one-month old Casa Di Sorbetto has 12 flavors, half gelato and half sorbet. However, its innovative recipes have given classic Chinese desserts a fresh new identity.

Chilled mango sago cream & pomelo (杨枝甘露), the classic Cantonese dessert, now has a posh gelato version with bird's nest. The pomelo is replaced by pinky bits of grapefruits, whose bittersweet taste balances the sweetness of mango.

Dried logans and red dates are two most popular ingredients in Chinese desserts. Its ice cream combo has a refreshing taste due to the sorbet texture. If you love the date flavor, it will be the one for you.

Alcohol always goes well with raspberries. Raspberry Red Wine sorbet contains 5 percent red wine, giving an extra winey fruity note to this sorbet. The taste of wine is not so obvious but detectable.

Zhu Jin / SHINE
The dark green gelato displayed in the freezer is actually made with Oolong tea. Brewed from fine tea leaves ground at a low temperature, the color subverts the typical impression of Oolong tea. The gelato tastes smooth and much firmer than normal gelatos due to the replacement of cream with fresh milk in the recipe. The strong Oolong tea flavor makes it a great alternative to matcha.

All ice creams are produced on site. Freshly made waffle cones are much thicker than you would expect, free upon ice cream purchase.

A single scoop costs 25 yuan while double costs 35 yuan. The chilled mango bird's nest cream & pomelo are charged differently.

Zhu Jin / SHINE
Address: 10 Baoqing

Rd



Tel: 6422-8853

Opening hours: 10am-10am

Offer: 12 percent off until June 26

Recommend: Oolong

Tea, Chilled Mango Bird's Nest Cream &

Pomelo

Zhu Jin / SHINE
PIERRE MARCOLINI
The world's premium chocolatier PIERRE MARCOLINI has just launched its third boutique in Shanghai with its latest make-your-own ice cream service.

Best known for his exquisite chocolate and passion for sourcing the finest cocoa beans for his delicate desserts, the chocolatier Marcolini brings an assortment of four-flavor ice cream popsicles (dairy-free Brazilian Mango and Raspberry Sorbet, Madagascan Vanilla, and Matcha), all priced at 58 yuan.

Zhu Jin / SHINE
There are six different flavored dipping: dark chocolate & cocoa nibs, milk chocolate & almond, white chocolate, matcha chocolate, raspberry chocolate and caramelized pistachios.

"After dipping, the popsicle will be put back to the freezer for one minute," demonstrated Marcolini, "This process will help the coating to get firm, creating a sharp contrast between crispy chocolate coating and soft ice cream."

The 75 percent dark chocolate coating is highly recommended as it perfectly balances the sweetness of ice cream, with chewy cocoa nibs for a playful touch in texture. With less sugar in recipe and small in size, the ice cream can be a guilty-free treat.

Zhu Jin / SHINE
If you love scooping ice cream with a spoon, you can get the 75g pot (58 yuan), which has five flavors, Jasmine & Red Fruit, Chocolate Maison Vanilla, Salted Caramel Butter, Hazelnut Praline, and Chocolate Maison.

"Next time, the flavor will be Rose, which is inspired from a souvenir from my travel to Morocco long time ago," said Marcolini. A new ice cream flavor, White Sesame, has been launched in Europe this summer, which is expected to be available in Shanghai later this year.

All ice creams are imported from abroad though the dipping sauces are freshly made in the "kitchen" at K11.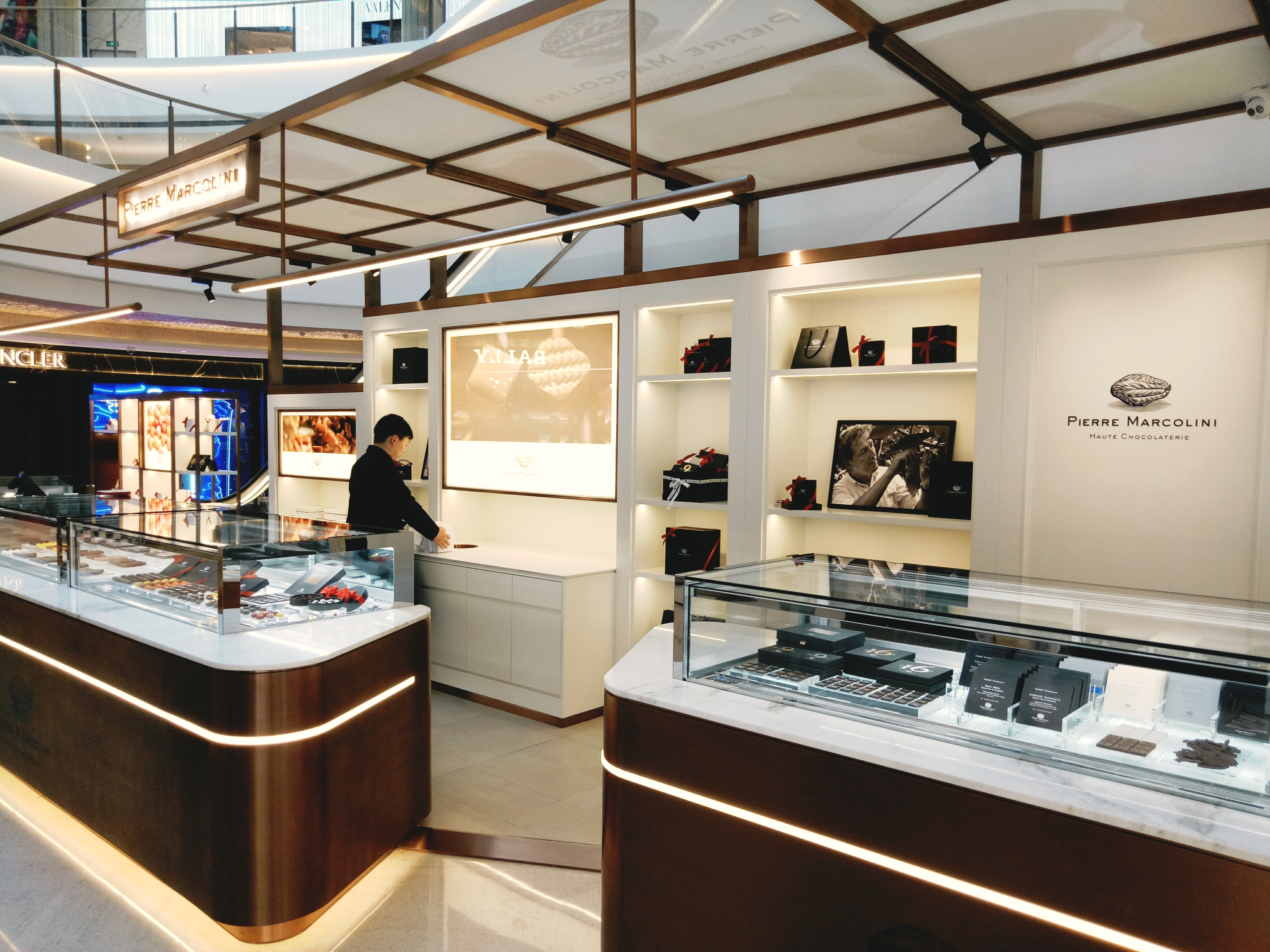 Zhu Jin / SHINE
Address: B1, 1266 Nanjing Rd W.

Tel: 3220-5981

Opening hours: 10am-10pm

Recommend: Matcha

popsicle

with dark chocolate coating, Jasmine & Red Fruit pot



Source: SHINE Editor: Chen Jie Special Reports