Specially crafted drinks are perfect for summer
17:08 UTC+8, 2017-08-02
0
Teahouses, bars and restaurants update their menus as they get more customers stopping over. We checked out some of the popular teahouses, restaurants and dessert stores.
17:08 UTC+8, 2017-08-02
0
It is necessary to have drinks to quench thirst during summer when the temperatures cross 40 degrees Celsius. Teahouses, bars and restaurants update their menus as they get more customers stopping over for drinks in this season.
Shanghai Daily checked out some of the popular teahouses, restaurants and dessert stores in hot climate.
Ti Gong
Sierra-Tequila-made drinks @ Hard Rock Cafe 龙舌兰系列饮品@硬石音乐餐厅
Sierra Tequila, one of the bestselling tequilas in Europe, is now available in Hangzhou at Hard Rock Cafe in Hangzhou. It was introduced by Eco Global Trading Company in Shanghai which also imports soft drinks, premium spirits and beverages from all around the world.

On the cafe's menu this season, there are shots and cocktails containing the fruity tequila made from Blue Weber Agaves from the highlands of Jalisco, Mexico.
Also recommended are Paloma and margarita, both made from the brand's signature product Sierra Tequila Silver, which is a rested, clear tequila with more than 75 percent agave.
A new product of the brand is the Sirra Gran Cafe, a handcrafted Sirra Tequila Blanco blended with 100 percent Mexican coffee.
Crowned with high-quality vanilla, it balances tequila's fruitiness with notes of natural roasted Mexican coffee.
Another unique product is the limited Sirra Spiced that is made of Sirra Tequila Reposado that marries perfectly with the taste of fresh oranges, cinnamon, agave syrup and a hint of chocolate.
Address: L122-123, Bldg 3, Kerry Center, 385 Yan'an Rd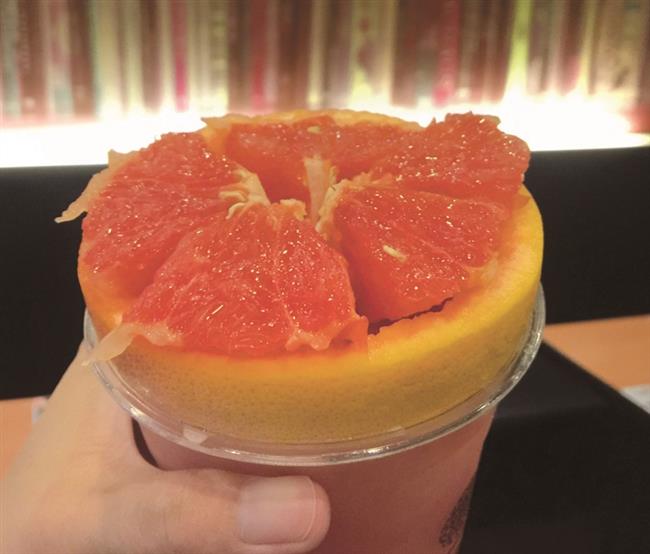 Ti Gong
100% Grapefruit Cup @ Honeymoon Dessert 满分蜜柚@满记甜品
Like it or not, the grapefruit has a unique bitter taste.

Those who like it say the taste keeps them refreshed all day long. Those who hate it claim that even having a cake afterwards cannot dispel the bitter taste in the mouth.
At Honeymoon Dessert, grapefruit imported from the US is made into a series of desserts.
The pretty pink 100 percent grapefruit cup is made from an entire fruit — half of it is above the cup, while the rest is made into a juice with ice. Condensed milk is served with it to balance the bitterness.
A straw can be used to have the juice. Fresh grapefruits, mixed with other fruits and milk, are also used to make yogurt, custard and ice cream.
Youdian Road branch?

Address: 98 Youdian Rd?
Lixing Plaza branch
?Address: 1/F, 124 Pinghai Rd, Lixing Plaza?
Southern Song Royal Street branch
?Address: 38 Zhongshan Rd M.
Ti Gong
Pineapple and pitaya flat white?@ Chen's Teahouse 旺梨龙果馥芮白@陈茶铺子
This month, one more milk tea franchise brand, Chen's Teahouse, is stepping into the highly competitive tea store market. Owned by famous TV host Chen Huan, the newcomer naturally received a lot of attention.

Chen, who considers himself a tea lover, recommends pineapple and pitaya flat white for summer. It is made from Taiwan pineapple, red pitaya and jasmine tea, and features a milk cap.
Pineapple and dragon fruit meat are stirred in a blender that fuses the sourness and sweetness, while the jasmine tea — made of jasmine, magnolia, and oolong gives it a refreshing and pleasing scent.
The oolong tea that the store uses is from a tea garden in the Wuyi Mountains in Fujian Province.
Tea lovers will find their cup of tea in the season — iced jujube-flavored Dianhong. Dianhong is a relatively high-end Chinese black tea.
Chen also selected tea from Lincang, Yunnan Province. The tea leaves are fermented first and then baked with jujubes for the flavor and scent.
"Before I started the brand, I traveled almost everywhere that produces tea," said the new entrepreneur.
Address: B208, B1/F, Hangzhou Tower 501,?16 Jingtan Rd

Source: SHINE Editor: Su Yanxian Special Reports