A culinary season of river food and Yunnan ingredients
13:44 UTC+8, 2019-05-10
0
Lixia, or Summer Begins in the Chinese calendar, is a time of vibrant flavors and seasonal ingredients.
13:44 UTC+8, 2019-05-10
0
May 6 marks the seventh solar term lixia, or Summer Begins, in the Chinese calendar. However, the meteorological summer is yet to arrive. It is a time of vibrant flavors, seasonal ingredients and some wild plants from the mountains in Yunnan Province, which borders Southeast Asia. Here, we look at three popular restaurants with the flavors of Yunnan.

SH Yue (尚越)
SH Yue, on the first floor of the Hengshan Hotel, is one place that deserves a visit if you want to try some authentic Yunnan cuisine. The chef from Yunnan Province has crafted a special menu that brings out the best flavors of the season in Yunnan and added his own local Shanghai twist.

The classic braised spring bamboo shoot is a favorite of Shanghai locals. The dark, sweet and sumptuous sauce complements the crunchy bamboo shoots. The chef uses bamboo shoots transported from the mountains in Yunnan every day. You can feel the fresh, tender, sweet taste in every piece.

Ti Gong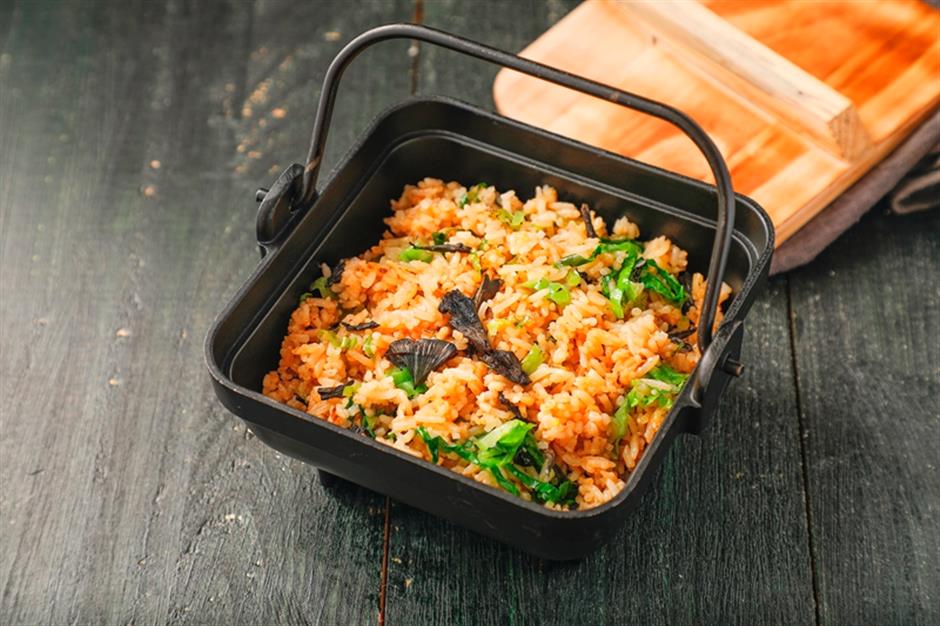 Ti Gong
The sliced cold black chicken with homemade dipping sauce is also a good choice. The restaurant uses wild black chicken from Yunnan. After being boiled with ginger and scallions, simmered over a low heat and chopped into smaller pieces, the meat is tender and juicy.
You can also try the bamboo fungus chicken soup and fried rice topped with porcini. The Yunnan vegetables, from Chayote leaves to flower dishes or needle salads are also recommended.
Address: 1/F, 534 Hengshan Rd
Tel: 6474-0722
MOTT539 (思南江宴)
At Sinan Mansion, this restaurant offers signature Huaiyang cuisine with a twist. Huaiyang is one of the four great traditions in Chinese cuisine. It is derived from the native cooking styles of the region surrounding the lower reaches of the Huaihe and Yangtze rivers.
Zhuweiyu, or synechogobius hasta, looks like the tail of a pig. Caught in the Yellow Sea area, the fish has a firm texture and plenty of nutrition. The chef cooks the fish in a sizzling hot clay pot and flavored with Shaoxing wine, which is a famous traditional Cantonese cooking style. Then the dish is sent straight to the diner, who can savor its original flavors as it slowly cooks.
Jiang Xinhua / SHINE
Jiang Xinhua
Other main entrees with fresh and bright vibes are worth trying. Must-tries are the Yangtze River white fish steamed in golden yellow chicken oil, which is topped with broad beans and slices of bamboo shoots, minced pork balls with crab oil sauce, stewed pork intestines with pickled cabbage and braised goose stewed with bamboo shoots.
Address:539 Fuxing Rd M.
Tel: 3356-6575
Zifuhui Qian (子福慧 乾)
The newly opened Zifuhui Qian at L+ Mall in the Pudong New Area brings a few specials incorporating seasonal ingredients.

As one of the signature cold dishes, the "pomegranate bag" plate, signifying fertility and happiness in Chinese tradition, is recommended. Wrapped in a Vietnamese spring roll, the "bag" has shredded fresh vegetables, pine nuts and mushrooms inside. The chef uses jicai, or shepherd's purse, which is a popular green in springtime in Jiangnan (the region south of the lower reaches of the Yangtze River). The vegetable presents a unique fragrance.
Ti Gong
Ti Gong
It is high time to enjoy the river food, including fish, shrimp and crab around Jiangnan. You can try braised potato vermicelli with river snails, boiled shrimps cooked with preserved vegetable and bamboo shoots and braised river eel cooked with handmade tofu.
Don't miss the desserts here. Stewed gorgon fruit and mung beans with osmanthus, stewed pear with coconut and apricot, and handmande red bean cake are good choices in this season.
Address: L907, 899 Pudong Rd S.
Tel: 5877-7786

Source: SHINE Editor: Su Yanxian Special Reports