Chinese soda discovering its sparkle again
16:47 UTC+8, 2019-07-01
0
Chinese original soft drinks are coming back strong by making the tradition fashionable again.
16:47 UTC+8, 2019-07-01
0
Chinese original soft drinks are coming back strong by making the tradition fashionable again. This summer, colorful sodas packed in classic bottles with vintage stickers are the new trendy accessory, not just as a thirst-quenching drink, but a nostalgic sensation.
International brands such as Coca-Cola and PepsiCo dominate the soft drinks market in China, as children have grown up drinking Coke, Pepsi and Fanta, among other big-name beverages. But for the generation who grew up in the 70s, 80s and 90s, carbonated soft drinks were much more different and diverse.
The latest trend of classic Chinese sodas was led by Hankow Er Chang, a new brand born from an old-time classic.
Imaginechina
Er Chang, which means second factory, was an original, state-run soda brand from Hankou in Wuhan, Hubei Province. It was very popular three decades ago — the colorful soft drinks packaged in glass bottles was a Wuhan calling card and icon of the city's lifestyle. But regrettably, the factory closed in 2000.
Last year, a new brand called Hankow Er Chang emerged in the market with eye-catching designs and aggressive marketing campaigns to revive the soda legend. It wasn't a reopening of the original factory, but an ambitious new brand that looks to launch a future for Chinese soda.
The company behind the brand is based in Wuhan, but the products are manufactured in Luohe, Henan Province.
The sodas not only feature the classic orange or lychee flavor, but also creative ideas like salted pineapple, a very refreshing drink that tastes like fresh pineapple juice with a hint of crisp saltiness, sour plum, lemon and sea salt as well as passionfruit with lactobacillus and cherry blossom.
The new Er Chang sodas also upgraded the recipe to use real juice instead of artificial flavorings without adding extra sugar, so these sodas are actually healthier sparkling juice drinks. The retail price of the glass bottle beverage is 8.8 yuan (US$1.27).
Just like the Er Chang name represents the soda history of Hubei Province, different places across China have unique soda products as well. Many of them are still in production, and they have become local cultural symbols.
In Shanghai, Chivalry is the local soda brand that created the famous lychee juice beverage and salt soda, a summertime drink that provides hydration and replaces salt after sweating, although not everyone can get used to its salty, lemony taste.
Salt soda, packaged in a plastic bottle, is very cheap at a price of around 2-3 yuan in stores.
Chivalry also has the nostalgic glass bottle sodas in two flavors, orange and pineapple, the latter is packaged in a green glass bottle but the drink itself is yellow. The two sodas are mildly flavored yet quite artificial in taste.
Arctic Ocean Company, or Beibingyang, is the soda of Beijing. Also packaged in vintage glass bottles, Arctic Ocean is one of the traditional soda factories that have successfully transited into today's lifestyle.
The most classic flavor from Arctic Ocean is tangerine, a bright orange soda with rich carbonic acid. It's sweet and sour with a hint of bitterness to balance the flavor. A chilled bottle of Arctic Ocean is the best companion for traditional Beijing snacks such as luzhu huoshao, a dish that serves braised pig offal with chunks of baked flatbread.
The orange flavor has a sourer taste than the tangerine, and the brand also carries a sour plum soda that has a quite retrained sweetness and delicate herbal taste.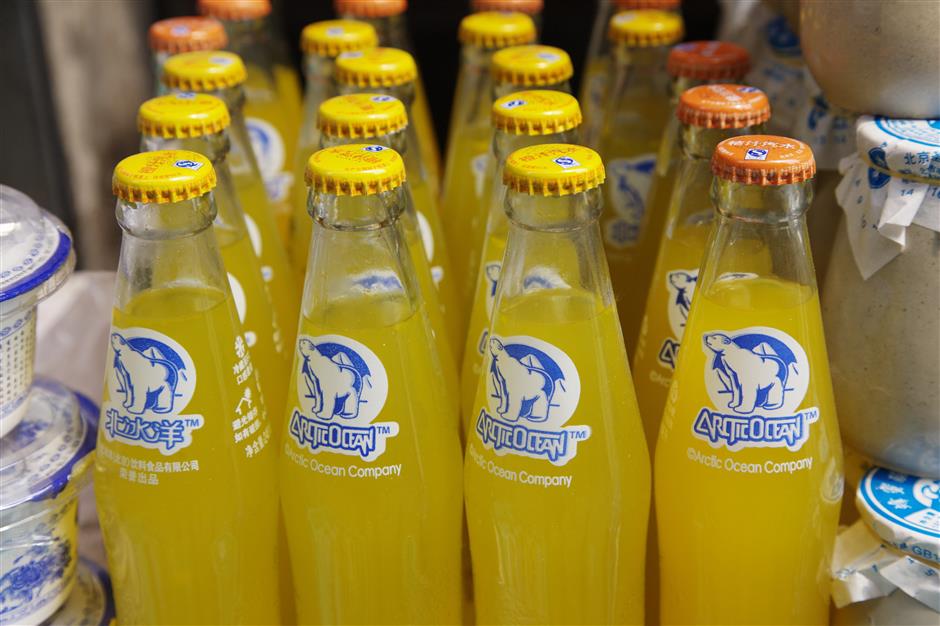 Imaginechina
Jinyue's blackcurrant soda is another classic in Beijing, but it's overly sweet and slowly fading in the market.
Meanwhile in Xi'an, Shaanxi Province, Ice Peak is the legendary local soda that can't be rivaled. The Xi'an people are very proud of the orange and apple flavor sodas packed in simple glass bottles. When enjoying local snacks like roujiamo (a Chinese style burger), bread soaked in mutton soup or youpo noodles, Ice Peak is a must-have.
Most Shaanxi-style eateries in Shanghai sell Ice Peak sodas, either in original glass bottle packaging or the more convenient cans.
Boruikoule, a pineapple-flavored soda, is found in almost every restaurant in Pingdingshan, Henan Province. It's a very sweet beverage with a little bit of sourness.
Jianlibao, which was founded in 1984 in Foshan, Guangdong Province, was a major orange soda brand that once dominated the soft drink scene.
Jianlibao reached its peak in the 1990s after it was featured as the sports beverage for the Chinese delegation at the 1984 Los Angeles Olympic Games. In 1997, the annual revenue of the company was 5.5 billion yuan.
Then, the company went downhill when Li Jingwei, CEO of the company, decided to build a 38-story building as headquarters in Guangzhou. A series of unfortunate events ultimately led to Jianlibao's recession. Though, you can still find Jianlibao orange sodas online and in some supermarkets.
Unlike most sweet sodas that are fruit-flavored, the gold classic sarsaparilla drink produced by the Asia brand in Guangdong has a unique taste that many people describe as fengyoujing, a medicated oil with a strong herbal and minty fragrance.
Zhenzhen is another soft drink brand from Guangdong, which is known for fruit-flavored sodas like strawberry, lychee, peach and pineapple malt.
For many people, chilled sodas are the best summer elixir. Because different regions have diverse varieties of soda brands, carbonated soft drinks in China feature a wide range of flavors that are not limited to lemon, orange and strawberry.
Lychee flavor is on top of many people's list of sodas. The summer fruit has a distinct sweet and sour flavor, and the sodas incorporating lychee juice or flavoring are very fresh. The lychee sodas are usually colorless and best served with ice.
Hawthorn fruit is regarded to aid digestion and boost appetite, in addition to the candied hawthorn chips and cakes, hawthorn fruit soda is the latest member of the family. The carbonated version of the classic hawthorn juice is also ideal to pair with spicy food like crayfish.
Birch juice soda is another unique Chinese soft drink found in northeastern China. It's quite sweet and slightly similar to lychee.
Source: SHINE Editor: Fu Rong Special Reports