Captivating Pinots from the far southern regions
15:59 UTC+8, 2019-07-26
0
In the wine world, along with grapes and proper terrior, a requisite ingredient in great wines is hardworking and creative people.
15:59 UTC+8, 2019-07-26
0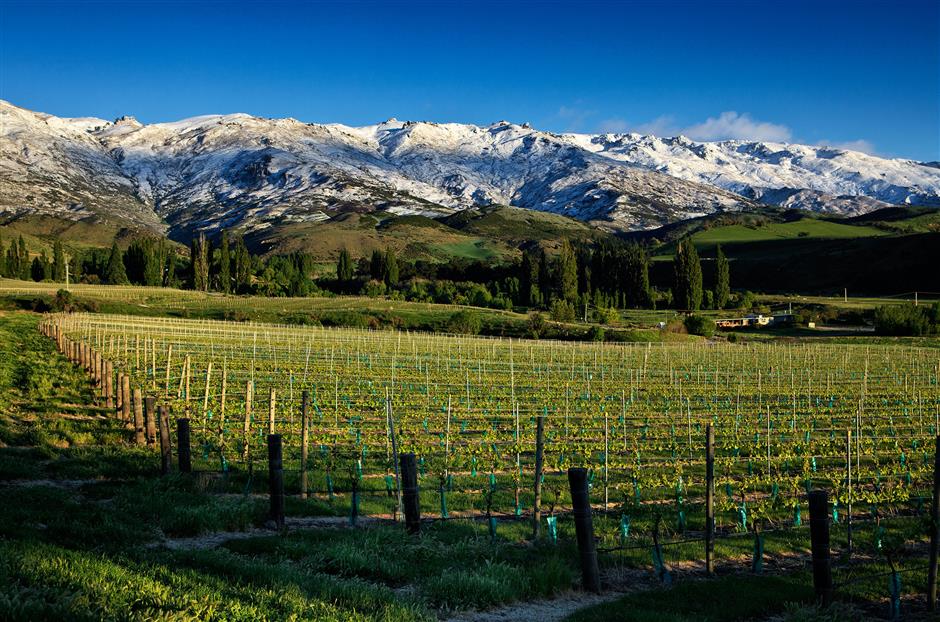 Ti Gong
In the wine world, along with grapes and proper terrior, a requisite ingredient in great wines is hardworking and creative people.
One joyfully successful manifestation of these essential qualities comes from a difficult grape that's cultivated in one of the world's most southern wine regions.
For new wine drinkers, Pinot Noir is seldom love at first taste. Like many of the gourmet world's great ingredients, this elegant and acidic grape tends to be an acquired taste as one's palate develops.
This finicky grape also has a remarkably complicated and mysterious history. The family of similarly named grapes, that include Pinot Gris, Pinot Blanc, Pinot Teinturier and others nearly have identical DNA profiles, but which is the main progenitor is a vexing and contentious issue.
What we do know is that grapes of the Pinot family were mentioned in Roman documents dating back to the first century, and over the centuries the Romans, Medieval monks and more contemporary winemakers have evolved their skills and understanding of this perplexing grape.
Pinot Noir is quite prone to mutation with well over 50 officially documented and recognized clones in France and scores of undocumented copies elsewhere. Different Pinot clones make wines with a diversity of styles and the slightest variances in soil, climate and winemaking also have profound effects on the style and qualities of the resulting wine. Add it all up, and Pinot Noir is most definitely an exasperating variety for winemakers, but when done just right the grape results in some of the world's greatest wines.
Burgundy is the unquestioned spiritual home of Pinot Noir where the grape makes many of the world's most sought-after and expensive red wines. While Burgundy Pinots remain the benchmark, a growing number of precocious New World producers are starting to uncover the secrets of making excellent Pinots.
Lovers of Oregon Pinot Noirs may beg to differ, but a solid case can be made that the most exciting New World Pinot Noirs are now coming from New Zealand.
Pinot Noir is now New Zealand's second most-planted variety after the ubiquitous Sauvignon Blanc. Marlborough Sauvignons may have put Kiwi winemaking on the map, but the second most planted variety Pinot Noir is garnering its fair share of acclaim.
With the exception of northern regions on the North Island, like Hawke's Bay, Pinot Noir is an important variety in terms of quality and quantity in nearly all of New Zealand's leading wine regions. Each region in New Zealand is naturally unique. But in general, the combination of ample sun, dry and cool climates with large day and night temperature differentials that results in long growing seasons makes several New Zealand regions ideal for cultivating Pinot Noir. This is especially true of a rough and wild region on the southern part of South Island.
Central Otago
My Kiwi and Chilean friends rarely agree on which country boasts the world's most southern wine region. I'm not sure, however, as I have traveled there on a few occasions, I can confidently proclaim that Central Otago is way, way south. As a result of an extreme southernly location the region features one of the wine world's most extreme climates.
Only the most industrious and fearless of winemakers dare brave the great diurnal temperature variations and frequent wild weather of this elevated continental climate. They do so because when mother nature behaves and things go right, and this is admittedly a pretty big if, the result is some of the most exuberant, concentrated and delicious Pinot Noir wines to be found anywhere.
Some vines were planted in Central Otago during a mid-19th-century goldrush, but commercial winemaking of any scale only started in the 1980s. The natural wild beauty of the region has attracted more than just winemakers. "The Hobbit" and "Lord of the Rings" movie series were mostly filmed here with their world-famous directors also buying homes in Central Otago.
In addition to world-class Pinots, Central Otago producers are also producing highly aromatic and finely textured Chardonnay, Sauvignon Blanc, Riesling, Pinot Gris and Gewurztraminer white wine, as well as stylish Pinot Noir- and Chardonnay-based sparklers.
In Shanghai, you can find several excellent Pinots from Central Otago. Some of my favorites are made by Rippon, an estate managed by Joe and Nick Mills, who have extensive experience making wine at some of Burgundy's most famous Domaines, including Romanee-Conti, Nicolas Potel, Albert Mann and Aubert de Villaine. Three wines to look for are the Mature Vine Pinot Noir, Emma's Block Mature Vine Pinot Noir and Tinker's Field Pinot Noir.
Another top Central Otago producer is Felton Road. Their Pinots are more elegant and subtler while less overtly fruity and concentrated than the norm. Other recommended producers include Mt Difficulty, Tiki, Forrest, Gibbston Valley, Tatty Bogler and Craggy Range. All will generously afford you a quintessentially intense and richly fruity, fresh and tannic Central Otago Pinot drinking experience.
Because of the weather extremes experienced in Central Otago, vintages matter. Look for Pinots from the 2015, 2014, 2011 and 2010 vintages. In deference to their robust and hearty nature, I recommend allowing at least half an hour for breathing and serving the wines no higher than 15-16 degrees Celsius.
Where to buy in Shanghai
Anteroom, 1222 Changle Rd, 5858-6689

Rippons Emma's Block Mature Vine Pinot Noir
Rippons Tinker's Field Pinot Noir
Rippons Mature Vine Pinot Noir
Pudao Wines, 376 Wukang Rd, 6090-7075
Felton Road Calvert Pinot Noir
Mt. Difficulty Roaring Meg Pinot Noir
Mt. Difficulty Estate Pinot Noir
Source: SHINE Editor: Fu Rong Special Reports