Cooking to the power of 8
16:13 UTC+8, 2019-07-26
0
When Li Wenye created Table for Eight in 2014, she wanted to pioneer a social dining table that connected people through food.
16:13 UTC+8, 2019-07-26
0
When Li Wenye created Table for Eight in 2014, she wanted to pioneer a social dining table that connected people through food.
Every month or two, Li would come up with new ideas to stage a communal table dinner for eight people, for her and seven guests who could be friends or total strangers. At first, the dinners were hosted in her home, a project she runs for fun instead of for profit.
"My original intention was to invite people to have excellent food and a wonderful experience. I wasn't doing it to make money. We just split the cost," she said.
The Chinese name of Table for Eight is baxianzhuo, which is an old-fashioned, traditional square table for eight people.
Xiao Sa / Ti Gong
Born and raised in Shanghai, 31-year-old Li majored in German at university and took off to study business in Germany in 2011. She was always passionate about cooking and while in Europe, wanted to pursue her dream and looked at different programs in Switzerland, France and US, eventually choosing Florence during her travels.
When Li left the business school to study Italian cuisine at Florence University of the Arts, her family, astounded by her decision, almost flew there to bring her home.
The inspiration for Table for Eight came to Li while she was studying in Florence, where she says she and her classmates hosted communal dinners to share food and good times.
When Li first returned to Shanghai, she had a full-time job in the office instead of in the kitchen, but she couldn't stop cooking. At weekends, she would have old friends over to her home, design different menus each time and make new friends.
In the beginning, Table for Eight was invitation only, and Li felt she was running an exclusive and mysterious restaurant with only one table.
Her friends brought more friends to taste Li's cooking. Later, a friend suggested Li open a WeChat subscription account and more people started to make reservations.
"I don't think Table for Eight is a private kitchen. We are more event-oriented and I hope to connect the individuals at the dining table. One of my pain spots after I started working was a narrow social circle, which can be broken through easily with good food and wine," she explained.
Courtesy of Li Wenye / Ti Gong
From 2014 to 2017, Li organized the Table for Eight dinners by herself. She planned the different themes using seasonal ingredients, did the shopping, cooking, table setting, service and dishwashing without any help.
Since 2017, Li's chef friends started to offer their help in the kitchen, so she could spend more time on service, communication and mingling with the guests.
When strangers started to come to Table for Eight dinners, Li had some scruples about hosting in her own home. She started to seek out different venues that could elevate the dining experience, and one of the more special dinners was an Eileen Chang-themed event hosted in Changde Apartment where the author once lived.
The menu for that night featured classic Shanghainese dishes, from borscht soup to fried pork chop, but with Li's own twists. Her pastry chef Chen Yingying made classic Shanghai desserts like éclairs and butterfly pastry.
Li had the opportunity to host the dinner because a Table for Eight guest knew an owner in the apartment who wanted to host a house warming event.
Over the years, Li has made many close friends at Table for Eight dinners. Connecting people gives her a great sense of accomplishment.
Li runs her WeChat food blog FoodieBoutique to share Table for Eight dinners and restaurant reviews, cooking tips, travel stories among other dining and lifestyle topics.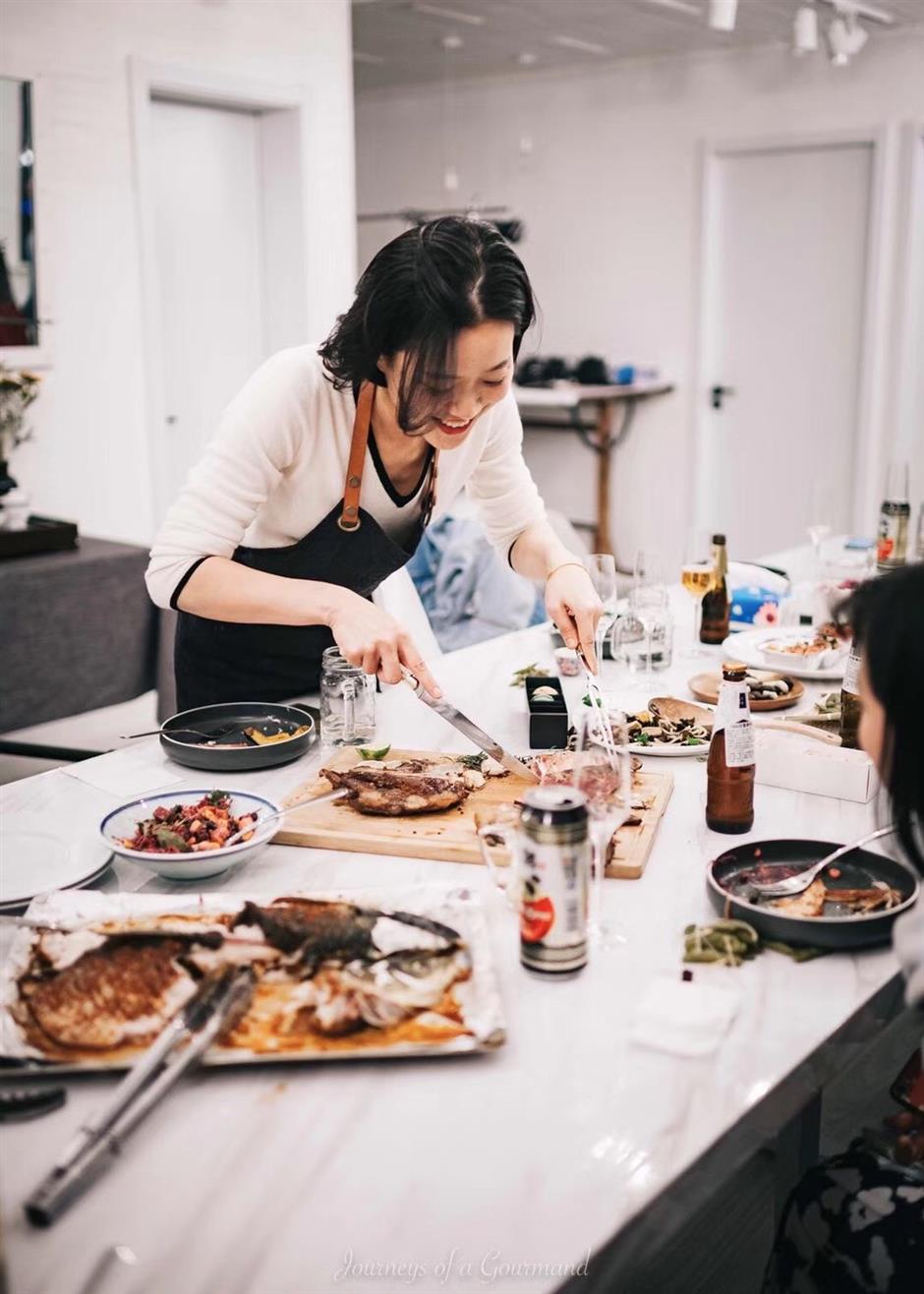 Emma Li / Ti Gong
Reintroduce Chinese cuisine
For five years, Li's Table for Eight project has been presented as pop-up dinners with the support of other platforms, such as finding the right themes for the right venues including restaurants, creative spaces and art venues across Shanghai, as well as working with different brands such as Mercedes Me and Valio.

This summer, she's taking Table for Eight to the next stage as Malaysian-Chinese chef Johnston Teo is onboard. Once the research and development chef at Odette, a two-Michelin-star restaurant in Singapore, he made a stunning Shanghai debut at The Pine at Ruijin in 2017.
From July 31 to August 11, Li and Teo will host 10 dinners with limited seating per night. The seven-course menu is 598 yuan (US$87) per person, with tea pairing an additional 298 yuan per person. Reservations are received via WeChat, and Li said half the spots had been reserved so far.
The tasting menu highlights a variety of seafood, meat, vegetables, fruit and sweets, and the meal is about exploring the core values of Chinese dining etiquette and presenting the foundations of each element found throughout China.
Teo, born and raised in Singapore, spent five months traveling around China this year after leaving The Pine at Ruijin, a journey to discover Chinese cuisine.
"I feel that I've been cooking French (cuisine) all my life. I didn't grow up with French culture but a Chinese culture. My family is Chinese, and Chinese cuisine is overlooked by other cuisines like French and Italian, and that inspired me to make a trip to China after leaving Singapore," he said.
Wu Qinglan / Ti Gong
Teo learned traditional Chinese dishes during his travels with a view to creating a modern Chinese cuisine. In his opinion, every cuisine is similar but different — in French cuisine there's consommé, while in Sichuan cuisine, kaishui baicai (Chinese cabbage in supreme soup) is also a consommé.
Teo joined Li at Table for Eight because they believe in the same goal of sharing food with the community.
"People are not used to things they have not seen before. It's precisely what makes new things more worth doing.This is what we want to do at the end of the day," Teo said.
Li used to present western-style menus at Table for Eight because of her training. She and Teo now hope to promote the gastronomic culture and etiquette of China.
The tasting menus are also sustainable: ingredients such as shark fin and wild sturgeon are not used.
With Teo heading the kitchen, Li is taking a different direction to take the Table for Eight concept further.
"I want to create a platform to invite different guest chefs to Table for Eight. It's beneficial for the team to have more opportunities for communication and exchange. Many acclaimed renowned chefs are interested in the Chinese market and our platform could help introduce them to Chinese audiences," she said.
Source: SHINE Editor: Fu Rong Special Reports