Keep calm and cook with yellow rice wine
13:17 UTC+8, 2020-07-24
0
Living in China has allowed me to discover the beauty and culture of Chinese rice wines.
13:17 UTC+8, 2020-07-24
0
Ti Gong
As my learned brethren at Shanghai Daily are introducing the salivating world of cooking with Chinese yellow wine and spirits, I thought I'd complement their fine effort by sharing some observations on drinking China's most historic wine.
Let's start by getting our yellow wine nomenclature correct: huangjiu, translated into English as "yellow wine," is a type of Chinese wine that's made from water and cereal grains such as rice, sorghum, millet or wheat. Mijiu, "rice wine" in English, is one kind of huangjiu that's made from glutinous rice and/or millet.
Classic Chinese cooking relies on many special ingredients. One of the most important is yellow wine. Popularly known as huangjiu in Chinese, these wines are essential ingredients in many of China's most famous dishes. Like many people from the West, before I arrived in China I had practically no exposure to Chinese rice wines. Except for specialty stores in Chinese communities in the US and Europe, these wines are almost impossible to find in the West. However, living in China has allowed me to discover the beauty and culture of Chinese rice wines.
Ti Gong
The history of rice wines in China dates back to at least the early Neolithic Yangshao Culture 6,000 years ago. Recent archeological finds suggest an even more ancient origin. Over its august history, numerous dynastic rulers, as well as elites of Chinese literature, have celebrated rice wine as a magical elixir and used it to pay respect to the gods. Today, the most highly acclaimed rice wines come from southern and eastern China and range in styles from bone dry to exceptionally sweet. The crème de la crème of yellow wines come from the town of Shaoxing in Zhejiang Province. Boasting a 2,500-year history, this coveted wine is prized for its aromatics, lucidity, mellowness and purity, as well as its ability to make foods more delicious.
Shaoxing and other quality rice wines are not merely brilliant cooking wines, they're equally delicious as a drink. Top Shaoxing wines are fragrant, soft on the palate featuring impressive complexity and length. Like top wines, Shaoxing rice wines gain complexity and texture from aging. Some of the finest examples are aged for decades.
My favored place for savoring Shaoxing and other Chinese wines and spirits is China Tavern 1945. The name honors the end of World War II. Ensconced in period Chinese décor, guests can do comparative tastings of different styles of top Shaoxing wines and baijiu spirits, as well as savor Shaoxing and baijiu cocktails. Only Chinese wines and spirits are offered.
According to escalating levels of sugar content, the Shaoxing wine tasting includes four classic Shaoxing styles — namely Yuanhong, Jiafan, Shanniang and Xiangxue. As with Western wines, one begins with the driest style, the mouth-puckering and fresh Yuanhong wine that's also referred to as Zhuangyuanhong.
Next in line is the Jiafan or Huadiao off-dry wine that many connoisseurs consider the most complex and expressive of Shaoxing wines. The third wine is a semi-sweet Shanniang wine that's specially produced by adding aged Yuanhong wine instead of water. Xiangxue is the final and sweetest wine of the tasting. The linfan method of pouring liquor over the rice results in a white-colored, syrupy and sultry wine.
As a Shaoxing novice, I found the tasting wonderfully illuminating and was especially fond of the two driest wines, the Yuanhong and Jiafan.
China Tavern 1945 partner and resident Shaoxing authority Jin Zhongbo informed me that the two sweetest wines are usually most popular with customers. I typically prefer my libations pure and unadulterated and this extends to yellow rice wine. However, I have to admit to also relishing the original huangjiu cocktails at China Tavern 1945.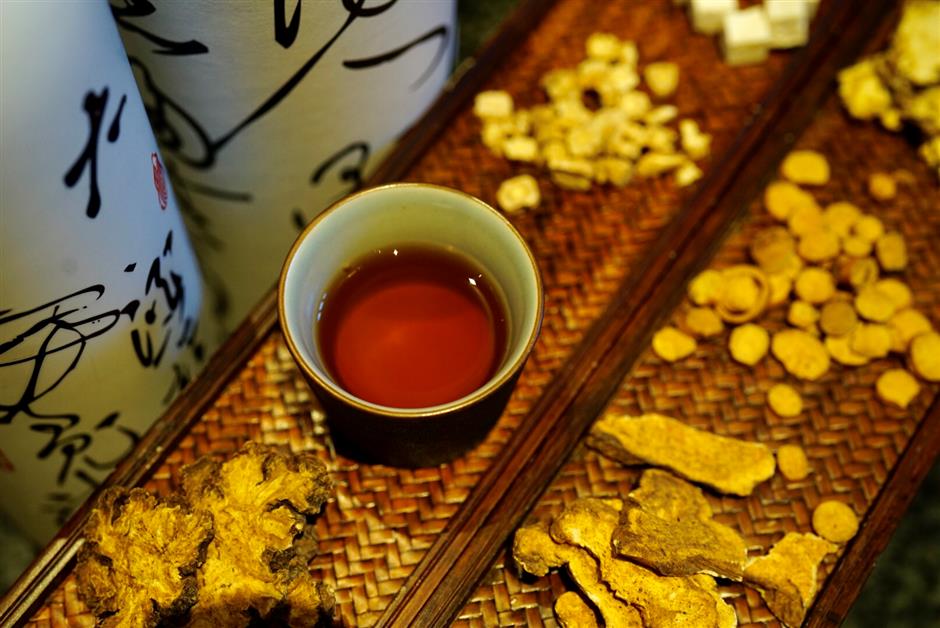 Ti Gong
Three signature rice wine concoctions stand out and even their names evoke creativity. Get Rid of Temptation comprises Shaoxing Xiangxue wine, elderflower and jasmine gin, while the thirst-quenching plum-themed cocktail MEIsturbation combines Shaoxing Jiafan wine, preserved plum, lemon, grapefruit and lemongrass. Two seasonal themed cocktails are Spring Squirt, a mixture of Shaoxing Shanniang wine with almond rum, lemon juice, syrup and egg white, and Winter Sign, a blend of Shaoxing Shangniang wine, vermouth, Campari, juniper and osmanthus flower. For the romantics among us, there's Love Potion, a Shaoxing Shangniang wine, sweet vermouth and lillet blanc cocktail.
If a visit to China Tavern 1945 isn't on the cards, then there's nothing wrong with buying a bottle of quality Shaoxing wine and bringing it home. Among the most reputable producers of Shaoxing wine are: Gu Yue Long Shan, Tu Shao Jiu, Di Ju Tang and Kuaiji Shan.
Traditionally, Shaoxing rice wine has been served at room temperature or even heated, but a growing number of dedicated aficionados prefer serving these wines slightly chilled, or about 12-14 degrees Celsius. I'm definitely in the chilled camp. Small porcelain bowls are the classic vessels for Shaoxing wines, but the wine also performs perfectly well in a Sauvignon Blanc glass.
Where to buy in Shanghai
Chinese Tavern 1945, 1/F, 169 Yuanmingyuan Rd, 6330-8053
Yuanhong Shaoxing
Jiafan Shaoxing
Shanniang Shaoxing
Xiangxue Shaoxing
Original Shaoxing Cocktails
Gu Yue Long Shan Shaoxing Wine, 843 Zhongjiang Rd, 6290-9478
Nuerhong Old Series Shaoxing
Zhuangyuanhong Refreshing Series Shaoxing
Source: SHINE Editor: Fu Rong Special Reports