China's last gunner tribe
10:30 UTC+8, 2017-09-06
0
Host to the Miao ethnic group, Biasha Village in Guizhou Province has become a tranquil haven for traditions, culture and ceremonies.
10:30 UTC+8, 2017-09-06
0
Like his father, Jia Shengxiang makes his living with a gun. His father used the weapon for hunting, but Jia only fires it during performances for tourists.
"It is our tradition to carry guns," says the 42-year-old from the Miao ethnic group. He lives in Biasha Village in southwest China's Guizhou Province.
Biasha is about 2,000 years old. Bia means a "place with lush trees and grass" in the Miao language. The village is 7.5 kilometers from Congjiang, the county seat, and covers 18 square kilometers.
Biasha's 2,500-plus villagers have largely held on to their unique traditions. The village is so safe that people keep their doors open, even when they leave their homes. Villagers don't marry outsiders, and marriage is forbidden between two people with the same surname.
Known as the "last gunner tribe" in China, Biasha's villagers have used guns to hunt and protect themselves for centuries.
"To us, it is a weapon but not dangerous, because we rarely have disputes," says Jia. "Even if we have conflicts, guns are not the right solution."
A coming-of-age ceremony is held for teenage boys when they are 15, during which their heads are shaved, leaving hair in the center that is worn in a bun. They are also given a gun, which signifies they are strong enough to hunt.
Imaginechina
SHINE
China banned the possession of firearms decades ago, but Biasha's villagers are an exception, although they are no longer allowed to hunt.
Like guns, trees also have a lofty role in village culture. "When we are born, our parents plant a tree for us," says Jia.
Each year they worship the tree.
Jia was born on the 14th day of the fourth month in the lunar calendar. He visits the tree each year on that day with wine, rice and fish.
When someone dies, villagers chop down the person's tree to make a coffin before planting another tree on his tomb, so that his life "continues in another way," according to Jia.
It is a sin in Biasha to cut down a tree, and offenders used to be buried alive. An exception was made in 1976, when villagers chopped down a thousand-year-old camphor tree after hearing of the death of Chairman Mao Zedong.
Villagers decided to use the ancient tree to make a coffin for Chairman Mao. The wood was later used in the construction of Mao's memorial hall in Beijing. Back in the village, people built a pavilion to honor the tree's root.
People in Biasha believe human beings, like trees, should be trimmed for healthy growth, which is why men wear a bun with shorn sides, called a "hugun."
SHINE
As China develops, more people, tired of the fast pace of life in big cities, travel to tranquil villages. Biasha's customs have become an attraction for tourists. Men from Biasha line up outside the village and fire their guns at the sky to welcome tourists. They perform Miao dances in the village square and show them how to shave with a sickle.
Jia is part of the 130-person squad. A tourism company pays the group 4,000 yuan (US$600) per day for the performance. Villagers also receive money from ticket sales. In 2015, each household received 1,000 yuan from ticket sales. Per capita income in the village is 7,600 yuan, higher than the average rural income in the province.
Parked cars now line the main road in the once-isolated village, and trucks carrying goods blast their horns as they pass through. While Biasha is no longer as quiet as it used to be, the tourism boom has brought new opportunities for villagers.
Shi Qingxiang opened the village's first guesthouse, called "Home of the Gunners," in 1998. Back then, transportation to the village was inconvenient. Visitors to Shi's guesthouse numbered only hundreds each year — most of them photographers and painters who came to capture the local scenery.
Travelers increased after an expressway opened in 2013 and a high-speed train line serving Congjiang began operations in 2014. So far this year, Shi's guesthouse has hosted 10,000 overnight guests.
Shi's job as a forest ranger keeps him busy between October and March. The rest of the time, he focuses on the guesthouse. He earns up to 5,000 to 6,000 yuan a day from the business during peak season, more than his monthly forest ranger salary of 4,600 yuan.
The government of Congjiang has offered training to help people like Shi who have never worked in the hospitality business. Before the training, customers had complained twice about the guesthouse — its food and the attitude of the waiting staff, in particular.
SHINE
There are eight guesthouses in Biasha, housed in wooden buildings with pepper and rice hanging outside. Contact with tourists also helped villagers learn about jobs and opportunities outside of Biasha.
"Currently there are more than 100 people working in the counties or cities. Most of them commute every day," says 52-year-old village head Gun Xiangdiu.
Reluctant to appear different, many migrating villagers, like Gun's two sons, have cut their hair buns.
"I told my fellow villagers at the meeting to keep their hugun, but to no avail," Gun says with a sigh. Only half the village men still have their traditional hairstyle.
"If they abandon their hugun and Miao-style dress, Biasha will be gone," he adds.
However, Gun has also been troubled by villagers who cling to tradition.
He tried to encourage the 185 households living below the poverty line to apply for low-interest loans to start their own businesses. In two years, only three people agreed to borrow — one sent his child to college with the money and two renovated their houses. Most villagers are reluctant to run guesthouses because "they can't tolerate male and female strangers staying in the same house," Gun says.
SHINE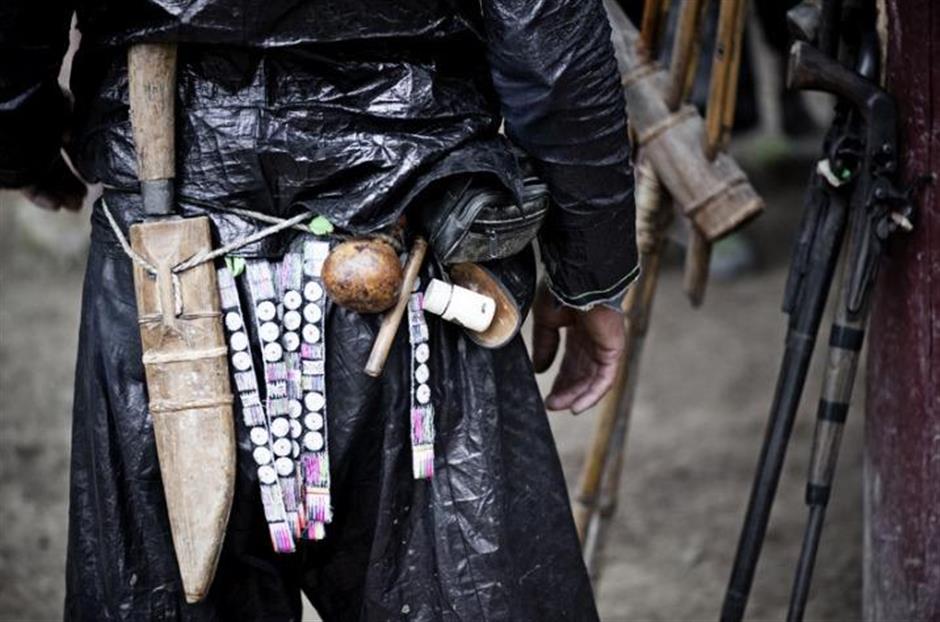 SHINE
Gun Gengdao's home is a 5-minute walk from Shi's guesthouse. She farms, weaves and makes clothes. Her husband earns 300-400 yuan a month through tourist performances, and the family's annual income is 10,000 yuan. Her 9-year-old son attends primary school, while her younger son is only 3.
"I want to make more money, but I don't know how," she says while applying egg white to stiffen a piece of cloth. "I stopped performing after I got married."
When asked why she didn't work in the county, the woman replied, "I don't know anyone there."
In fact, the farthest from home she has ever been to is the county seat Congjiang, where villagers travel by van to buy clothes. She wants to go to Beijing.
"I would like to see Beijing," she says. "But no one will take me there. I don't know the way. I have been out of school so long that I have already forgotten the meaning of characters."
Maintaining the Miao culture and traditions while trying to embrace a business-style entrepreneurial system has not been easy. Some things will never change, unfortunately.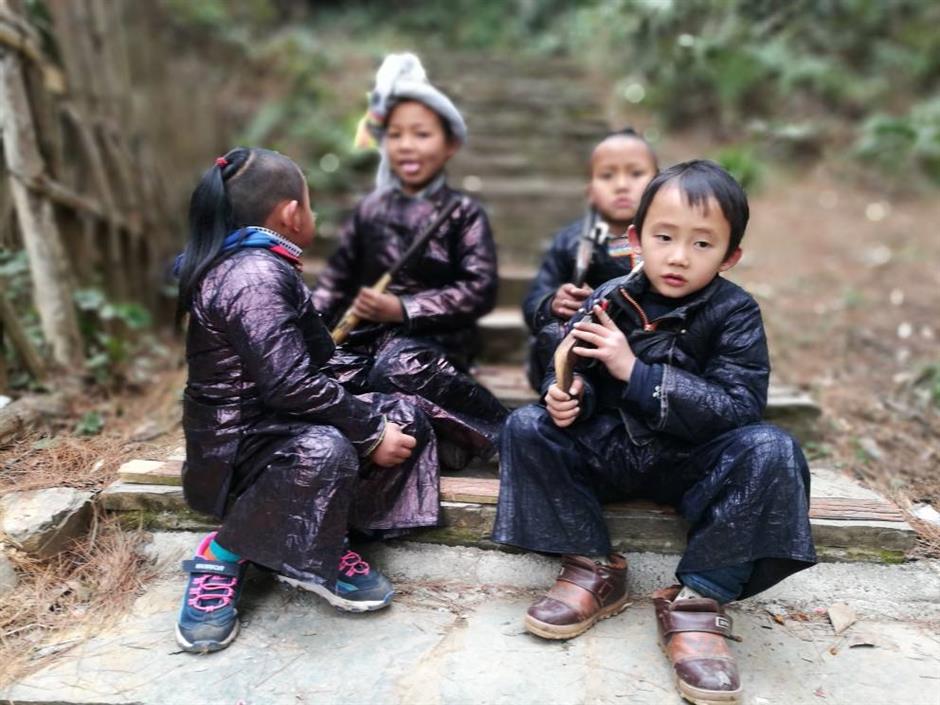 SHINE
Source: Xinhua Editor: Liu Qi Special Reports