Chopsticks help define the culture of a nation
10:30 UTC+8, 2018-04-25
0
In a small private museum in Shanghai, a collector celebrates the everyday utensils that have fed Chinese for millennia.
10:30 UTC+8, 2018-04-25
0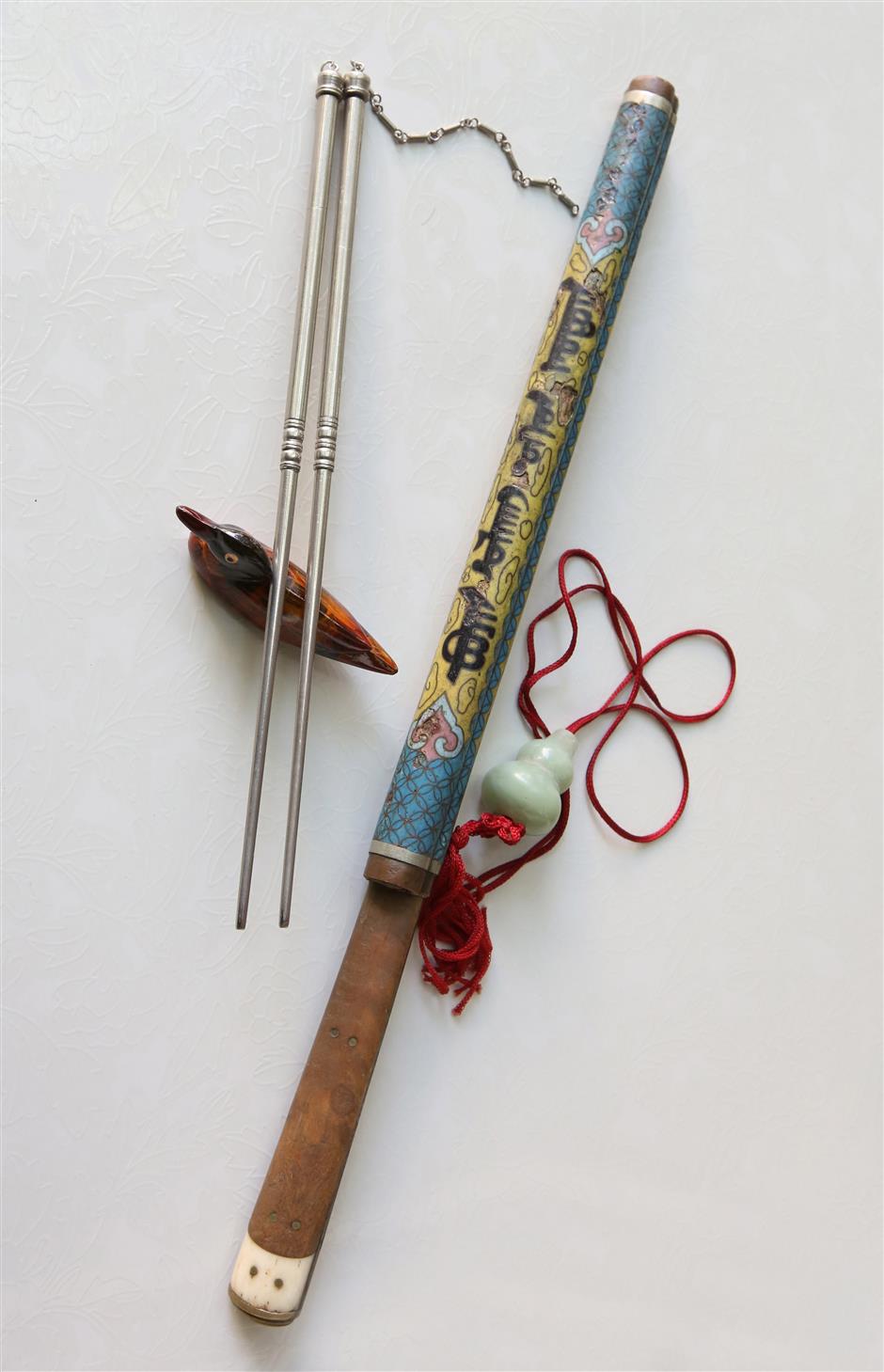 Wang Rongjiang / SHINE
During the "cultural revolution" (1966-76), a then 30-year-old Lan Xiang witnessed some people burning old chopsticks and antique items. "I told them the chopsticks were innocent: 'Why are you burning what we use to eat with'?" he recalls. "They yelled at me, so I ran away."
However, he never ran away from a certain passion about chopsticks. Lan, now 88, operates a private museum on Duolun Road in Hongkou District, where he displays more than 2,000 chopsticks he has amassed over half a century.
The chopsticks — bamboo, wood, ivory, silver and crystal — come from all over China and Southeast Asia, spanning ancient to modern times.
The 10-square-meter, dimly lit showroom, which he opened 20 years ago, is a bit higgledy-piggledy inside. Chopsticks are exhibited with no particular order.
What makes this museum worth a visit is its intimate bond with the soul of Chinese civilization.
"Chinese use chopsticks to eat," Lan says. "To some extent, without chopsticks, there would be no grace or culture."
The earliest chopsticks are believed to have appeared about 4,000 years ago, when Chinese ancestors used two small tree branches to pluck food from a boiling pot. Gradually, the branches were shaped, polished, painted or glazed. New materials were used, including bamboo, jam stone, metal, ivory, animal bones and porcelain.
"Today, chopsticks with modern designs are becoming popular," Lan says. "But it's hard to find much written about chopsticks down through history."
Nothing nettles Lan more than that oversight. He notes that the Japanese celebrate the Chopsticks Festival on August 4, and in South Korean primary schools, children are taught to use the chopsticks in a correct, refined manner.
Lan wants China to equally revere such a fine and old tradition. Over the past two decades, he has published 25 books on chopsticks, their history, their etiquette and their development.
"Each pair of chopsticks has its own story," Lan explains.
Wang Rongjiang / SHINE
SHINE
The first pair of chopsticks he collected was from a rural village in northern Shanghai's Baoshan District. Lan was on a day trip there and came across an old woman eating lunch with two long, thick chopsticks, which looked more like paintbrushes.
When he inquired about them, she told him they came from the Lingyin (Soul's Retreat) Temple in Hangzhou, capital of Zhejiang Province. Because kuaizi, the Chinese word for chopsticks, is pronounced the same as the phrase "in a hurry to have babies," the old woman said the chopsticks were presented to her as a wedding gift 60 years earlier.
Lan rushed out to buy 10 pairs of nice, new chopsticks and bartered them for the old pair.
Another set of chopsticks in his collection is made of yak bone, with a bronze cap on each. They were bought from a Tibetan in the Panjiayuan antique market in Beijing in 2000. The vendor at first refused to sell the set. Lan spent three days trying to change his mind.
The yak was revered a sacred animal in Tibet. Before killing one, a person needed to chant a prayer 300 times.
"So I befriended the Tibetan," Lan recalls. "I took him on a tour around the capital and invited him to a Peking duck restaurant. I bought him cigarettes and good wines."
Finally, the Tibetan relented, and Lan obtained the yak chopsticks.
SHINE
In the late 1990s, Duolun Road was renovated and designated as a "culture street." Lan opened the chopsticks museum, displaying his rich collection free of charge. He and his family lived on the second floor.
The museum attracted a steady flow of visitors, and Lan would always come downstairs to greet visitors and share his stories with them.
Rising rents now threaten the museum. Some of other private specialty museums in the city — dedicated to old coins, antique clocks, grotesque rockery — have had to close because of increasing costs.
Lan still struggles on. He is hard of hearing and has to sit in a chair most of the time. He sells small souvenirs to make some money.
He does worry about the future of his collection. His children aren't interested in taking it over, and he can't find any appropriate institution to assume custody of these precious chopsticks.
He refuses to sell any of them to make ends meet. He says he worries that buyers won't take proper care of them. "So what's to become of the chopsticks?" he asks. "I just don't know."
If you go:
Address: 191 Duolun Rd
Tel: 5671-7528 (book one day in advance)
Admission: Free
How to get there: Hongkou Football Stadium Station of Metro Line 8
SHINE
Wang Rongjiang / SHINE
Source: SHINE Editor: Liu Qi Special Reports