Journey through a time when textile mills ruled
17:01 UTC+8, 2018-09-20
0
From coarse animal skin to today's tailor-made suits of various fine fabrics, the human race's evolution has been marked by the great leaps of the textile industry.
17:01 UTC+8, 2018-09-20
0
From coarse animal skin, furs and tree leaves to today's tailor-made suits of various fine fabrics, the human race's evolution has been marked by the great leaps of the textile industry.
With a long history of textile and dyeing technologies, China is the world's largest clothing producing and exporting country. And it was Shanghai that opened China's first machine-weaving factory, marking a turning point in the history of the country's textile industry.
On the south bank of Suzhou Creek, the three-story Shanghai Textile Museum offers people a fun, quick glimpse of the city's textile culture and achievements over the past 6,000 years.
Wang Rongjiang / SHINE
One of the rarest pieces in the museum is a needle made of animal bone, finely polished, showing that primitive man learnt to make simple clothes of animal skins and furs to cover the body in Neolithic times.
Linen and silk were the main fabrics in China for thousands of years until cotton farming and spinning were introduced during the Song Dynasty (AD 960-1279). Shanghai started to import cotton during the Yuan Dynasty (1271-1368), but it was during the prosperous Ming Dynasty (1368-1644) that people mastered cotton spinning and weaving.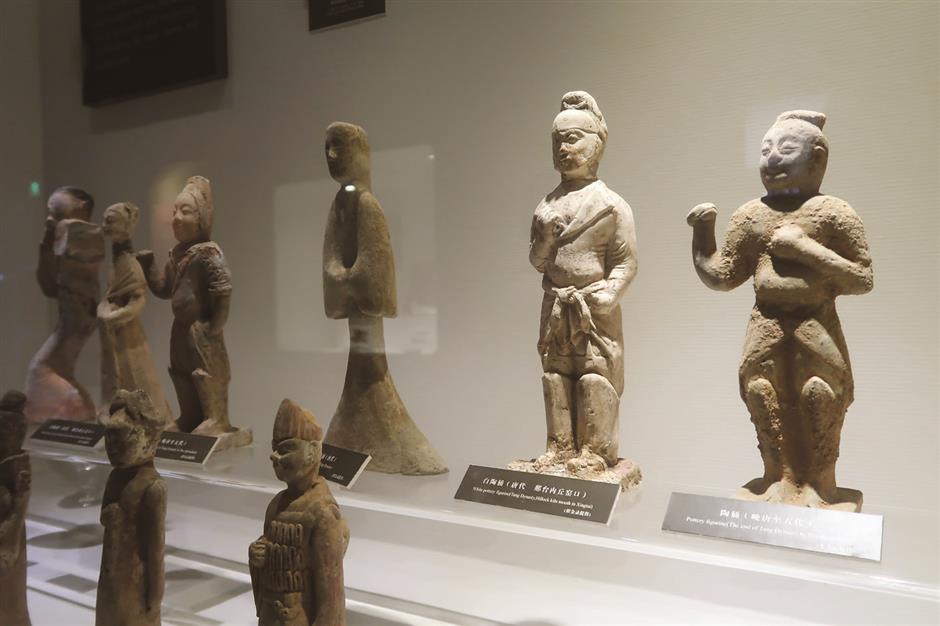 Shanghai became the country's cotton capital, known for its large-scale production of quality cotton clothes.
A variety of vintage weaving machines, from giant professional models that required at least 20 weavers to work together to small household versions that a woman could easily handle, take visitors back to Shanghai's heydays,
One machine was donated by a family living in suburban Jinshan District. It had been passed down through five generations and its last owner had just died while weaving on the machine.
Nothing on it, including the half-woven cotton threads, had been touched since the moment the woman died.
A rare exhibit is the Songhua machine, which was used in ancient times to get pure white cotton by shaking off the black cotton seeds.
One of the highlights is a giant stone carved with patterns of horses and auspicious clouds. Weighing about 350 kilograms, it was an Yuan Dynasty iron that could smooth as much as 10 layers of cloth at one time. One person, holding on to a balance beam, stood on the stone and worked it back and forth to smooth the material.
A wide variety of old-fashioned Chinese clothes are displayed, such as a traditional woman's qipao dress and a changshan, a long men's jacket. The designs were quite large and loose, unlike today's more body-fitting styles.
Influenced by the Industrial Revolution from the mid-1700s to the early 1800s toward the end of the Qing Dynasty (1644-1911), the Shanghai Machinery Weaving Bureau was set up in 1890 by Li Hongzhang (1823-1901), a high-ranking official, pioneering a new era for China's modern textile industry.
A set of hardwood table and chairs on display, valued at a staggering 300 million yuan (US$43.6 million), is said to have seated Li and national leaders such as late Chairman Mao Zedong and former Premier Zhou Enlai.
A large number of cotton factories were set up along Suzhou Creek and on the Bund around the 1900s, which gave a great boost to the industry's development.
The mills were located next to the creek because the cotton and other goods and materials were highly combustible.
Shanghai soon became China's capital of fashion, too, with people dressed in chic clothes, such as Western suits, long dresses and qipao.
The museum brings to life a typical scene on the prosperous Nanjing Road of 1948, which was then home to 48 fashion stores, including major brands such as Hongxiang, Xinshijie and Xianshi.
The still-operating Hongxiang Fashion Store served a long and star-studded list of customers, including actress Hu Die (1908-89), Queen Eizabeth II and the three Soong sisters — major political figures of the early 20th century.
A variety of old trademarks are also on display, all donated by the far-sighted businessman Qiang Shilin, who registered more than 530 trademarks during the Republic of China period (1912-49) and made a large fortune selling them. After 1949, he donated all the trademarks to the country.
During the 1950s, privately owned enterprises were restructured as state-owned factories and Shanghai's textile industry was significantly upgraded, becoming the backbone of the city's economy.
Products included towels, sports wear and travel bags. The "Shanghai" label meant fashion and quality and garments with the label were the hottest on the market.
At the height of the industry in 1992, Shanghai had a total of 471 textile factories and 550,000 textile workers, which meant one out of every four adults was employed in the textile industry.
But the decline was rapid and severe. By the mid-1990s, the large workforce, aging machines and the changing urban landscape pushed the industry into crisis.
Factories closed and about 500,000 workers were laid off — most in their 40s and their family's major breadwinner.
A bronze statue captures the heartbreak, freezing a sad moment in time: a worker silently on his knees, tears in his eyes, looking at the weaving machine he had just smashed.
The pain continued through the late 1990s as the factories were relocated out of Shanghai and tens of thousands of jobless textile workers struggled to make a living for themselves and their families.
Two photo walls bear witness to the hard times and stand as a mark of respect for the workers whose livelihoods were sacrificed for the city's growth and development.
The laid-off workers eventually became shop assistants, waitresses, bus drivers, cleaners and self-employed business people. They survived, undefeatable.
Today, Shanghai's textile industry focuses on high-technology and new materials development, becoming a major supplier in almost every industry.
Its products and components can be seen everywhere — from high-speed trains to the space suits worn by China's astronauts, the roof of the Water Cube in Beijing, the domestic aircraft manufacturing industry and the artificial kidney.
If you go
Address: 150 Aomen Rd

Admission: Free
Open hours: 9:30am-4pm. Closed on Mondays.
Tel: 6299-6969
Source: SHINE Editor: Fu Rong Special Reports