Place of enchantment, spirituality, tranquility
15:44 UTC+8, 2019-07-05
0
Luang Prabang packs in an immense range of experiences – old city walks, forest hikes, street-food escapades, encounters with monks and spiritual nourishment.
15:44 UTC+8, 2019-07-05
0
Yang Di / SHINE
Despite its small size, Luang Prabang packs in an immense range of experiences — old city walks, forest hikes, street-food escapades, luxury hotel stays, encounters with monks and spiritual nourishment.
With its laid-back vibe, lush green surrounds and numbers of colonial and religious architecture, the enchanting city in Laos is undeniably one of the friendliest cities in Asia for a weekend escape.
With certain familiarity I returned to Luang Prabang searching for its endless charm and peaceful ambiance, away from the fast-paced city life. The joy of exploring Luang Prabang comes from slowing down and allowing enough time to let the city's blend of cultural influences wash over your senses.
The town is also witnessing something of a hotel-building boom. High-end resorts have opened up one after another thanks to its unique destination and cultural significance. Discerning tourists fly over for luxurious stays at Amantaka, Belmond La Residence Phou Vao, or Rosewood Luang Prabang. A three-night stay is recommended for an unhurried exploration of the city.
Yang Di / SHINE
Day 1
6am — After a comfortable night stay assured, begin your day early by watching morning alms. The saffron-clad monks walk silently down the street collecting alms from the devoted townspeople. It's called the Tak Bat ritual. It reveals the city's venerable tradition and distinction — locals prepare the alms including sticky rice and other food.
To get involved in this activity as a tourist, you can pay for a costume and sticky rice and kneel on the ground among the locals for the monks' arrival. It's a tradition that every monk gets a scoopful of rice in his bowl attached to a strap hanging from his shoulder. This every morning ceremony is done in silence — monks do not speak nor the almsgivers.
7am — Head to the morning market in the alleys behind Sisavangvong Road (the main road of old town) and you will discover the authentic life of a local. Locally grown vegetables, exotic products from the jungle around the city, and an abundance of local snacks are to be found here. The market is generally void of foreign faces, making it a perfect place to meet locals and try their favorite snacks if you are adventurous enough.
Yang Di / SHINE
8am — Morning walk in this spiritual township is one of the must-dos. As you walk the lanes of the UNESCO-protected peninsula, you'll discover traditional wooden Lao structures next to French colonial brick houses and centuries-old Buddhist temples. There are over 30 active temples scattered throughout the peninsula, and groups of saffron-robed monks and novices from 8 to 80 years old are a common sight at any time of the day throughout the town. Wat Xieng Thong is the town's best-known monastery and it is a beauty composed of a central ordination hall, several stupas featuring intricately carved walls, lavish and elaborate paintings, mosaics and rare Buddhist deities.
Yang Di / SHINE
12pm — Lunch at Manda de Laos. The restaurant's famous lily ponds have been registered as a UNESCO site since 1995 and the restaurant has been one of the top dining options in Luang Prabang for years. Find a table next to the pond and settle in for signature dishes like banana flower salad, Laotian sausage, buffalo meat and river fish. The tropical setting is spectacular and the food is, too.
3pm — Poolside chill is recommended after a long day exploring in the old town. Belmond La Residence Phou Vao's infinity pool flows off a cliff edge, blessed with a hilltop vantage point, overlooking the treetops, mountains and the UNESCO town, is the ultimate indulgence you are looking for — soaking up the silence and view. It's the city's most striking spot to swim in the warm afternoon sun.
7pm — Dine at Belmond's restaurant that boasts one of the best views of Mount Phousi. The fresh local produce is created into a fusion of Euro-Asian flavors. French cuisine is brought to life with delicate Laotian accents. Tree-hanging candles and lanterns bathe the gardens in an enchanting glow.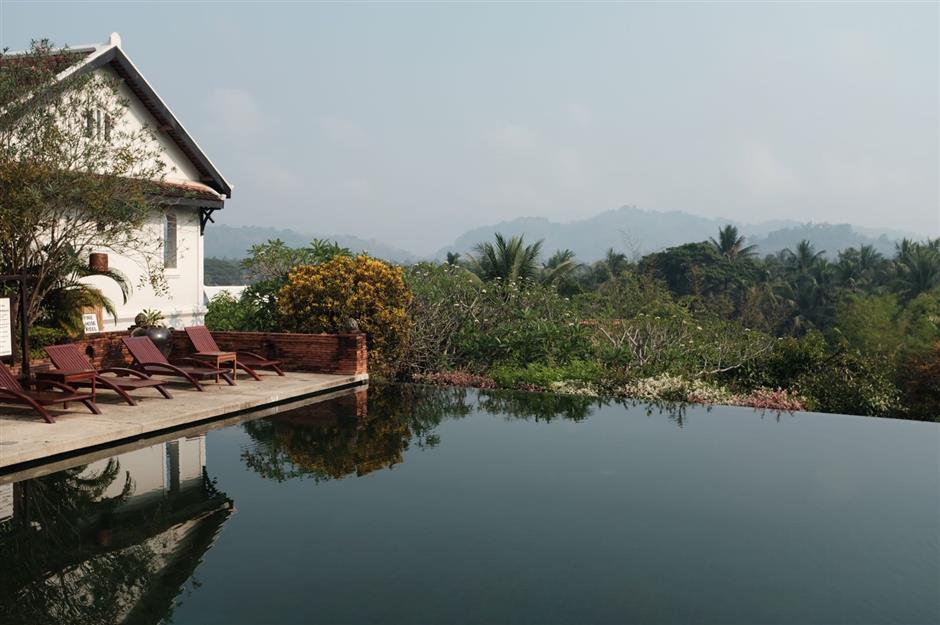 Day 2
10am — Take a boat along the Mekong River and head to Pha Tad Ke Botanical Garden on the opposite side of the river.
The first botanical garden in Laos offers a peaceful escape from the town that allows one to learn about tropical plant species on a 40-hectare property.
After the walk, grab some food using the "plants from the garden" and enjoy the greenery as well as a pond full of water lilies. You can also bring back some local products such as jams and teas.
2pm — The many small, independent boutiques in the old city offer a relaxed shopping experience. There are several lifestyle shops selling handicrafts, decorative items and clothes using local fabrics, modern printing methods, created by local artisans.
Passa Paa and Ock Pop Tok are recommended to check out if you look for more sophisticated designs. Ock Pop Tok is committed to fair trade and sustainable practices.
Yang Di / SHINE
5pm — Climb up the city's highest hill Mount Phousi, standing at 100 meters above sea level. It's a popular place to watch the sunset over the Mekong River and a spectacular panoramic view across the city.
7pm — Dinner at Paste. One Michelin star Paste opened a branch in Luang Prabang, thus it is probably the finest Laotian dining you can get here. Classic Lao as well as Asian and Western influences fill Paste's menu with some interesting creations filled with layers of colors and tastes.
Source: SHINE Editor: Fu Rong Special Reports