Yancheng's red culture sites are inspiring
16:35 UTC+8, 2019-09-02
0
Known for its famous migratory bird sanctuaries, Yancheng City of Jiangsu Province is also proud of its "red culture" sites and relics.
16:35 UTC+8, 2019-09-02
0
Known for its famous migratory bird sanctuaries, Yancheng City of Jiangsu Province is also proud of its "red culture" sites and relics.

The city, soon to be brought into the "Shanghai one-hour economy circle," has 248 "red" sites and relics, and 128 of its towns and villages were named after martyrs.
Shanghai Daily has picked six of Yancheng's red culture sites so visitors can experience how China is marching forward from the heroic days since its founding.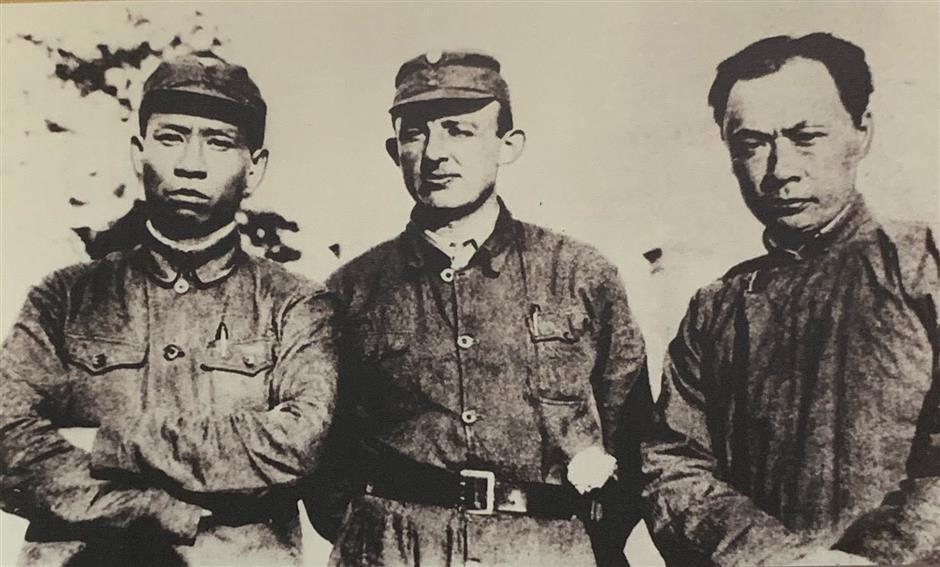 Ti Gong
Notable foreign revolutionaries
Jakob Rosenfeld (1903-1952) and Hans Shipre (1897-1941) are foreign names people get to know when they visit the former site of the rebuilt headquarters of the New Fourth Army in Yancheng. The site records the history of the New Fourth Army after the 1941 Southern Anhui Incident.

Rosenfeld was a Jewish doctor from Austria who found refuge in Shanghai after the rise of the Nazis. He then met Shipre, a Jewish journalist from Germany.
Shipre had actively supported Shanghai's labor movement in 1925. He had disguised himself and his wife as a doctor and a nurse, raised funds to buy medical supplies and transported them to Chinese soldiers in need after Shanghai was occupied by Japanese invaders in 1937.
Shipre was angered by the 1941 Southern Anhui Incident where the Kuomintang government ambushed the New Fourth Army, killing 3,000 soldiers and capturing 4,300. This was despite the peril the country faced from the invading Japanese.
After the New Fourth Army rebuilt itself in Yancheng, Shipre visited and reported their resistance to the Japanese invasion to the world.
Influenced by Shipre, Rosenfeld closed his urology and maternity clinic in Shanghai, visited the rebuilt headquarters and began to serve as a garrison doctor for the New Fourth Army.
The doctor, fondly called as "the big-nose doctor" by soldiers, rescued the lives of numerous soldiers, officers and civilians. He also delivered the first baby for then commander-in-chief Chen Yi, who was later the mayor of Shanghai.
Rosenfeld worked for a total of nine years for the Chinese army.
He died of a heart attack on his way to Israel to visit his brother in 1952.
Shipre, after going north to report the China's War of Resistance Against Japanese Aggression, died on the battlefield in Yimeng of Shandong Province in 1941.
The site includes pictures and records of the two foreign revolutionaries, as well as of Chinese patriots.
Venue: Former site of the rebuilt headquarters of the New Fourth Army
Address: 118 Jianjun Rd W., Tinghu District
亭湖区建军西路118号
Yang Yang / SHINE
Right-hand man of Chairman Mao
"Thanks to Qiaomu, we don't need to worry about our livelihoods," Chairman Mao Zedong once said.

Hu Qiaomu (1912-1992), a Yancheng native, was the right-hand man of Chairman Mao and is recognized as a great drafter of official documents for the Communist Party of China.
As a talented young man, Hu was recruited into the physics department of Tsinghua University in Beijing in 1930. As a result of his promotion of the Communist Party Youth League, he was targeted by the then ruling government.
Hu took refuge in his hometown Yancheng and joined the Communist Party there in autumn of 1932. But he was soon on the run again and sought shelter in Shanghai.
In 1933, Hu was recruited into the English department of Zhejiang University. He was targeted for a third time, but continued to promote the Party in Shanghai and Jiangsu Province.
Hu started to work as Chairman Mao's secretary in Yan'an City of northwest Shaanxi Province in February 1941.
Numerous significant Party documents were drafted by Hu. "Viva the People's Republic of China, viva the solid union of the world's people" — words visitors see on the facade of Tian'anmen Square in the capital Beijing — were also drawn up by Hu.
In his late years, Hu was concerned about the development of his hometown and saw a military airport changed into a civilian airport as well as the establishment of two national reserves for red-crowned cranes and elks, respectively, under Hu's efforts.
At the Former Residence of Hu Qiaomu in Yandu District, people can pay tribute to him.
The residence includes a life museum about Hu which covers 2,000 square meters and a memorial plaza where a bust of Hu is located. There is also a stone table inscribed with words of praise from Chairman Mao.
Venue: Former Residence of Hu Qiaomu
Address: Zhangben Village, Anhu Community, Yandu District
盐都区鞍湖街道张本村
Yang Yang / SHINE
Old residence of diplomat Qiao
China's legitimate rights were reinstated by the General Assembly of the United Nations in its 26th session on October 25, 1971, when it passed the No. 2758 resolution. At 10 o'clock on the morning of November 15 that year, the People's Republic of China delegation appeared for the first time at the United Nations conference room.

"What's your feelings now, Mr Qiao?" asked a reporter.
Qiao Guanhua (1913-1983), then head of the Chinese delegation, leaned back and laughed loudly.
"I've answered your question," Qiao replied.
A picture capturing his proud and charismatic laugh won the Pulitzer Prize that year.
Qiao, who also contributed to the renewal of diplomatic relations between China and the US, was later appointed as the fourth minister of foreign affairs in China.
The Former Residence of Qiao Guanhua in Qingfeng Town, Jianhu County, presents his life story to visitors. Exhibits include a doctoral diploma in philosophy which Qiao gained from the University of Tuebingen, Hegel's alma mater, in 1938.
The residence, a courtyard built in the Ming Dynasty (1368-1644), also showcases an office table, wardrobe, sofa and manuscripts.
Venue: Former Residence of Qiao Guanhua
Address: Dongqiao Village, Qingfeng Town, Jianhu County
建湖县庆丰镇东乔村
Yang Yang / SHINE
Heroic art students and teachers
It is fitting that the monument at the Cemetery of Martyrs from Lu Xun Academy of Art Central China Campus resembles a five-line stave.

Founded on February 8, 1941, in Yancheng, Lu Xun Academy of Art Central China Campus was a leading school for the training of war time artists.
After a decision from the army headquarters, the school divided its students and teachers into two teams. The first branch followed the army, while the second — made up of students and teachers mostly from the theater and music departments — was asked to transfer to other places.
When second branch members were camping in Beiqin Village on the morning of July 24, 1941, they were surrounded and attacked by a group of Japanese invaders. The students and teachers, though unarmed, fought heroically against the enemy.
More than 30 members, including Qiu Dongping, director of teaching at the school, and Xu Qing, playwright and head of the drama department, died in combat. Sixty or so members were taken captive.
When villagers came upon the site, they saw the bodies of the artists as well as luggage, violins, cosmetics for stage performance and play scripts scattered and dyed by blood.
In 1984, villagers of Qingfeng Town raised funds to build a cemetery and a monument for the martyrs. In 2011 a memorial hall was set up to exhibit the heroic deeds of the martyrs for visitors to pay tribute to. The number of visitors reaches tens of thousands yearly.
Venue: Cemetery of Martyrs from Lu Xun Academy of Art Central China Campus
Address: Dongping Village, Qingfeng Town, Jianhu County
建湖县庆丰镇东平村
Ti Gong
Young worker inspired nation
The director of a Japanese cotton trading company fired his gun. The bullet hit the left leg of Gu Zhenghong (1905-1925), a pioneer worker. Gu choked back his pain and shouted, "Workers, let's unite and fight to the end!"

The factory director fired again. This time hitting Gu's belly. Another two shots followed. An associate of the director wielded a knife and chopped at Gu's head. He fell down in a pool of blood.
He died on May 17, 1925, aged just 20 years old.
A Yancheng native, who had made a living in Shanghai since the age of 17, Gu was born in a time when foreign capitalists exploited Chinese workers.
They would dock workers' wages, bully them, and even closed factories when workers demanded their lawful rights.
Gu, already enlightened by progressive ideas at a worker's club in west Shanghai, challenged the Japanese exploiter when he closed his factory.
Gu's heroic death aroused anger among workers in Shanghai who went on to wage a labor movement against foreign imperialism. The labor movement, or May 30th Movement, greatly awakened people in China and paved the way for the Great Revolution from 1925 to 1927 against the semi-colonial and semi-feudal rule of the northern warlords.
Gu's old residence, located near the Sheyang River of Zhenghong Town, is a thatched hut with mud walls and wooden windows and doors. In the 1970s the Zhenghong Township people's commune built a stone bungalow next to the martyr's home to accommodate his mother.
The Former Residence of Gu Zhenghong has all the utensils and furniture of the martyr and his mother on display.
Venue: Former Residence of Gu Zhenghong
Address: Zhenghong Town, Binhai County
滨海县正红镇
Yang Yang / SHINE
Journalism pioneer honored
A wall opposite the entrance of the Former Residence of Ge Gongzhen is inscribed with the Chinese characters "我是中国人," or "I'm Chinese." These are the last words of Ge Gongzhen (1890-1935), a Dongtai native and a pioneer of journalism in China.

Ge impressed people as a poetic and learned man who was known for always wearing neat suits.
Born into a well-educated family in Dongtai, Ge was a smart and diligent student.
Ge gave up his place at an expensive private school to allow his brother to further his study. He was later employed as an editor at the local Dongtai Daily newspaper and served as a private tutor for a Xia family in his spare time.
The head of the family, recognizing Ge's talent, recommended him to a newspaper in Shanghai.
Ge was first employed as a picture designer and later transferred to work at the Eastern Times, a newspaper founded by the liberal bourgeoisie and enlightened landlords after the 1898 Hundred Days' Reform.
Within a few years, Ge was appointed chief editor.
He established the Eastern Times Photo Supplement in 1920, the first Chinese venture into photojournalism.
When the Shanghai Journalists Union was founded in 1921, he was elected its chief. He also made speeches and lectured at various universities in Shanghai.
"Synopsis on Journalism," Ge's translation of a US scholar's work, and "The History of China's Newspaper," Ge's original work, established himself as a pioneer in China's journalism.
Ge also visited large newspapers and news agencies in Western countries such as Italy, France and Germany. When he returned to China in 1928, he was invited to join the Shun Pao (Shanghai News), the most influential and long-lasting newspaper in contemporary China.
When the September 18th Incident occurred in northeast China in 1931, Ge went there with an international inquiry team to find 1,600 items of evidence that proved Japan's aggression.
The incident, as well as the Battle of Shanghai in 1932 when the Japanese invaders provoked a fight in Shanghai, changed Ge's thoughts dramatically.
He hoped China could become a strong and self-proud country rid of internal and external troubles.
During his visit to the former Soviet Union in 1933, Ge found the country worth learning from and decided to stay there and learn its economy, culture and politics.
But a call from his good journalist friend Zou Taofen in 1935, begging Ge to return to China and found a new newspaper, brought Ge back to China.
On a cruise home, Ge fell ill and was hospitalized soon after he arrived in Shanghai. He died on April 22, 1935.
On his deathbed, Ge said to his friend Zou: "My friends in the Soviet Union told me to stay, but how could I stay when my country is in jeopardy. I am a Chinese. I am surely coming back and fighting the invaders."
To remember him, Jiangsu Province has set up the "Ge Gongzhen Journalism Prize."
The Former Residence of Ge Gongzhen was opened to the public in 1987.
The residence, a well-preserved Qing Dynasty (1644-1911) building, houses a 2-meter-high white marble bust of Ge Gongzheng and displays more than 150 photos of historic importance, as well as letters between Ge and his friends.
Venue: Former Residence of Ge Gongzhen
Address: 9 Lanxiang Lane, Dongtai City
东台市兰香巷9号
Source: SHINE Editor: Su Yanxian Special Reports