Yuhang's charms call out to winter travelers
16:21 UTC+8, 2019-12-09
0
From classical tea culture, to food festivals and ancient ruins, Yuhang District in Hangzhou is filled with tourism richness this season.
16:21 UTC+8, 2019-12-09
0
For winter travelers, Hangzhou's Yuhang District is a good weekend getaway, which is home to several scenic spots characterized by both their tasty food and unforgettable views.

Dajingshan scenic area has several farmhouses open to visitors in winter, where people can fish and feed animals, observe and learn about rural life.
Dajingshan is also noted for its tea ceremonies and the famous Jingshan Temple. It is an ideal place to learn the centuries-old tea culture and sample delicacies made of tea.
This temple dates back 1,200 years to the Tang Dynasty (AD 618-907) when Buddhism boomed. Pilgrim numbers peaked during the Southern Song Dynasty (1127-1279) as Jingshan became the largest temple in Jiangnan, region in the lower reaches of the Yangtze River, with more than 1,000 rooms and 1,700 monks.
Ti Gong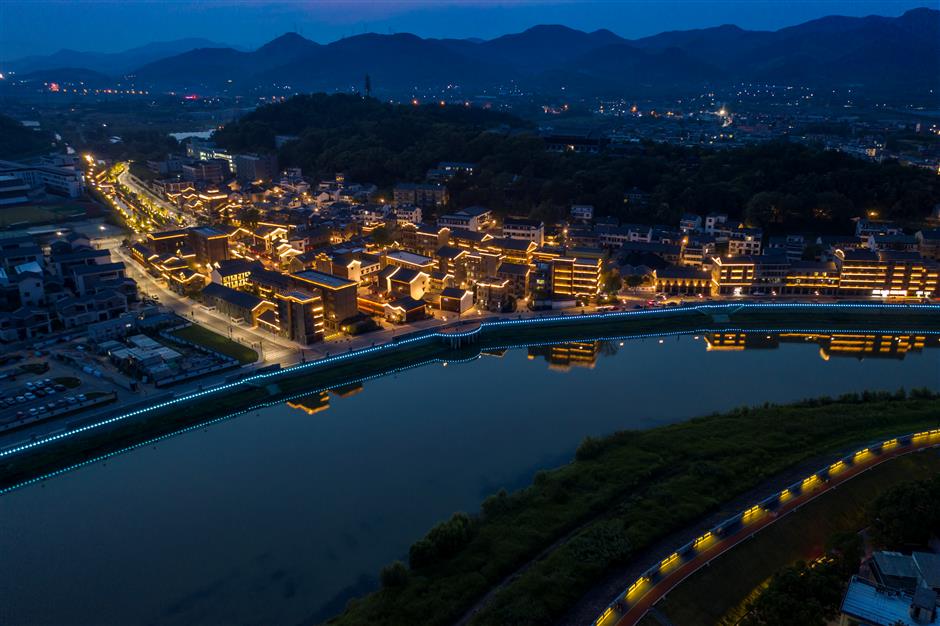 Ti Gong
Ti Gong
The tea ceremony is said to have originated in this temple. It includes a series of performances, procedures and particular criterion for using tea leaves and vessels. As a ritual performed during vital occasions, it had a deep influence on Chinese tea-drinking tradition.
Lu Yu, respected as China's "Sage of Tea," wrote his monumental book "The Classic of Tea" in this temple. This text was the first definitive work on cultivating, making and drinking tea.
In addition to sipping tea, visitors can sample juicy mutton and fresh catches during a local food festival.
Every year Yuhang hosts its Fish and Mutton Festival at Grand Canal Community Street for two to three months. This year, the event will last through the end of January.
Skilled chefs invited from inside and outside of the area cook family festival banquets and celebration feasts. Chefs take charge in preparing ingredients, cooking and serving.
Some of them run their own eateries and specialize in cooking famous local dishes. They manage to turn ordinary ingredients into sizzling and appetizing dishes. A wide selection of meals, including all kinds of mutton, snakehead fish and soft-shelled turtle cuisines, lure local and out-of-town gastronomes every year.
After filling the stomach, visitors are recommended to visit the centuries-old Tangqi Town, which is also nestled along the Grand Canal. It is a great example of a traditional watertown in the Jiangnan region. It is crisscrossed by rivers and flanked by black-roofed and white-wall olden houses.
In winter, throngs of Hangzhou locals flock to the town to purchase traditional Tangqi-style snacks, which has been popular for centuries. Bean crunch candy, walnut slices, sesame cake — also known as "starvation cake" — and loquat candy are among the best-selling delicacies.
During the Spring Festival, the town will hang hundreds of lanterns on the road to its main entrance and prepare numerous activities for visitors. Local restaurants and food stalls lining the town's narrow streets will serve dumplings, rice cakes, spring rolls and local delicacies.
Along with Tangqi, Yuhang District has other ancient towns with long histories and enriched cultural relics, for example, Liangzhu and Pingyao towns, where the ancient Liangzhu civilization originated.
The archaeological ruins of Liangzhu City was inscribed on the UNESCO World Heritage List in July. The Ancient Liangzhu Ruins Park opened to the public in the same month. Visitors can tour around the city ruins and see palace and altar remains, early dams and cemetery sites.
Ti Gong
Ti Gong
Pingyao literally means "vessel kiln." The town nestles beside the Tiaoxi River, along which is the region believed to be the origin of China's primitive ceramics. The core area of Liangzhu City is on the opposite riverbank.
In ancient times, people along the river started to experiment with primitive porcelain, which were later to be discovered in graves alongside other pottery vessels.
If visiting Yuhang District in winter, people cannot miss the plum blossoms on Chaoshan Hill. The hill is home to more than 500,000 plum trees. These trees begin to sprout their buds in late January. The scenic area has over 200 varieties, with different blooming dates, meaning that the blossoms can be appreciated for weeks.
Yuhang is not only a district with picturesque landscapes and delicious cuisine, but also an attractive area with plenty of high-tech companies and favorable business environment.
At Dream Town, there are 750 companies and 3 square kilometers of modern offices. It is a business hub which also has more than 1,100 tech start-ups and 10,600 technology professionals and is known as "Hangzhou's Silicon Valley."
Source: SHINE Editor: Su Yanxian Special Reports