Holiday fun on city residents' doorsteps
09:00 UTC+8, 2020-09-28
0
You won't have to travel far to enjoy yourself during the National Day holiday with several routes available in Shanghai that will offer something for everyone.
09:00 UTC+8, 2020-09-28
0
As the eight-day National Day holiday is just around the corner, it's time to plan a trip. If you don't want to travel far, we have some options for you in the city, promising fun, natural and delicious journeys. They were among the 102 routes and itineraries launched by the Shanghai Administration of Culture and Tourism during the recent Shanghai Tourism Festival, enabling residents and tourists to experience the glamor of the city.
Ancient towns and the magic of a water forest

This route strings together six popular and lesser-known tourist attractions from Jiangnan-style (regions in the lower reaches of the Yangtze River) watertowns to a water forest in Qingpu District.
It will take tourists to Zhujiajiao watertown, Shanghai Oriental Land, Jinze ancient town, Shanghai Daguanyuan, which is the fictional residence of the rich family in the classic "A Dream of Red Mansions," Qingxi Countryside Park and Zhangma Village.
The town of Jinze may not be as famous as Zhujiajiao, but it is certainly worth a visit for its tranquility and unique charm.
As the fame of Zhujiajiao spread, more watertowns in Qingpu were developed. Among them is Jinze Town, a 25-minute drive from Zhujiajiao along the Dianshan Lake, almost untouched by tourism or real estate developers.
Jinze, a 3A national tourist attraction, is known for its old bridges. It features seven different styles dating back to the Song (960-1279), Yuan (1271-1368), Ming (1368-1644) and Qing (1644-1911) dynasties, earning it the title of "the No. 1 bridge town in Jiangnan."
During its peak in the Song Dynasty, there were 42 bridges across rivers in the town.
The oldest and biggest, Wan'an Bridge, was built around 1260 with two Buddha temples that are nowhere to be found today. Wan'an means "all people live a good life." The tradition of worshipping the Buddha has remained as niches are placed near the bridge.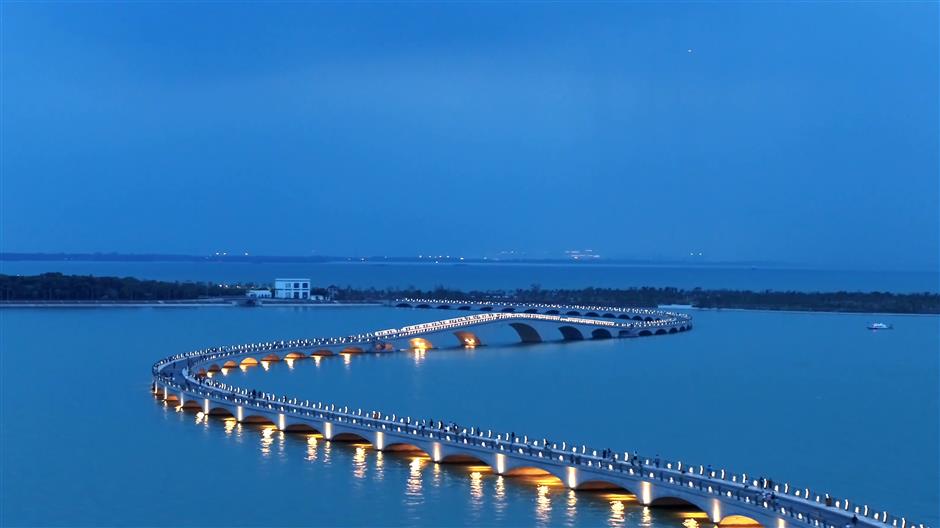 Unlike Zhujiajiao, there has been limited commercialization in Jinze.
Instead of large numbers of tour groups or people posing for photographs on bridges, what you can see here are cobblestone streets with mottled or sometimes shabby walls. It has a laid-back atmosphere. People may encounter a stray cat fleeing from your feet and seniors taking a nap in the sun.
Qingxi Countryside Park is close by, built on a natural wetland alongside the Dalian Lake. It is a popular destination, especially for photographers.
It boasts a unique "water forest" landscape featuring trees such as pond cypress, attracting birds like herons.
Zhangma Village, previously little known, is gaining in popularity thanks to a rural revitalization project.
The village's rivers are crystal clear, and its traditional Jiangnan-style residences and lush greenery make it a popular getaway and have earned it the crown of "the nation's most beautiful rural village."
The village is planted with lavender and there is a blueberry garden. Pick-your-own is available.
A motor racing journey
On this route you learn about history of automobiles, and even children can enjoy the fun of driving.
Spots include Shanghai Electric Formula Park, Shanghai Auto Museum, Shanghai International Circuit and Shanghai Auto Expo Park in Jiading District.
Shanghai Electric Formula Park at Jiading Anting Motor City has been upgraded recently to enrich the visitor experience. It now features a blend of environmental protection, sports and science, and technology.
The park, which features customized electric automobiles, has introduced unmanned aerial vehicle competitions and eSports. All activities are open to children.
An unmanned aerial vehicle race uses FPV (first person view) glasses to amaze racers, while an unmanned aerial vehicle battle resembles a Quidditch match.
A virtual speedway in the simulation racing will provide the same thrilling experience as the real one.
The park has two tracks catering to different levels of car-racing fans. Its timing equipment is accurate to a 1000th of a second.
Shanghai Auto Museum boasts a collection of about 90 types of classic cars, representing over 20 brands from China and abroad spanning 100 years of automobile history.
It has eight exhibition halls dedicated to themes including China's auto industry, sports and driving, and energy-saving. It has an exploration pavilion for youngsters, featuring a display of auto parts, auto design and manufacturing interactive games, and driving simulations.
Covering 768,000 square meters, Shanghai Auto Expo Park where the museum is located has diversified landscapes such as wetland, river and hill.
It has five areas with landscape architecture of countries with leading auto industries replicated, and displays of auto culture.
Shanghai International Circuit is the venue for the Formula 1 Chinese Grand Prix.
Seafood banquets and a fun sweet trip

Tourists can enjoy sumptuous seafood banquets and sink their teeth into sweet fruits by following this route.
It links the Shanyang Countryside Ecological and Leisure Agricultural Resort, Jinshanzui Fishing Village, Langxia Countryside Park and Luxiang Fruit Park in Jinshan District.
Jinshanzui is one of the first and last fishing villages in Shanghai. The village thrived in the late Qing Dynasty, with 36 handicraft workshops and more than 10 fish shops.
It was bustling with people buying fish, doing business and watching the tidal bores in spring and autumn at that time.
In the 1980s, the village had its heyday with more than 1,000 fishermen.
Through the end of October, a fishing culture festival is held in the village, featuring food tasting, bazaars, a wine festival, night market and folk customs.
Visitors can not only taste authentic seafood in beachside restaurants, but also rent a fishing boat to try their luck.
The village also has minsu (bed and breakfast) providing a accommodation.
Villagers worship Mazu, a goddess thought to roam the seas, protecting her believers through miraculous interventions.
Tourists can visit old residences of fishermen and the village's fishing gear museum to learn about the lives of traditional fishermen. There is a visit to the cultural museum of Mazu as well.
Shanyang Countryside Ecological and Leisure Agricultural Resort inside Shanyang Town boasts a variety of gardens such as strawberry, peach, pitaya, pumpkin, hami melon, as well as a camping site, fishing areas and a labyrinth.
Langxia Countryside Park, the first countryside park open to the public in Shanghai, is more like an enclosed village. The villagers were not relocated when the park was built, but still live in their old homes and work on their land.
Described as the first of its kind in the country, the green space features maple trees, rolling hills and pick-your-own fruit fields.
Tall and straight cedar trees are planted along the sidwalks. Through the trees the vast farmlands take on different colors in different seasons.
Appreciate birds and the sunrise

An eco-friendly trip is featured in this route, which includes the Dongtan Wetland Park, Yingdong Ecological Village, Chenjia Town, Changxing Island Countryside Park and Qianxiaoju Farm on Chongming Island.
Sunrise appreciation and bird watching are some of the activities.
Dongtan Wetland Park is one of the best bird-watching spots in the city. It's also a good spot to admire the stars at night.
More than 100 species of wild birds, including some protected species such as the moorhen, can be found here.
It is a haven for birds for its ideal environment of pure water, fresh air and beautiful landscapes.
On the east tip of Chongming Island, it boasts boundless reeds on an inter-tidal zone. Birds can be spotted on the wing during the migration season in autumn and winter with the best time between November and March.
Yingdong Ecological Village is the earliest village in Chongming to see the sunrise.
It has a number of attractions such as a fishing gear museum and bird-watching spot, and visitors are able to go fishing, and enjoy nongjiale, literally "agritainment," referring to cuisine served in typical rural style at the village.
Changxing Island Countryside Park is an ecological kingdom promising an ideal getaway to get close to nature.
It features a 10-kilometer fitness track for walking or cycling which strings together attractions inside the park and a bridge enables visitors to learn the 24 solar terms.
The park has a picturesque landscape with greenery, wetland, lake, forest, egrets and reeds, attracting photographers. It has facilities for children.
Plunge into the fun of Halloween

Autumn is one of the best times of the year to explore the magic of the Shanghai Disney Resort, while Halloween is one of the biggest events in its calendar. From October 5 through November 1, the resort will become a spooky and mysterious expanse where visitors of all ages can plunge into the fun of Halloween.
They can dress up in their favorite costumes and enjoy trick-or-treating around the resort, immersing themselves in this happy holiday tradition. Donald's Halloween Treat Cavalcade will delight in the evenings, as Donald and Daisy Duck lead the way along the parade route in their Halloween costumes, joined by Mickey Mouse and the gang, Disney Villains, and spooky dancers.
An assortment of Halloween-themed merchandise and food and beverage offerings will also debut at a variety of locations throughout the resort to add to the hauntingly fun atmosphere. Whether guests are craving spook-tacular Halloween treats, or shopping for resort-exclusive Halloween merchandise, surprises are hiding around every corner during a visit to the resort this season.
For visitors seeking parties on Halloween weekend, the resort is a one-of-a-kind destination, and following on from last year's success event, this year the party is extending to two days.
The Halloween Days of Spook-tacular on October 30 and 31 will feature numerous Disney characters, and DJs across Shanghai Disneyland. Both days will conclude with the Kiss Goodnight Firework Show, filled with thrilling music, spooky projections and fantastic fireworks.
Autumn is harvest season, and this year, for the first time, visitors will be able to experience the joy of the harvest at the Disneytown Harvest Festival Market. Featuring a new Foodie Feast, Farmers Market and Folk Art Fairy, the market will let visitors explore a range of exclusive experiences through October 8.

Source: SHINE Editor: Su Yanxian Special Reports