Treating the patient, not the disease
10:30 UTC+8, 2017-09-09
0
TCM master has worked out his own therapy to deal with post-surgery cancer patients.  
10:30 UTC+8, 2017-09-09
0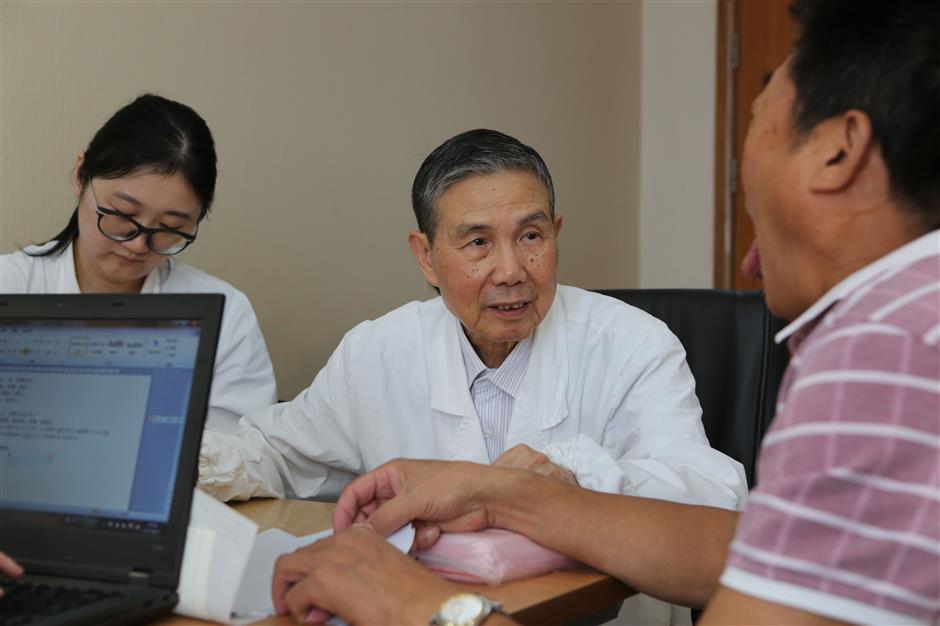 Wang Rongjiang / SHINE
Liu Jiaxiang, 83, carefully observes the coating of the patient's tongue. The 60-year-old woman surnamed Wang had surgery for lung cancer more than two years ago and started taking traditional Chinese medicine soon afterward.
Wang patiently awaits Liu's diagnosis which he prescribed last December. It took her eight months to register for his special outpatient service, which is held once a week at the Longhua Hospital Affiliated to Shanghai University of Traditional Chinese Medicine.
The fees for Liu's services will increase — from 268 yuan (US$40.6) to 1,000 yuan — but that is unlikely to bring down the number of patients waiting for his appointment. Many Chinese cancer patients typically follow a routine — surgery, chemo and then TCM to boost energy and immune system lowered by chemo as well as to prevent relapses. Others who are too weak or too late for surgery or radio/chemo therapies refer to TCM as the last cure.
"We treat patients, not the disease," Liu tells Shanghai Daily. "The quality of life for cancer patients is often very bad. It is important that the patient not only lives, but also lives in good conditions, even if the tumor can't be removed."
Liu's task is to make sure his patients are well-prepared, mentally and physically, to "live with tumors." In other words, when tumors persist, he prescribes his own personalized TCM medicines to boost the patient's energy and immune system.
For these patients, Liu, who was the chief doctor, tenure professor and founder of the hospital's cancer department, is seen as Asclepius, the Greco-Roman god of medicine. Over the past 50 years, Liu has treated almost half a million cancer patients, invented three types of licensed Traditional Chinese Patent Medicine for cancer and has been part of several miraculous cases in which patients have lived for years without surgery.
"The longest was 46 years!" Liu says. "It was 1971 and he was only 19. The surgeon cut him open and sealed it back immediately — the tumors had spread all over his lung, and it was impossible to operate."
He met with that patient, now 65, just a few months ago, when Liu was crowned national "TCM Master." It is a title given to 30 TCM doctors every five years by the National Health and Family Planning Commission, Ministry of Human Resources and Social Security and the State Administration of Traditional Chinese Medicine.
Since its inception in 2008, only 90 doctors have been awarded the title. Many have passed away, and those who are surviving are heavily in demand. Only six doctors have won the title in Shanghai and only two are alive, including Liu. The other is Zhu Nansun, 96, third-generation descendant of the Zhu Gynecology.
Wang Rongjiang / SHINE
"We are usually called haipai, or Shanghai-style, TCM doctors. A distinct feature for haipai TCM doctors is that we are very flexible and up to the date like the city. We are not stuck to the classic remedies — we combine the classic with the latest," Liu explains.
Liu started his medical career at a military clinic. He first trained in Western medical theories, but soon got interested in acupuncture. The Fujian Province native later joined the newly founded Shanghai University of Traditional Chinese Medicine in 1956. It was here that he perfected his medical skills from many famous TCM doctors of the time.
"The six months I spent with TCM master Zhang Boyu still feels like yesterday," he recalls. "I was told to learn everything from him in half a year. I can still feel his influence on me. He used to pay a lot of attention to the tongue rather than just checking the pulse conditions. He combined the classics with the latest and kept his remedies very simple — rarely more than 10 types of ingredients."
Checking pulse conditions is a basic TCM skill but also difficult to be good at. It takes both talent and years of experience to differentiate the types of pulses based on its rates, strength and softness, among other conditions, and then judge the causes. Sometimes, the symptoms are the same while the causes are completely the opposite.
For example, in lung cancer, some patients lack yin (cold) energy while others yang (warm), and it would be disastrous if cure is prescribed for the opposites.
"It is difficult to describe and to teach about pulses because it is very subjective, but the coating of the tongue is clear and can be described precisely," Liu explains. "You also have to look at it immediately because the color and conditions change within seconds."
Liu's prescriptions are decisive and precise, according to his students. Like many TCM masters in Shanghai, Liu has taken in dozens of well-established TCM doctors to pass on his knowledge, skills and theories so that both the ancient system and his experience are not lost.
"I hope they can ask more questions and pay more attention when I measure the pulses, look at the coating of the tongues, or check the patient's medical history, rather than diligently typing the notes and learning from books," he notes. "In terms of TCM, you can learn a lot from the books, but not everything."
Wang Rongjiang / SHINE
The octogenarian has witnessed it all — from the time when Western hospitals and treatments were preferred and TCM was considered outdated, superstitious and only for the poor to the huge popularity now, as well as the fierce debate and controversy between the proponents and opponents of TCM today.
"Western medicine and traditional Chinese medicine are very different. The former tends to look at the human body from micro-perspectives, divided into very detailed parts and treated accordingly. TCM originated from a macro-perspective, but looks at the human body as a whole," Liu says.
When he first proposed his cancer treatment methods in the 1970s, he was challenged by the Western-trained doctors and other TCM doctors, both more prone to killing the tumors through surgery and herbs.
He first started researching on the treatment for esophageal cancer, but Western-trained doctors challenged him saying the tumors that disappeared from the X-rays were simply a result of the angle instead of his treatment. So Liu switched to lung cancer because the X-rays were clearer.
Even within TCM doctors, it was more popular to "treat poison with poison," by using a combination of poisonous ingredients including bugs like centipede.
Many of them helped relieve pain and boost blood circulation. The tumor also looked smaller "because the ingredients helped with inflammations caused by tumor, but that doesn't mean the tumor vanished," according to Liu who first proposed to boost the person's energy rather than strike at individual tumors.
"I tried both TCM methods — remedies mainly to kill tumors and those focusing on boosting energy. The result was clear — nobody survived after a year from the first group," Liu says about his early results that gave him confidence to try the alternative treatment method.
"The essence of TCM is to treat the human body as one organism. We ought to boost a person's strength rather than blindly follow and apply the latest trend in Western medicine. Otherwise, we might cure the disease at the cost of killing the patients."
Wang Rongjiang / SHINE
That doesn't mean the two systems can't learn from each other or work together, he is quick to add. Quite the opposite. Liu keeps himself informed about the latest findings in Western medicine, especially on immune system, which is closely related to his thought that boosting the patient's energy is pivotal.
The 83-year-old has piles of clips from medical journals and still reads and studies until midnight every day. During the four-hour interview, he never once had to check the names of his patients or their detailed medical history. The master attributed his excellent health and impressive memory to the constant use of his brain.
"I have had many teachers," he says, "the TCM classics, masters and their medical cases, methods and discoveries in other medical systems, and also the patients."
When Liu was assigned to Guizhou Province with a Shanghai medical team in the 1970s, he followed the local doctors to collect herbs used by Miao ethnic people. This ethnic group had developed its own medical system for centuries. They were particularly known for using herbs to treat skin diseases, snake poison and pulmonary tuberculosis, among other diseases. Later he applied some of these herbs into his treatments.
There were also cases when Liu was inspired by his patients.
"Back then, more than 80 percent of the patients who came to us were in the late stages — we took in patients that nobody else wanted," he says.
As Western cancer treatment developed quickly, their conditions also changed — a large portion of Liu's patients today are those who have had surgery and chemotherapy, thanks to the more advanced technology available now to identify cancer in early stages.
"Our new research focuses on TCM effectiveness in dealing with chemo's side-effects and in preventing relapses," Liu says.
"It is important to pass on the message to the patients — there is nothing frightening about cancer, and there is no need to feel desperate even if it cannot be removed. You can live with it, for years, and for good."
Longhua Hospital / Ti Gong
Source: SHINE Editor: Liu Qi Special Reports