Zhejiang medics back home after heroic efforts in Hubei
13:58 UTC+8, 2020-04-10
0
After much hardship and sacrifice, more than 2,000 medical professionals from Zhejiang Province have returned from the hardest-hit area of China.
13:58 UTC+8, 2020-04-10
0
Xinhua
As of April 3, all 2,018 medics from Zhejiang Province dispatched to Hubei had returned home as the novel coronavirus outbreak winds down in the hard-hit region.
The first medical team consisting of 13 doctors and nurses arrived in Wuhan on January 25, the first day of Chinese Lunar New Year. Two days later, another four nurses rushed to support them.
"That was the third day of Chinese New Year. Everyone was getting together with family. It took me only 20 minutes to make the decision," said Xu Mengwei, a nurse from Yuhang District Traditional Chinese Medicine Hospital.
She was the first medical professional in Yuhang to leave for Wuhan. Her husband, a doctor at the same hospital, stayed in Hangzhou to combat the virus there and take care of their two children.
Xu was responsible for an intensive care unit at Wuhan Pulmonary Hospital. During 54 days, she had treated a total of 65 COVID-19 patients along with medical workers from other cities in Zhejiang Province.
"Although I have worked in an intensive care unit for years, my experience coping with pandemic patients was insufficient," Xu told Shanghai Daily. "On my arrival, I had received training for two days on self-protection and treatment."
Xu and other medics worked in four shifts per day. During six hours on duty, they had to resist hunger and thirst due to the wearing of protective gear and a shortage of equipment.
"At first, I had to wear an adult diaper in case I wanted to go to the toilet. Later I found that I was drenched in sweat without any urine," Xu said.
"It's very hot and stuffy wearing a protective suit all day. Honestly, I can only hold up for four hours. During the remaining two hours, I often felt dizzy and could not breathe. I could not even move my hands to draw blood from patients."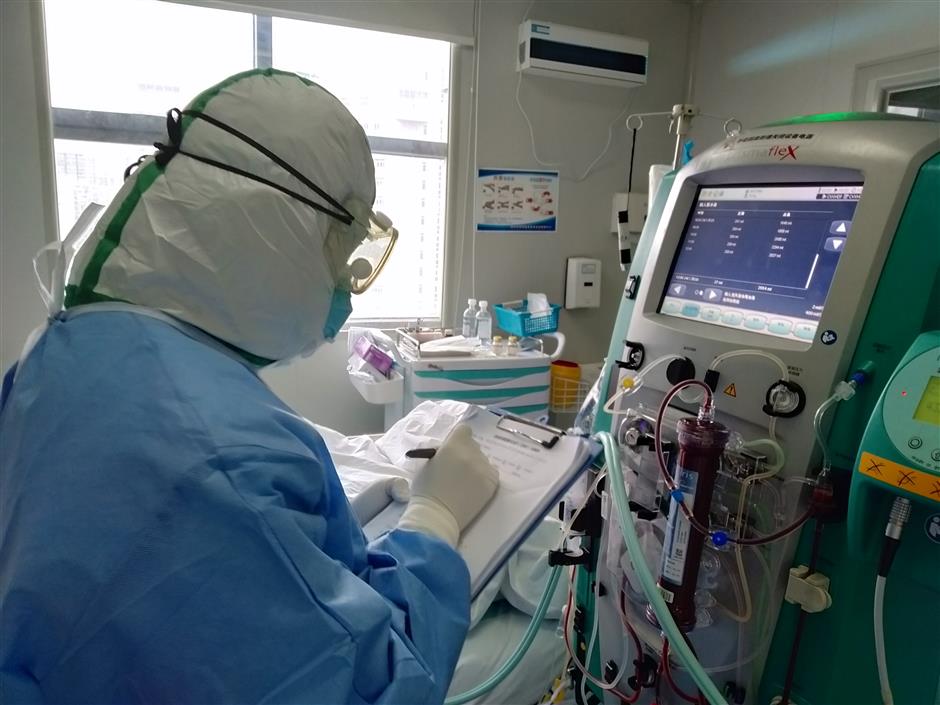 Ti Gong
It took Xu about 30 minutes to put on a full protective suit, including goggles, shoe covers, layers of gloves, a hazmat suit, medical cap and at least two masks.
"We must ensure every inch of skin is sealed. Every doctor and nurse should take responsibility for themselves and others. If we get infected, then nobody can take care of patients," Xu told Shanghai Daily.
None of more than 40,000 doctors and nurses from all over China dispatched to Hubei Province tested positive for the virus, according to the National Health Commission.
"When we arrived in Wuhan in late January, every local hospital was short of medical supplies. But we still carefully protected ourselves to prevent infection. Wuhan needed us, we could not fail," Xu said.
In gratitude to their contribution in the fight against the coronavirus outbreak in Hubei, Zhejiang government rewarded the first batch of 17 medical workers when they returned on March 23.
"On our way to Wuhan airport, people lined up to applaud as passing cars and trucks sounded their horns in support. All of us were touched and cried," Xu told Shanghai Daily. "The 54-day experience in Wuhan will be engraved in my heart forever."
On April 3, the last team consisting of 175 medics returned to Hangzhou via flight. Led by Ge Minghua, president of Zhejiang Province People's Hospital, they treated 117 patients at two hospitals in Wuhan.
"At 7pm every day, I gathered my team members and checked their safety. That was the most nervous moment for me every day. I had to keep them all safe," said Ge.
The Zhejiang medical teams also carried tons of supplies to the outbreak center too.
The Second Affiliated Hospital of Zhejiang University sent medical devices worth 10 million yuan (US$1.4 million), as well as 171 medical professionals.
The hospital used high technology to offer remote medical consultation to their colleagues in Wuhan.
All returned Zhejiang medical staff were immediately quarantined upon their arrival. They are under 14 days of isolated medical observation at resort hotels in Anji and Chun'an counties.
As for Xu, she reunited with her family on April 6 as she tested negative for infection after quarantine.
Source: SHINE Editor: Su Yanxian Special Reports