Tycoon plows his fortune into preserving a dying part of Chinese heritage
09:16 UTC+8, 2020-08-14
0
Qin Tongqian, chairman of Qinsen Group Co, has saved hundreds of old rural wooden houses and collected over 10,000 pieces of traditional furniture and building fixtures.
09:16 UTC+8, 2020-08-14
0
Qin Tongqian, 57, chairman of Qinsen Group Co, a landscape management and real estate conglomerate, rushes to buy up sites whenever he hears of heritage rural homes about to be razed.

He then hires craftsmen to disassemble timbers, pillars, tiles and every other component, and has every piece catalogued.
The pieces are transported to a former military storehouse he rents in his hometown of Shaoxing in Zhejiang Province, where they are cleaned, repaired and ready for reassembly.
Ti Gong
Since he launched his old-house preservation campaign in 1988, the successful Shanghai businessman has spent most of his fortune over three decades in preventing the demolition or decay of traditional rural wooden houses after their residents move to cities. He has saved several hundred old houses and over 10,000 pieces of furniture and building fixtures such as pillars, doors, window frames, corbels and roof tiles.
The houses he has saved are mainly in Zhejiang and Anhui provinces, and most were built in the traditional Huizhou style of the Ming (1368-1644) and Qing (1644-1911) dynasties.
"These historical residences are not just old buildings; they were the homes of Chinese families," Qin said. "Every pillar or wooden beam has its own history and backstory."
More than a million traditional rural villages have vanished nationwide in the last two decades of urbanization, taking with the rural wooden architecture. Many countryside residents who still remain in such homes would prefer to tear down, or even burn, their houses to rebuild bigger ones of brick and concrete.
Ti Gong
Born and raised in Shaoxing, Qin said his hometown was once home to many distinguished Chinese men of letters, including Lu Xun (1881-1936), the forefather of modern Chinese literature. Interest in historical culture is therefore instinctive, he explained.
Qin worked for a Shanghai landscape engineering company in 1983 and then became a contractor himself, designing green surroundings for villas and apartment complexes, mainly for expatriates living in the city.
When he did landscape work for the home of a German man who worked at Shanghai Volkswagen, Qin was surprised by the beauty of a large number of classic wooden Chinese furniture in his home, including a traditional chamber pot.
"I was inspired and decided to collect the 'old stuff' that represents the culture of our ancestors," Qin said.
He bought the first historical building in an Anhui village in 1988, when he was in the province buying saplings for his business. The wooden structure, dating back to the late Qing Dynasty, was in a state of near collapse.
His original plan was to renovate the building into a social venue where retirees could gather to drink tea and chat with friends. With that project, he caught the bug of what was to become his lifelong mission.
"I wanted to retain the wooden structures — the common birthplace and memory of the Chinese people — in a world being built of concrete and steel," Qin said. " I would rather these historical houses be protected on their original sites by their owners. Dismantling and rebuilding are always the last resort."
Unlike others who purchase and trade in old houses for a profit, Qin said he is determined to open the historical buildings he saves to the public.
Ti Gong
Qin has developed two resorts — one in the outlying Shanghai district of Qingpu and the other in Shaoxing. Some structures there have been converted into hotels, activity centers and exhibition halls for visitors.
Profit from the commercial resorts is plowed back into his campaign to buy, repair and maintain old wooden houses. If he had invested his money in mainstream real estate instead of his "special hobby," Qin said, he might have become one of the richest men in Shanghai.
Qin's family used to say he was crazy to spend so much on his "hobby," but there have been no regrets. Qin has faced more daunting experiences. He was nearly killed in a car accident while driving to a remote region to buy a house facing demolition. Another time, he plodded through snow for several kilometers after his car broke down in a storm.
"These buildings are like my children," he said. "I would never sell them for profit or abandon them."
Someone once offered him millions of yuan to buy a wooden structure, 10-fold its original price, but Qin refused.
Among the historical buildings restored by Qin, the Wufeng, or Five Phoenix Mansion, in Zhujiajiao water town is one of the most famous. The more-than-600-year-old structure was built during the Ming Dynasty. He had it moved from Anhui and opened it to public in 2014 as the lobby of a hotel.
The pavilion, covering 1,400 square meters, resembles a typical ancestral hall. Five pairs of flying phoenix-shaped roof-ridges symbolize noble position, good luck and fortune. A pair of lion statues, more than 100 years old, sits at the gate of the building, representing power and prosperity.
In the late 1990s, when Qin came across the pavilion in the Anhui countryside, it was little more than a pile of partially decayed wood. Over 60 percent of the building had been seriously damaged.
It took more than 100 skilled carpenters and carvers four years to reassemble the pavilion and repair tens of thousands of wooden components, including 169 beams and 122 pillars. Qin had missing parts replaced with similar pieces collected from other ancient buildings.
Ti Gong
An ancient opera stage built in the Qing Dynasty, where various social activities and Chinese opera performances were held, has been reassembled beside the pavilion in the popular water town.
The stage features exquisite wood carvings and decorated golden dragon pillars. Chinese opera characters are carved across the wall of the theater. The site is nowadays a popular venue for traditional wedding ceremonies, fashion shows and themed events.
At the resort in Shaoxing, which opened in 2016, Qin's team restored 25 historical buildings from the Ming and Qing dynasties. They are open to public as hotels, art venues, libraries and service centers.
"I'd like to develop an idyllic land in the dream of every Chinese person," Qin said. "A community where old men can show historical architecture to their grandchildren."
Qin located the Shaoxing resort site near historical Kuaiji Mountain, which is unlikely to be developed. The original creeks and hills have been retained.
The 1.3-billion-yuan (US$184 million) resort was completed in seven years, involving the work of hundreds of senior craftsmen.
The Gingko Pavilion, originally owned by a wealthy landlord in the late Qing Dynasty, features gingko trees more than 100 years old, while the Diaohua Pavilion from the Ming Dynasty is a showcase of delicate carvings and sculptures.
"It's an example of how our modern lifestyle can coexist with an ancient setting," said Ruan Yisan, a Tongji University professor known as the "guardian of ancient towns."
Although Ruan believes one of the key principles in protecting historical buildings is to retain them on their original sites, he agrees with Qin's concept of the solution of last resort.
Ruan initially refused to assist Qin with his endeavors, deeming him to be just an ordinary businessman pursuing profit. But he changed his mind after viewing the tens of thousands of pieces in Qin's warehouse collection.
"He called me a maniac," Qin recalled.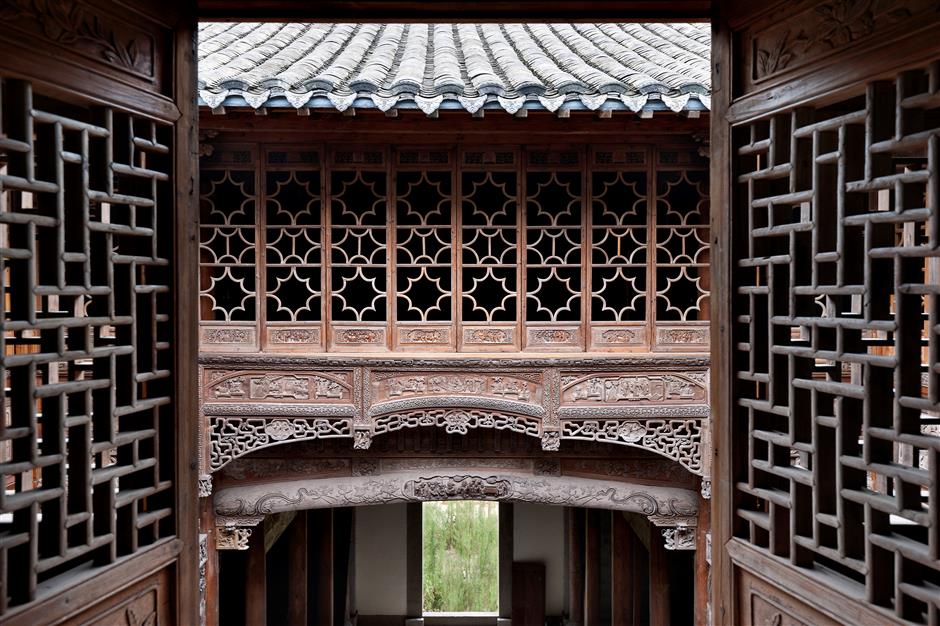 Ti Gong
Ruan now serves as a principal advisor in Qin's work. He helps ensure that replacement materials are from the same period as the original ones.

"The most important part of Qin's mission is that he hired a group of experienced craftsmen for the projects," Ruan said.
Qin organized two teams of about 500 craftsmen for the two projects in Shanghai and Shaoxing. They included senior carpenters, sculptors, and wood and brick carvers. He pays a senior carver 550 yuan a day and provides food and accommodation.
Li Yangjun, a leading carver on the team, said the job is ideal because he doesn't have profit-driven time pressures.
"We must do the job slowly to ensure the quality," Li said. "I carve while thinking. Sometimes, I will stop and have a cup of tea to contemplate patterns before continuing work."
Qin also invited journalists to interview the senior craftsmen and collect information to be compiled into a book about Chinese traditional architecture, mainly aimed at children. One of the books was published on Children's Day in June.
"I want more people to learn about the charm of the heritage skills of our ancestors and let young Chinese develop cultural awareness," Qin said.
He often holds seminars and tours, inviting professionals from across the world to visit and give feedback on restoration of historical buildings.
After visiting the resort in Shaoxing, Mauricio Escanero, Mexico's deputy permanent representative to the UNESCO, praised Qin's work.
"The project not only shows what can be achieved, but also, perhaps more significantly, the entire process of building repair," he said. "This project will be known throughout the world."
Ti Gong
Source: SHINE Editor: Cai Wenjun Special Reports