Buzz on the street: Young curbside vendors change old stereotypes
17:07 UTC+8, 2023-04-10
0
In a tight labor market, many unemployed young people are bringing imaginative marketing skills to sell cakes, coffee and even pear soup to passers-by.
17:07 UTC+8, 2023-04-10
0
Editor's note
Generation-Z is seizing opportunity with new business models, cultural adventures and trendy lifestyles. This series explores how people born between the mid-1990s and the early 21st century are impacting society.
Street vending in China has long been considered a lowly trade, a source of income for the poor, the uneducated and migrant workers. But China's Generation-Z is changing all that.
For those born since the mid-1990s, street vending has become part of the new trendy lifestyle and a buzz topic on Chinese social media. On the lifestyle-sharing platform Xiaohongshu, the topic has been viewed over 2.5 billion times, according to a recent report by the domestic tech portal 36Kr.
By courtesy of Xiaohongshu
A quick scan through the most popular posts by Shanghai Daily found that many young people who lost their jobs during the pandemic and many graduates finding it hard to get work in a tight labor market are turning to street vending to earn a living.
Some of these entrepreneurial vendors have day jobs, appearing on the streets only on weekends and at night times with mobile stalls that are a far cry from the shabby set-ups of the past.
Many of these vendors are clever in marketing. They design eye-catching presentations and sell fancy products. There's a tricycle with a huge potato-style installation on top; a mobile coffee cart mounted on a vintage bike.
Ke Jiayun / SHINE
On a Sunday night about two weeks ago, Shanghai Daily met up two vendors. Panos Pan, 29, and her friend 28-year-old Chef Wong were carrying cakes in metal boxes on a bicycle, looking for an ideal spot in the city center. A few frequent customers followed them so that they could be the first ones to buy the cakes.
The pair first checked a small roadside park but found too many dancing aunties and a nearby police car at the site, so they moved to a corner on a lane near the Changshu Road Metro station and set up their cake stall there.
Wong, who used to be a professional dessert chef, opened the two covers of a large wooden bike box to make a "table" and put the cakes and disposable tableware on it.
ke jiayun / SHINE
Pan hung two scrolls with "Here's the Cake" on the box, and took a picture to post on Xiaohongshu so that the customers would know where to find them.
There are only two cakes on the menu -- tiramisu and "blind box," which, as its name suggests, means it's a mystery until you buy one.
"It's a mobile stall that only shows up at night," a customer surnamed Zhou told Shanghai Daily. "That gives the sense of a 'limited version,' which is attractive. After several unsuccessful attempts to find 'Here's the Cake," I finally did."
A 23-year-old customer surnamed Ding told Shanghai Daily that the cake stall really jazzes up the city streets.
By courtesy of Xiaohongshu
"Shanghai lacks street culture," she said. "Nowadays, the city has lost its old sense of bustle. We can go to pubs or clubs for nightlife, but it's seldom you find places that allow us to eat snacks and chat with friends streetside."
According to Ding, customers who don't even know one another end up chatting like old friends.
One hour later, most of the cakes are gone and a security guard appears, suggesting the young entrepreneurs move on before urban patrol officers come on scene to enforce a ban on street vending.
"It's quite common," said Pan.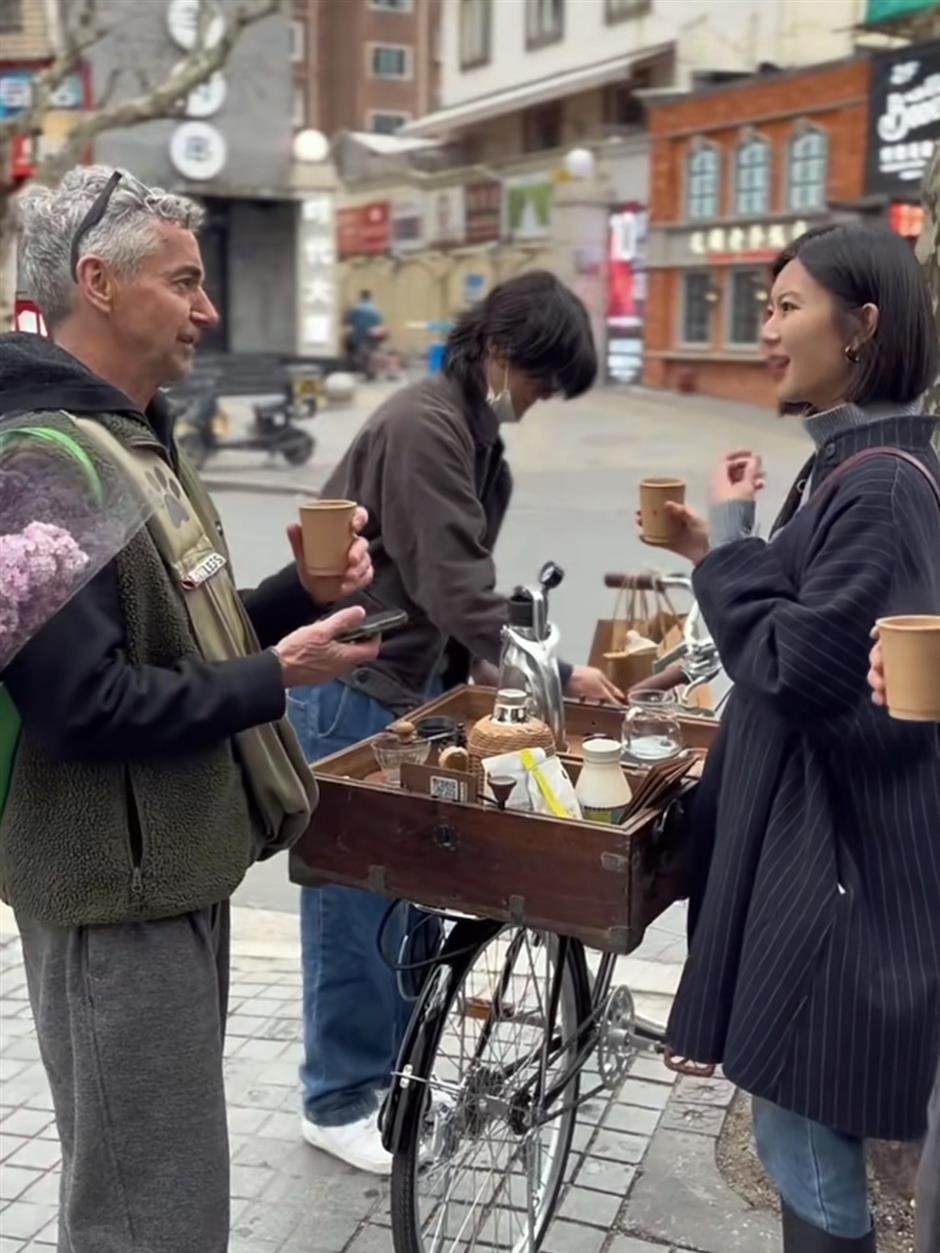 By courtesy of Dong's Xiaohongshu
Indeed, urban patrol officers have long been the biggest foe of street vendors. They are the enforcers of policies that try to maintain a clean, orderly environment in the city. Unlicensed vending outside of night and weekend markets is banned.
However, those strict policies may be about to be relaxed. In February, a draft guideline issued by the Shanghai Landscaping and City Appearance Administrative Bureau proposed that special areas be designated for "orderly street vending."
That would be good news for a former café barista who now sells coffee on the street and identified herself only by the surname Dong. She said she has been accosted by urban patrol officers several times.
By courtesy of Dong's Xiaohongshu
"Once I hid in an alley, and when the urban patrol officer caught up with me, I made her a cup of coffee," said Dong, 23. "But to no avail. She had to stick with the rules."
Dong said she has been unemployed for five months. She does some part-time work and gets unemployment compensation – money she used to upgrade her bicycle and set up coffee vending on the street. Her ultimate dream is to open her own coffee shop.
"My customers have become my friends," she said of her current situation. "They are all interesting people."
Ti Gong
Some vendor ply their goods more for the fun of it than for money.
Liu Qiyuan, 33, owns a frisbee shop and gets a stable income from a tenant. But as night falls, he has been selling traditional Chinese sweet soup near the Nanjing Road W. Metro station and, more recently, on Xiangyang Road S.
Liu's stall is called "Hooligan Sweet Soup," a name generated from a part of the Japanese game Yakuza, in which the protagonist, a mobster, is asked to make a bowl of soup.
"Mobster would never be stingy with the ingredients," he joked. "Each bowl of my pear soup contains a whole pear."
He bought a vending cart online and scavenged a board as its roof. The stall is decorated with lamps and flowers.
"I hope the government will relax its rules on street vending," he said.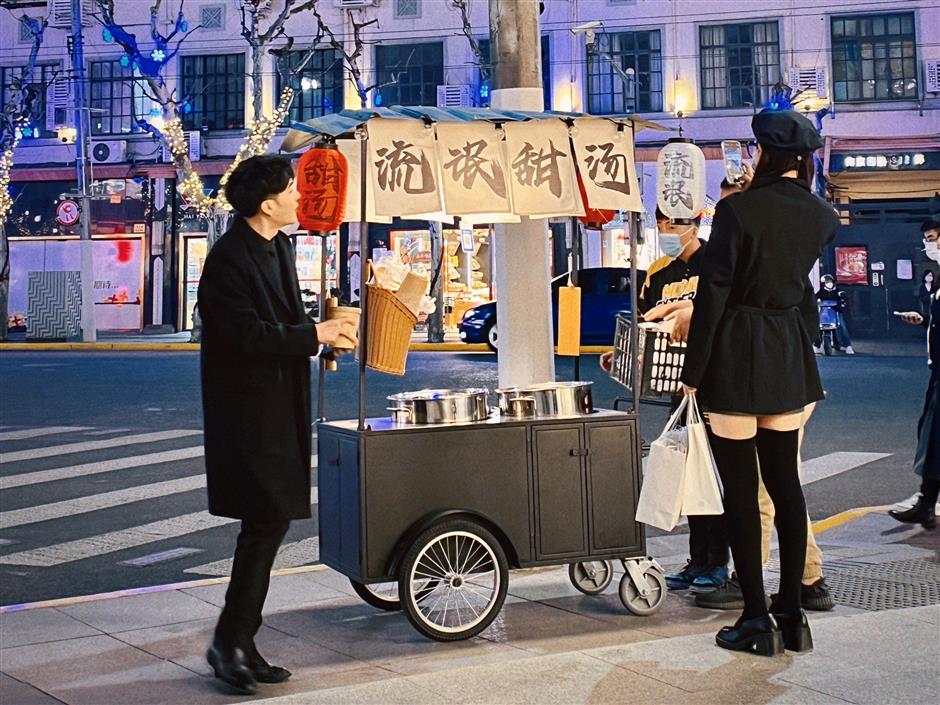 Ti Gong
However, Chef Wong said he worries about how the city will define "orderly street vending." It won't help, he said, if vendors are allowed only in out-of-the-way places with few passers-by.
Yang Xiong, a researcher with the Shanghai Academy of Social Sciences, told Shanghai Daily that street vending could "help young people increase their social experience and build their own social networks. It's not all that different from car-hailing, livestream selling and delivery services. We should respect the initiative of young people at a time when the number of stable public-sector jobs is limited."
He added, "It's better to guide them instead of banning them from doing something positive."
Source: SHINE Editor: Li Qian Special Reports