US explorer's trek through China captures its diversity
19:08 UTC+8, 2023-05-23
0
A multimedia exhibition gives visitors a glimpse into National Geographic explorer and two-time Pulitzer Prize winner Paul Salopek's most recent trek through China.
19:08 UTC+8, 2023-05-23
0
Ma Xuefeng / SHINE
Ma Xuefeng / SHINE
Ma Xuefeng / SHINE
The multimedia exhibition "Walking China: Stories Yet to Be Told," which opened at Shanghai New York University's Institute of Contemporary Arts on Saturday, provides an insight into two-time Pulitzer Prize-winning writer and National Geographic explorer Paul Salopek's latest trek through China .

The China journey of the US journalist and writer began in September 2021 in Tengchong, southwest Yunnan Province.

It is a new chapter in his global storytelling project "Out of Eden Walk," which retraces human ancestors' ancient migration on foot around the globe.

The 38,000-kilometer odyssey began in Ethiopia in January 2013 and will culminate at the southernmost tip of South America.

Salopek is now in China, having trekked almost 6,000km across Sichuan, Shaanxi, Hebei, Liaoning, Jilin and Heilongjiang provinces before reaching the northern border with Russia.

The adventurer has now completed almost two-thirds of the trip in China, covering over 4,000km from Yunnan Province to Beijing.
He has hiked through China's rain forests, snow mountains and dry uplands, encountering varied cultures, folk traditions and arts, as well as the warmth and generosity of the Chinese people.
He made friends with people on the way and witnessed the country's growth and achievements.
Ma Xuefeng / SHINE
Ma Xuefeng / SHINE
Ma Xuefeng / SHINE
Salopek told visitors at his exhibition an old proverb: "If you want to walk fast, walk alone; if you want to walk far, walk together."

He is astounded by China's range of natural landscapes and cultures, as well as the hospitality of the Chinese people.
He told Shanghai Daily that trekking in China is a walk of a lifetime. He said it was difficult to predict when he would reach the China-Russia border, but it would likely be around autumn.
Salopek noted that China, with its ancient nature, takes storytelling to the global stage.
"China's time-honored fine poetry still moves people's hearts today," Salopek added. "I hope to share with my readers this country's rich literary culture."
He also urged people to walk around their cities and villages and make discoveries that they would miss if they took cars, trains, or airplanes. In his perspective, the beauty of walking is that it magnifies small things.
Salopek explores the globe at a methodical pace, revealing the texture of the people he meets. When this adventure concludes, the explorer will have created a global mosaic of stories, people, sounds, and sights.
The exhibition, free to the public, runs until August 12. It is a collaboration between the "Out of Eden Walk" and the Institute of Contemporary Arts at Shanghai New York University.
It delivers the simple message that the local is not the polar opposite of the global.
Ma Xuefeng / SHINE
Ti Gong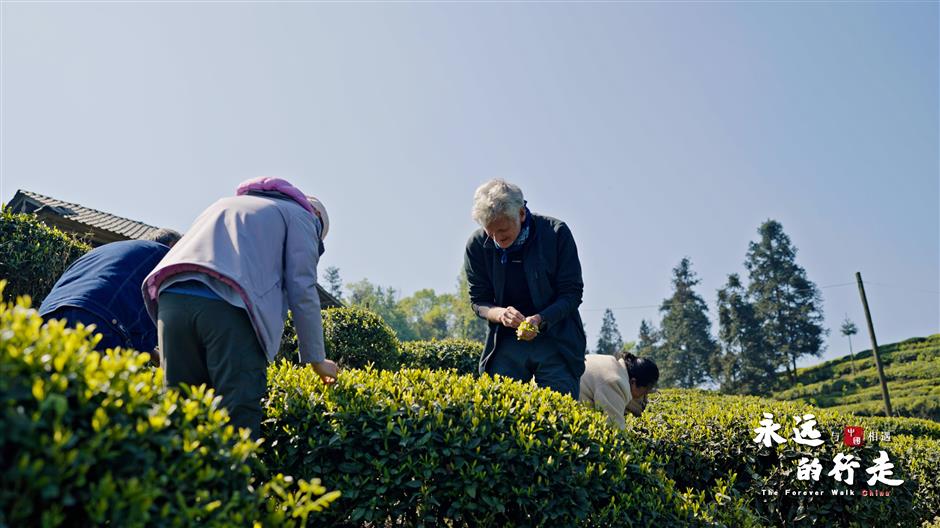 Ti Gong
Ti Gong
Ti Gong
The exhibition tells vivid stories of walking and stories gathered on the way through impressive photos and videos. It suggests that people may notice and sense things if they slow down their lives and engage in more face-to-face encounters.
Maria Montoya, dean of arts and sciences at Shanghai New York University, said Salopek has demonstrated a very unusual manner of modern communication and engagement, and through this meaningful walking activity, people can gain compassion and mutual understanding.
The artists whose works are on display include Salopek's walking companions, folk artists he met along the way, and artists who use walking as part of their practice. All of them attempt to explore and showcase regional customs and traditions.
Stories about the "Out of Eden Walk" route in China, as well as the country's vigor, people and culture, are recorded in a 10-episode documentary series, "The Forever Walk China," a collaboration between National Geographic and Shanghai Media Group's Documentary Center.
The first three episodes, according to Wang Lijun , head of the Documentary Center, are primarily on Salopek's journey from Tengchong to Ya'an, Sichuan Province, and have already received widespread acclaim from both local and global viewers.
"Through his eyes, Salopek is introducing a true China to the world," Wang remarked. "His walk connects different people and cultures."
Ti Gong
Ti Gong
Ti Gong
Exhibition info:
Date: Through August 12 (Tuesdays-Saturdays), 11am-6pm

Tel: 2059-5809

Venue: Institute of Contemporary Arts at NYU Shanghai
Address: 567 Yangsi Rd W., Pudong New Area
浦东新区杨思西路567号
Source: SHINE Editor: Chen Jie Special Reports