Heatwaves may be behind Metro's woes
00:54 UTC+8, 2017-08-25
0
The Metro operator is investigating whether the wrong kind of weather could be a cause of numerous glitches on the network.
00:54 UTC+8, 2017-08-25
0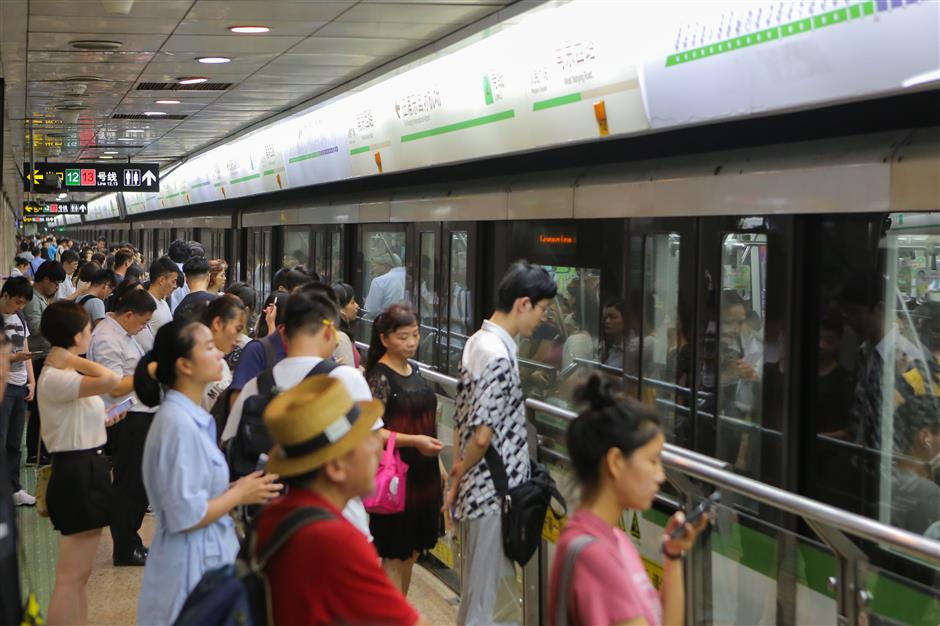 Jiang Xiaowei / SHINE
The city's Metro network has had 11 "glitches" so far this month, a much more frequent rate than usual, and they have meant some chaotic journeys for many commuters.
The Metro operator is investigating the underlying causes and said the persistent hot weather could be one of the reasons that have put extra pressure on hardware.
This week has been particularly troublesome for the network. On Monday morning, lines 1, 2 and 8 introduced speed controls due to train failures and signaling malfunctions
On Tuesday, Line 2 had malfunctions in the morning, and Line 9 had them in the evening.
On Wednesday, Line 11 had a train failure in the morning.
The Metro operator said long periods of either scorching or freezing weather could put pressure on the network's facilities. There was no evidence as yet that the various glitches this month were connected, the operator added. The Metro malfunctions are undergoing a "thorough investigation."
When such events occur, the network will not usually suspend operations at the affected sections, but will instead impose speed controls and prolong intervals between trains.
However, because some stations, such as Longyang Road and Tangzhen stations on Line 2, have huge traffic flows during rush hours, the prolonged intervals have a bigger impact on these stations, the Metro operator said.
When a station encounters huge traffic, the affected station's director, as well as the chief of the Metro police, the local police station and the subdistrict government will all coordinate resources to divert passengers away from the station.
In 2016, the Metro ferried on average 9.29 million passengers, accounting for 51 percent of the city's public transportation.
Source: SHINE Editor: Xu Qing Special Reports