Pieces of chalk, stunning blackboard art
10:16 UTC+8, 2017-09-05
0
In an era when digitally printed images have taken over the world, chalkboards have pretty much disappeared. But not for Jin Yuming.
10:16 UTC+8, 2017-09-05
0
Ti Gong
In an era when digitally printed images have taken over the world, chalkboards have pretty much disappeared as communication tools, much less canvases for artworks.
But not for Jin Yuming.
Jin, 70, took up the art of blackboard drawing after retirement. In the last 16 years, he has "published" almost 300 issues of blackboard newspapers for residents in three housing estates in Minhang.
Using only red, yellow, green, white and orange chalk, he creates works that are beautiful and as eye-catching as a painting.
"I once saw a passer-by gently swipe the board with his finger because he wasn't sure it was really written in chalk," said Jin, who lives in the Fengqing estate.
Many of the residents in his community are old and don't know how to use the Internet. His "newspapers" keep residents informed of social, economic and health issues that relate to their daily lives. He covers topics like "what's included in our pensions."
Each issue of the newspaper contains a prominent drawing of a celebrity or political leader connected with the content. Given that many residents have poor eyesight, he writes in bold, clear characters.
Every time a new issue comes out, residents flock to read the chalkboards. They have developed a keen fondness for Jin and his work.
"It's a pity that the board has to be wiped clean eventually," Jin said. "I always feel a bit sad about that after all the effort that I put in. But then I remind myself that I can always do a new one."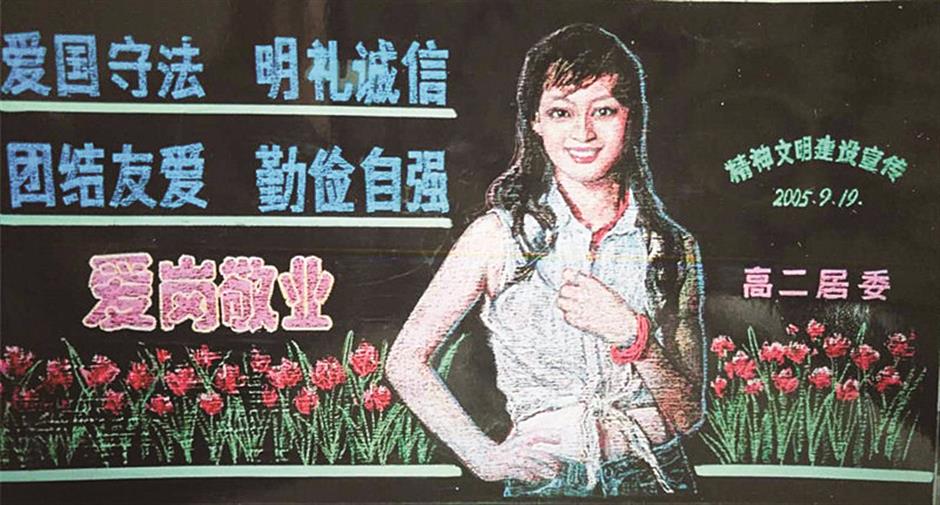 Ti Gong
Jin is a self-taught artist with education only slightly beyond high school. During his boyhood, art wasn't taught in schools, but that didn't deter Jin. He practiced painting and calligraphy with encouragement from his father.
"I bought a book called 'How to do Paint Painting,' and it served as my teacher for many years," said Jin.
His skill was in great demand during the Cultural Revolution, which relied heavily on public slogan boards and political posters.
"At that time, each company needed to paint slogans and feature a portrait of Mao on the wall," recalled Jin. "The Shanghai Dyestuff Chemical factory where I worked handed that job to me."
It was sensitive work for a young man.
"I couldn't risk making any mistakes," he said.
Jin carefully copied Mao's photo onto walls. The factory was so impressed that it sent him to study art at Jiaotong University for one year.
Blackboards have turned out to be his favorite artistic milieu.
"To really get a good effect on a blackboard, you have to apply the principles of sketching and oil painting," he explained.
He uses a layer of red chalk as the base, and then carefully adds additional colors to create shadows and highlights. The situation is similar to oil painting. The layers produce a good finished effect.
It takes Jin a whole week to paint five blackboards, keeping life busy.
As twice-elected vice president of his neighborhood committee, he also liaises with the property management company when residents have problems that need to be resolved.
Jin, who helps in the care of his grandson, loves children. During summer school holidays, he finds time to teach calligraphy to neighborhood youngsters.
"I feel good helping people to the best of my ability," he said.
Summer is the best season for Jin because he can do his chalkboard work under air conditioning. In winter, he said, his home heating isn't enough to take away the chill. His fingers grow stiff and it takes him longer to do the work.
Jin's reputation has spread beyond his immediate neighborhood. When the Huacao Police Station needed a talented hand for a district blackboard competition, it recruited Jin and won the championship two years running. The police gave Jin a microwave to thank him for his help.
Source: SHINE Editor: Chen Xingjie Special Reports