All this 9-year-old Chinese-Dutch girl wants is to find her natural mother
00:50 UTC+8, 2017-10-24
0
One girl, one wish, one determined woman, one visit to China -- but no successful outcome.
00:50 UTC+8, 2017-10-24
0
Nine-year-old Sun Dingyi has one wish -- to find her birth parents in China.
And to try to fulfill that long-held ambition she has traveled nearly 9,000 kilometers with her Dutch adoptive mother to Shanghai.
They went to Juyuan police station in Jiading District yesterday to have Sun's DNA collected for matching. She was abandoned and left at Jiading District Central Hospital two days after she was born on November 15, 2007.
She spent the next 22 months of her life at Shanghai Children's Welfare Service Center until she was adopted. She had been born with a left ear deformity.
Her Dutch family raised her in a village near the city of Utrecht.
But Sun often thinks about her birth parents and she has been asking about them for the past six years.
"When she was 4 years old, she sometimes cried and started asking about her birth parents, and we think it is the good time to come to China to find out her birth parents," said Petra de Vaal, Sun's adoptive mother who works as a nurse at a senior home.
"There are really a lot of sad moments as she was crying and saying 'I want to see my mommy, I want to know what she looks like, and where is she?'" de Vaal told Shanghai Daily. "She asked a lot of questions about her birth parents."
She is the only Chinese in her school, her mother added.
"I was waiting until she was older. Now she is almost 10, and I think it's the good time."
"I also want to find the mother because I feel the bond with her, and they are part of our family," said de Vaal.
Jiang Xiaowei / SHINE
Ti Gong
The decision was made one year ago, and the air tickets were bought that time.
"We gave the tickets to her as a Christmas gift, and she can't believe it, saying 'wow, I am going to China! Is it real?'"
Sun's Dutch name is Eloise Hannah Ding Yi de Vaal. She can only speak Dutch -- fortunately for her Petra de Vaal can speak English and was therefore able to communicate with a Chinese translator.
Sun said she felt a bond in China. "The trip to China is amazing and it's a very special trip for me."
"The Netherlands is my first hometown, and China is my second hometown. I always want to know who are my birth parents and it is good to see the country where I have been born."
Asked if she had a message to her birth parents, she responded: "Hello, where are you? Because I am leaving, so I hope you come soon. I miss you so much and I love you. I am waiting for you."
In a notice posted in Shanghai, she added: "I have been well taken care of by my adoptive parents in the Netherlands. I am a cool girl and I like music. I also like playing outside and eating chocolate.
I have a happy life with good health. I miss my birth parents and I am grateful for them for giving me life. I don't hate them for being abandoned, and I just want to see who they are and make them know I have a good life now."
Jiang Xiaowei / SHINE
The family came to Shanghai a week ago and will return home today.
When they visited Jiading District Central Hospital, they met both the nurse and the cleaner who found Sun in the hospital. It is believed she was brought there by her natural mother or by someone on her behalf. Sun was found around 3:50pm on November 17, 2007, in a pediatric clinic room. "It was a very cold Saturday afternoon, and she was placed on a bed in the clinic room," recalled Xia Guihua, the cleaner.
"If we did not see her at that moment and left, she might have died because the air conditioning would have been turned off when we were off work," said Xia.
There was a message written on a piece of paper found beside her along with some milk powder. The message read: "Mommy will always love you. Dear baby, I wish you a healthy life. Thank you for anyone who takes care of you." It added that she was born on November 15, 2007.
Police were unable to find anyone who could provide clues on the girl's identity. She stayed and received medical treatment at the hospital from November 17 to 28 that year and was then sent to Shanghai Children's Welfare Service Center by the Juyuan police station of the Shanghai Public Security Bureau.
The whereabouts of her biological parents or relatives remain unknown.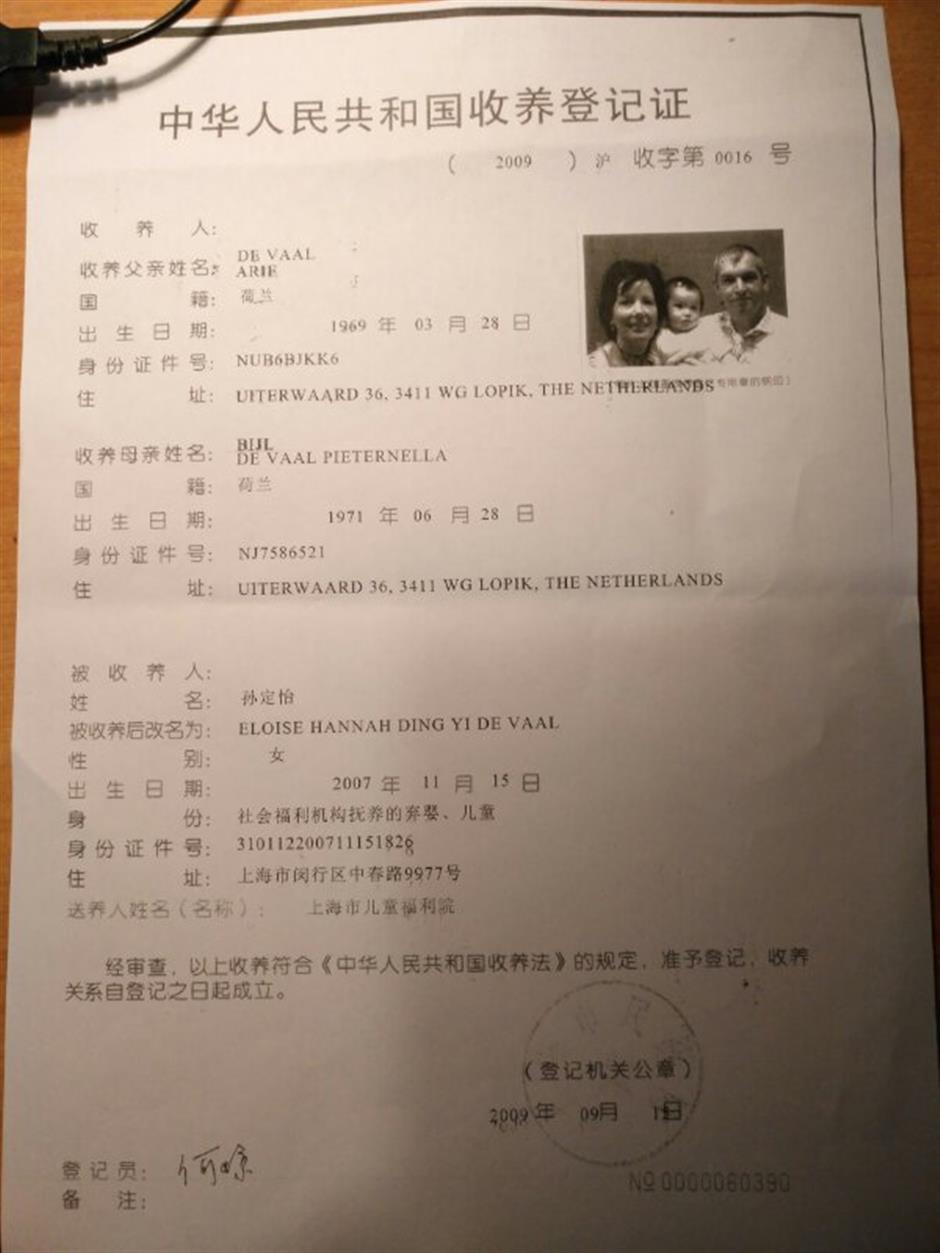 Ti Gong
Although Sun has no memory on her life in China, Petra de Vaal still remembers the first time she saw Sun. She decided to adopt her on sight.
"The first time we saw her on the arm of the nanny, my husband said 'oh, there she is' and I was really happy and it felt like she is my own child. I will never forget that."
"She was crying at that moment," de Vaal recalled, smiling at the memory.
She added that her adopted daughter is much loved by all her Dutch relatives.
"She is a nice child. She is happy with us in the Netherlands. She likes playing outside. She has a lot of friends. She plays violin and she likes swimming. She's more like a boy than a girl."
The two of them also visited Shanghai Children's Welfare Service Center during their stay. "We are happy to see where she was sleeping and where she played, but it is a pity that no one recognizes her because all the workers during her stay there have retired," de Vaal said.
She and her husband have also adopted a boy from Handan in north China's Hebei Province. He is now 4 years old. The family also plans to help him look for his birth parents.
"He has also asked about his birth parents, and I told him first your elder sister, and then your turn," de Vaal said.
Sun had her DNA collected yesterday at Juyuan police station. "We will conduct DNA comparison as soon as possible and inform the Dutch family once there is a result," said Cheng Jie, a police official.
Cheng added it might well take some time to come up with any result as the process could be complicated.
During their stay, the family also tried asking for information from passers-by in Jiading. However, they didn't strike lucky. De Vaal said they will keep up the search for Sun's natural parents. "It is a pity. Maybe they are not ready for it because we don't know the story. Maybe they live outside Shanghai now."
"We have done all what we can, and that's it," she said. "We will keep looking for the birth parents."
If anyone can help Sun make her wish come true, they are asked to contact the family by e-mailing petradevaal@live.nl.
Source: SHINE Editor: Wang Haoling Special Reports