Fresh paint brings back the old world charm
01:10 UTC+8, 2018-05-03
0
Qishan Village is undergoing a facelift due to be completed by the end of August. It's part of a so-called "micro refurbishment" program on Yuyuan Road.
01:10 UTC+8, 2018-05-03
0
Wang Rongjiang / SHINE
When Aude Hazard, a French lecturer who has lived in Shanghai for five years, walks from her Hongye Garden apartment on a back lane of Yuyuan Road to have tea on Yuyuan Road, she takes the long way around to pass through Qishan Village.
"I always like to walk down this lane," she said of the Qishan neighborhood, which has 75 historical three-story buildings. "It is authentic Shanghai, though the houses are now shrouded in scaffolding."
Indeed, Qishan Village is undergoing a facelift due to be completed by the end of August. It's part of a so-called "micro refurbishment" program on Yuyuan Road.
Wang Rongjiang / SHINE
The road dates back to 1911, the final year of the Qing Dynasty (1644-1911)and runs through the districts of Changning and Jing'an. It is one of 12 protected historic and cultural zones in the downtown area.
The neighborhood was built in the 1920s, with characteristic Shanghai lane houses. It has a history as home to many luminaries. Missile and space scientist Qian Xuesen lived here when he returned from the US in 1955. His old house is now a memorial to his legacy. Among other former residents are writer, translator and scholar Shi Zhecun, translator Fu Lei and pianist Gu Shengying.
Buildings, like people, often suffer from old age.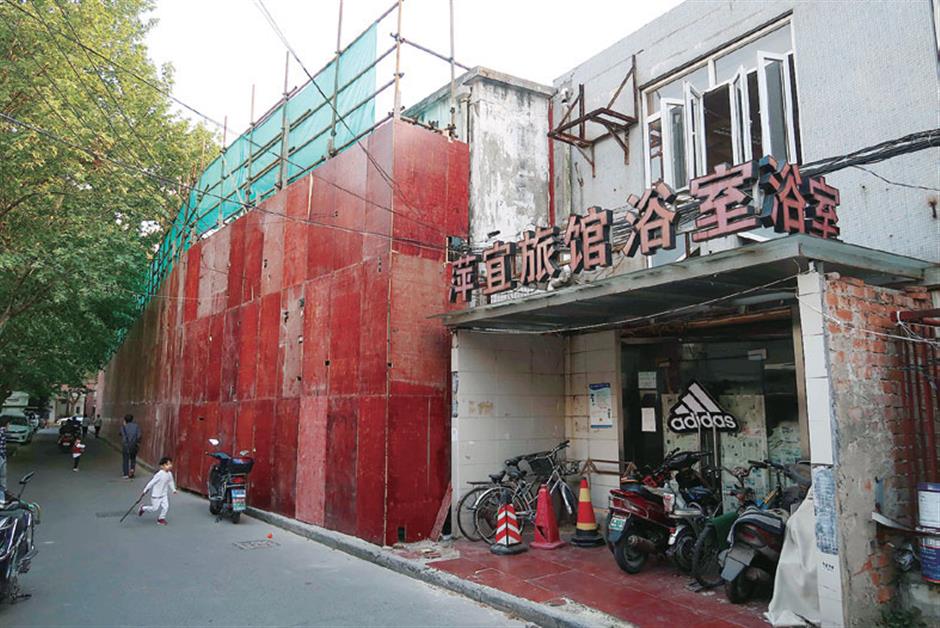 Wang Rongjiang / SHINE
"The wooden beams that support these houses have been infested with termites," said Li Luyi, a member of the Qishan neighborhood committee. "The buildings will collapse from the inside if the problem isn't addressed."
As part of the facelift, the exterior walls of the buildings and kitchens inside will be upgraded. Overhead cables in the lane will be buried.
"The idea is to restore the buildings to their original look as much as possible," said Zhu Adi, a member of the construction team.
But many of the old materials used in the houses, like certain mosaic tiles, are no longer available, creating difficulties for renovation, he added.
Workers will simply polish the antique floors and invert wood stair planks to try to preserve as much of the original decor as possible.
Wang Rongjiang / SHINE
When it was first built, Qishan had one family per house, or at least one family per floor.
Lin Qing, son of renowned doctor-singer Lin Junqing, lived in Hongye Garden for almost 70 years.
"At that time, most of the people who could afford a house in this lane were quite wealthy," said Lin. "In the 1960s, more people started to move in under a government program that subdivided apartments."
He said there is no other place in Shanghai that has the same vibes as the Yuyuan Road neighborhood.
In order to protect the historical significance of the road, Yuyuan is one of the 64 streets in the city on a "never-to-be widened" list, though the roadway is being upgraded.
Wang Rongjiang / SHINE
Before China's War Against Japanese Aggression during WWII, part of Yuyuan Road lay within a foreign concession area of Shanghai. That attracted property developers who put up buildings in Western styles of architecture and merchants who turned the area into a thriving commercial district.
"When I first saw the street, I was astonished by the diverse commerce still here," said Huang Zhiwei, a local business manager.
Diverse but sometimes higgledy-piggledy. Many peddlers set up stalls along the street and eateries often operated without licenses. A new hall will be built in one of the lanes off Yuyuan Road by September, where food and merchandise stalls will be moved.
"You can still find traditional Shanghai boutiques here," Hazard said as she stood at the entrance of Qishan Village and pointed to a nearby shop undergoing a facelift. "This is a new cafe soon to open. It used to be a post office. I've heard they have preserved some of its interior decor."
Source: SHINE Editor: Zhang Shunyi Special Reports