Vintage postcards beyond 'wish you were here'
01:43 UTC+8, 2018-05-08
0
In an age of digital communications, old postcards tell us where people went, what people saw and how people felt. They open unique doorways to the past.
01:43 UTC+8, 2018-05-08
0
Jiang Xiaowei / SHINE
Letter-writing is mostly a thing of the past, and even postcards sent from vacation spots are giving way to e-mails and texts.
Yet, there is still something charming about the old snail-mail method of communicating where we went, what we saw and how we felt. Just ask Wei Bin.
He has collected more than 20,000 postcards in the past 13 years. They overflow from every cabinet in his home. The postcards are mostly vintage pieces of history, preserved in albums or boxes, and categorized by themes such as Old Shanghai scenes, Japanese geishas, music and religion.
Wei, 43, has always loved collecting. It began with stamps in his childhood and moved to postcards during a trip to Britain, when he spotted an old postcard in a flea market.
"The first item in my postcard collection came from a market stall in Stratford," Wei told Shanghai Daily. "It had a fine Egyptian stamp that initially attracted all my attention. It even had a postmark for insufficient postage."
From then, his passion grew. When he returned to China, it became something of an obsession. At first, he searched mainly for foreign postcards in online shopping platforms like eBay.
He has become something of an expert on postcards, discerning their historical significance by printing and color style, postmarks and stamps.
Jiang Xiaowei / SHINE
One of the postcards that Wei holds most dear was likely written and sent by English composer Edward Elgar. It's a very plain card with no picture on it, only a scrawled message.
"It was in a packet of postcards that I bought from an Israeli merchant, containing cards mostly related to music," he said. "At first, I didn't realize its significance and just left it in the box with the others."
However, he later took a closer look and identified Elgar's signature.
He said he contacted a friend working at Shanghai Daily to get a translation. It read: "Sir Edward Elgar regrets that he was away when Mr B Szulc called upon him some little time ago."
Wei searched online and found "Mr B Szulc" referred to Bronislaw Szulc, a Polish composer who lived in Warsaw, where the postcard was sent.
There are successes and there are regrets.
"I once sold a card in French from my collection to one of my friends," he said. "Later, I found out it was very special because all the words were written in reverse. The reader needs a mirror to read it."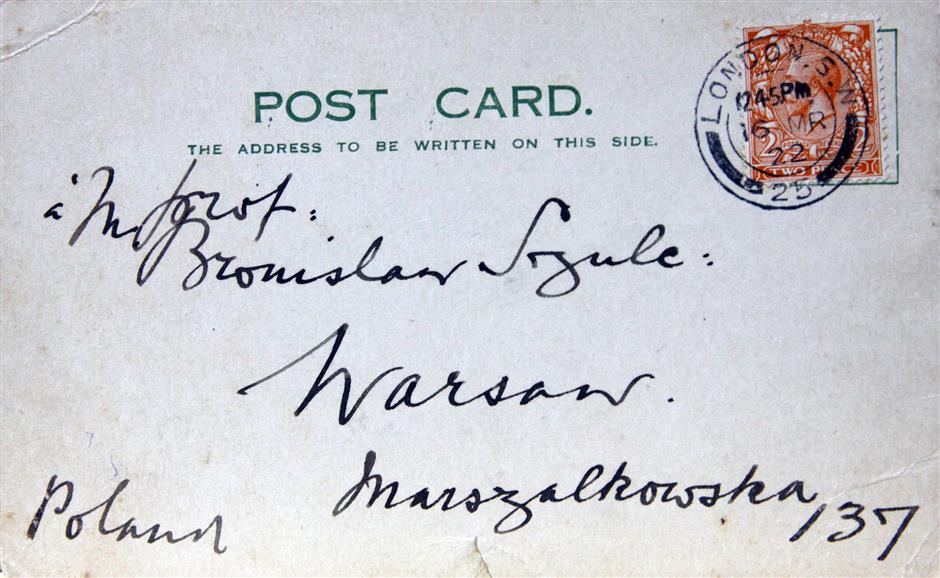 Jiang Xiaowei / SHINE
Jiang Xiaowei / SHINE
Old Shanghai
Many of Wei's vintage postcards are related to Old Shanghai — showing historical structures, landmarks, fashions and economic activity.
These cards turn Wei into a "detective" trying to track down the year and setting. He uses a magnifying glass to peer at details in the photos on the cards, and then consults online information about old Shanghai scenes. Some no longer exist or have radically changed appearance in subsequent decades.
He jots down notes on the background of each old postcard and keeps them in a special album. Someday he may use them as the basis of a book, he said.
The old postcards bring the past back to life. We can see features of life that have long disappeared, like water wagons, poles attached to buckets for carrying water from the river, and one-wheeled carriages carrying people and goods.
They show Shanghai women beginning to adopt modern dress and couples embracing the Western custom of a white wedding.
Jiang Xiaowei / SHINE
The cards also give us glimpses into people's thoughts.
One card depicts a traditional Chinese funeral scene, the foreign sender expressing surprise that some of those attending wore great white waistcoats and little else.
Another sender showed amazement that boats on the river were often the homes of families.
The cards hark to well-known landmarks, like the Garden Bridge that is now known as the Waibaidu Bridge, Public Garden, now known as Huangpu Park, bustling Nanjing Road, and a fair held in the Chenghuang God Temple in the Yuyuan Garden area.
The card collection also reflects Wei himself. He brings back postcards from countries he has visited and has a special album on Japan because his wife likes the culture of that country.
He also has made his own series of postcards featuring his daughter's growth from birth.
"Every postcard has a hometown," he said. "The postcards show us scenery, society and the thinking of people all over the world. When it falls into my hand by fate — or as we Chinese call it yuanfen — something that has existed for a long time is very special."
Jiang Xiaowei / SHINE
Jiang Xiaowei / SHINE
Jiang Xiaowei / SHINE
Jiang Xiaowei / SHINE
Jiang Xiaowei / SHINE
Source: SHINE Editor: Xu Qing Special Reports