Nurturing natives in the shadow of skyscrapers
23:46 UTC+8, 2018-05-09
0
A small nature reserve in Pudong is attempting to recreate the ecological system that existed before urbanization destroyed many of the local plant and animal species.
23:46 UTC+8, 2018-05-09
0
In the concrete jungle of the Pudong New Area, what was once a public greenbelt of shrubbery and flowerbeds has been transformed into a small nature reserve of native species.
The Yijiayuan Ecological Conservation Garden, sandwiched between Zhaojiagou Bridge and the Yijiayuan residential complex, is only about 3,000 square meters but it has more than 260 plants and 180 animals and insects, mostly all natives.
"We uprooted the previously planted introduced species and replaced them with native species," said site operator Guo Taoran, 30, founder of the Forest City Studio.
"It is good that we are increasing the amount of greenery in our urban landscapes, but in many instances we are using too many introduced species, which grow faster and are considered prettier," he said. "Actually, these invasive species kill native species and destroy the natural eco-system."
Jiang Xiaowei / SHINE
Jiang Xiaowei / SHINE
It is estimated that nearly 290 species of native plants may have become extinct during a period when the number of introduced species rose nearly a third, according to the Shanghai Chenshan Plant Science Research Center and Chinese Academy of Sciences.
"Some of the native species become endangered and then extinct because of the large numbers of feral species," Guo said.
In 2015, he reached an agreement with Pudong's greenery authority to turn the greenbelt into a natural reserve. Construction was finished in 2016. It has not been an easy task.
One hurdle was the existing infrastructure. Underground cables, for example, were not to be touched when introduced plants were uprooted or a pond was created at the site.
Street lights were another problem. The lamps attracted insects, especially moths, who exhausted themselves fluttering around the lights. Trees were planted to shield the area from street lighting.
Then, too, some nearby residents were found illegally fishing for crayfish and mussels in the pond. The area was later enclosed, Guo said.
Still, the project has proven successful, to some extent. The unmanicured natural environment possesses a certain rustic charm.
"Young native seedlings have thrived, and larvae have grown into native butterflies and beetles," Guo said. "They have settled here and largely breed here."
The area is now home to Shanghai's tiniest frog, as small as thumbnail.
Jiang Xiaowei / SHINE
Jiang Xiaowei / SHINE
Jiang Xiaowei / SHINE
Rustic charm
Guo's team has scoured the local vicinity for traces of species native to Shanghai and its wider environs. They found winged prickly ash, an aromatic shrub from Sanshan Island in the city of Suzhou. The ash trees are a favorite site for swallowtail butterflies to lay eggs, proving food when the caterpillars hatch.
On a slope, native succulents are planted. One of them is orostachys erubescens, commonly known by locals as the "herb on a tilted roof" because it used to be commonly found atop old buildings. Older people would use the leaves of the rosette-shaped plant to wash in summer because they were said to help the skin excrete toxins.
"Many of us believe that succulents originated in Africa and America," Guo said. "But, in fact, we have our own species. We planted orostachys erubescens on the slope to imitate a tilted roof and bring back old memories."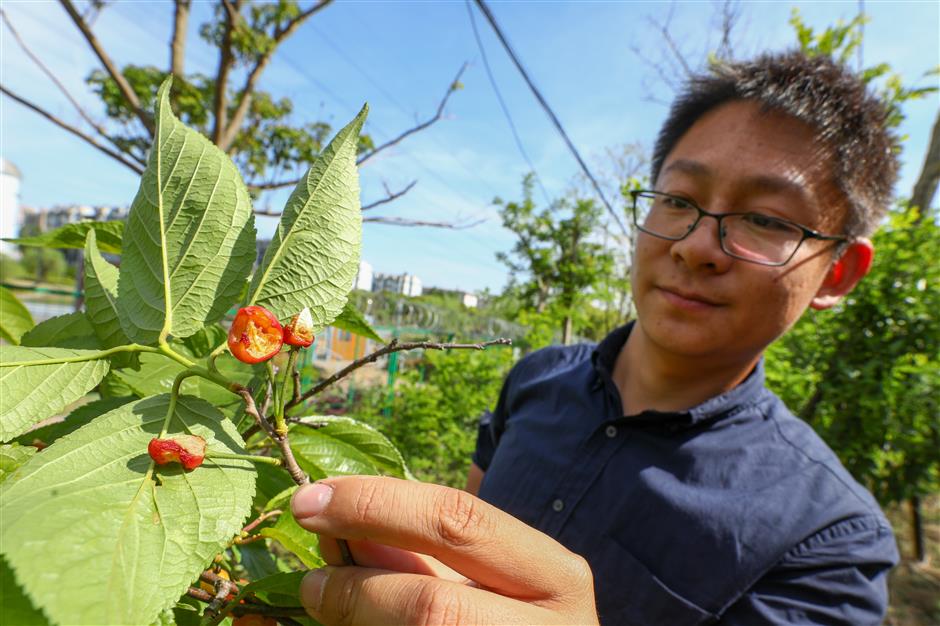 Jiang Xiaowei / SHINE
Young birds and the larvae of insects were relocated to the reserve. To feed them, Guo's team installed a variety of food sources, including cherry trees and raspberry canes. It has worked very well, he said.
Guo's team doesn't remove dead wood, leaves or plants. Instead, they are left to rot where they fall, providing compost to the reserve and food for some of its inhabitants.
"Dead wood offers perfect conditions for fungi to grow," he said. "The fungi feed off the dead wood, and the rotting wood provides a home for insect larvae. The larva of Shanghai's biggest beetle lives there. It can grow larger than a fist."
He said the urban practice of removing dead wood and fallen leaves contributes to the decline of native species.
"But here, it forms a food chain and perfect complement to the natural world," he said. "Species live and species die. It is the balance of the eco-system."
Jiang Xiaowei / SHINE
Public attitude
Guo admitted that it's a bit hard to get the public excited about the reserve.
"Firstly, it doesn't look very pretty, and some urban officials are loath to accept decaying plant life," Guo said. "Also, residents may complain about the flying insects and singing birds attracted to the reserve."
However, the reserve has won the praise of experts, including insect researcher Jin Xingbao, the former deputy director of the Shanghai Science and Technology Museum.
She said it is better to showcase nature as it really looks and functions rather than create contrived environments. People will become better educated about the natural environment if they can see the plants and insects that are indigenous to the city.
Guo's team has 10 people, mostly with biology backgrounds. They give tours of the reserve and hold classes to explain the local eco-system.
Last year, they designed a one-semester optional class at the Shantian School in Putuo District to explain the relationship between the natural world and people's daily lives.
"We want the young generation to learn lessons from nature that will enhance their love of our homeland," Guo said.
"Now, we want to interview senior citizens and hear their stories about their past relationships with local species. It will be a lively historical record," he said.
Jiang Xiaowei / SHINE
Jiang Xiaowei / SHINE
Jiang Xiaowei / SHINE
Source: SHINE Editor: Xu Qing Special Reports