In searing heat, retired doctors volunteer in China's northwest
01:44 UTC+8, 2018-08-13
0
On Shanghai ophthalmologist Liu Hongdi's seventh trip to the Xinjiang Uygur Autonomous Region as a volunteer this summer, a patient traveled more than 200 kilometers to greet her.
01:44 UTC+8, 2018-08-13
0
Sun Dan
Editor's note:
A Shanghai Daily reporter was part of a journalists' tour to the Xinjiang Uygur Autonomous Region to see first-hand how the devotion and experience of senior Shanghai volunteers are making a difference in the lives of people there. This is her report.
On Shanghai ophthalmologist Liu Hongdi's seventh trip to the Xinjiang Uygur Autonomous Region as a volunteer this summer, a patient she treated six years earlier traveled more than 200 kilometers to greet her.

"She is my daughter in Xinjiang," Liu, 67, said of Hasiyet Abilizi, "I was very touched that she came to see me because it's such a long distance to travel."
Liu is one of 20 retired professionals working in Xinjiang this summer under a "senior volunteer action" program that encourages professionals to put their talents to good use in China's underdeveloped western regions.
The group, which ends its two-month stint later this month, is spread across 10 work units in the city of Karamay, the prefecture of Kashgar and the counties of Yecheng, Shache and Bachu. Liu is part of the medical contingent.
Liu's bond with the Abilizi dates back to 2012, when the girl was 13 and suffering from tympanitis, an inflammation of the inner ear.
As a former doctor at the Shanghai Eye Disease Prevention Center, Liu was a volunteer at the Zepu County People's Hospital when she came to know the girl on ward rounds.
"Unlike other doctors, she was smiling all the time and she made me feel very warm, just like mother," said Abilizi, who helped Liu with some translations from the Uygur language and gave her a letter of gratitude. After Liu returned to Shanghai, they kept in touch by letter.
In 2015, when Liu was doing volunteer work in Yecheng County, Abilizi turned up unexpectedly to greet her.
"I was very touched because she had never been outside her home county," said Liu.
Since then, the girl and Liu have reunited every time the doctor is working in Xinjiang. One time, that involved a five-hour bus ride for Abilizi. Liu bought her a train ticket for her return home. It was the first time the girl had ever taken a train.
"Because of Mother Liu, I know there is a city called Shanghai far away from here, and I want to apply to the Shanghai International Studies University if I do well on the national college entrance examination," the girl said.
In Xinjiang, there is an increase in numbers of cataract and glaucoma patients due to strong ultraviolet rays and complications of diabetes and hypertension, said Liu.
In Yecheng and Shache counties, medical conditions are often poor, while demand for ophthalmologists is high. While there, Liu separated ophthalmology from the ENT (ear, nose and throat) department and started offering outpatient services.
As part of a cataract-screening project in Shache, she has visited more than 20 villages.
"My counterparts in Shache were very concerned about me, given my age, the remoteness of villages and the inclement environment, but I was determined to do my work because preventing and treating blindness is my duty as an ophthalmologist," she said. "Screening is so important to early diagnosis and care."
About 100 surgeries resulted from these screening.
This summer, Liu is working at the Second People's Hospital in Kashgar, along with He Qinguo, 61, a dermatologist from Shanghai.
Ti Gong
"I was worried that there is a shortage of skin-disease specialists at the hospital, and screening and treatment programs are inadequate," he said.
He is training doctors, holding classes and working out a plan for development of a dermatology department at the hospital. He also treats patients suffering from rare skin diseases.
"We are very grateful for these senior doctors from Shanghai because they introduce good medical treatment and help in training medical personal," said Yao Chunhui, deputy director of the medical department at Kashgar hospital.
Ti Gong
At the Karamay Municipal People's Hospital this summer, Wei Chaosheng, a 69-year-old cardiovascular specialist, is doing volunteer work. It's his third tour in Xinjiang as a volunteer, but his history with the region dates back to adolescence.
When he was 17, Wei was among the urban youth sent to Xinjiang, where he worked on a farm for 20 years. Conditions were harsh, but Wei developed a deep bond with the region. Every time he returns to Xinjiang, he visits the farm where he once worked.
At the hospital, he teaches young doctors how to use cardiograms to diagnose specific medical conditions and does a bit of outpatient treatment.
"I want to share my expertise and experience in the field with the people of Xinjiang," he said.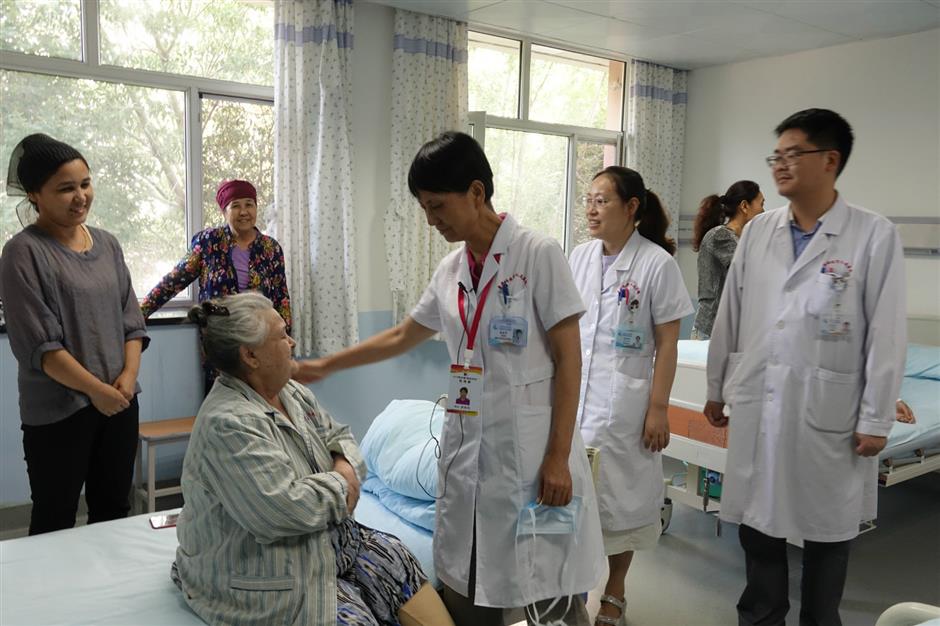 Ti Gong
His colleague at the hospital is 66-year-old ophthalmologist Chen Jianhua, who is on her fourth volunteer tour in Xinjiang.
She has introduced sutures to treat childhood entropion, a condition in which the eyelid is rolled inward against the eyeball. She has also promoted the use of lasers in eye treatment
There are three doctors from Shanghai currently working as volunteers at the hospital this summer. They have already treated 1,290 outpatients' visits, according to the hospital.
"Despite their ages, they work harder than younger people and handle a big workload," said Ling Lixing, director of the hospital. "They come here at the hottest time of the year and develop very good relationships with patients."
Source: SHINE Editor: Shen Ke Special Reports