Sprucing up the city with 'toil and sweat' an honor
15:24 UTC+8, 2018-11-14
0
To shovel snow, we fought on the roads day and night. I had already arrived at the bridge I worked on before 3am.
15:24 UTC+8, 2018-11-14
0
Personal profile
Cheng Hui, born in March, 1975, is a Shanghai native with a junior college degree, and a member of the Chinese Communist Party.
Since Cheng became a sanitation worker 13 years ago, she has always worked in a front-line position. She has won a number of honors, including the "China 2010 Shanghai Expo Outstanding Volunteer" and "Outstanding Individual of 2011 Shanghai Greenery and Public Sanitation Industry Working Competition."
She is now the monitor of the Chen Koudi model worker team of Shanghai Putuo Environmental Sanitation Industry Co Ltd affiliated to the Putuo District City Investment Co.
She witnessed the rapid development of Shanghai's look after reform and opening-up, and experienced the implementation of garbage sorting in the city.
Cheng, together with numerous sanitation workers around the city, contribute to the beautiful environment of Shanghai.
My story
My name is Cheng Hui and I was born in 1975. I grow up with the reform and opening-up. Because my parents are Shanghai zhiqing (urban residents who were sent in their youth to work on farms in the 1960s) and they worked in Nanchang, Jiangxi Province, I spent my childhood in Nanchang.
Until I was 16 years old, my parents and I took 18-hour trains to return to Shanghai.
Now, it only takes five and a half hours from Shanghai to Nanchang. Reform and opening-up has made the connection between cities even closer.
I have been working as a sanitation worker for 13 years as of this year. I joined the Shanghai Putuo Environmental Sanitation Industry Co Ltd in 2005. At that time, even my family gave me a peculiar look because they did not understand why I picked the job.
When I started work, I found that being a sanitation worker is a job that requires a lot of responsibility.
In 2009, I was transferred to the Chen Koudi model worker team. I felt a lot of pressure when I first came because I know that Chen Koudi, who earned the model worker title, is a very representative and outstanding figure in the industry.
I saw her honors over the past 20-plus years, including banners, certificates, and medals. I believe such achievements originate from her love of the job, and I set her as my example.
She is a mentor for me and always helps me. She teaches me that I must be a pioneer and set an example for others in any job, and her model spirit always inspires me.
The reform and opening-up changed my job significantly, especially in terms of mechanical equipment. In the past, we were always bathed in dust and mud despite sunny or rainy weather when we swept the streets. The wide use of mechanical equipment has improved our city environment and lowered the labor intensity of workers at the same time.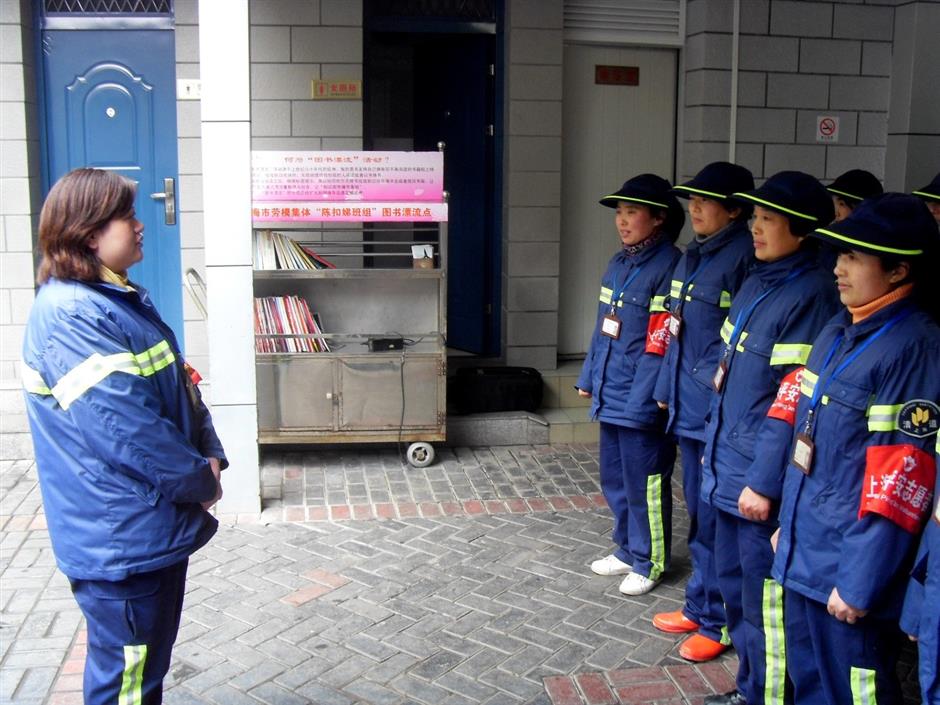 In recent years, waste sorting has become a new fashion. As a member in the environmental sanitation system, we need to work together to make it a success.
When people start viewing waste sorting in the long run — focusing on environmental protection beyond their own business, no longer getting bored with the small trouble of waste sorting, and making garbage classification a good habit, good custom and good rule — we can gradually form civilized behavior and improve our living environment.
At the front line of the city's window department, we stuck to the meticulous management requirements of our enterprise and ensured 24-hour work during the China International Import Expo. We added fuel to the event with a clean and tidy environment.
The most impressive thing for me happened during the heavy snow days before the Spring Festival this year. At that time, all sanitation workers in Shanghai rushed to their posts.
To shovel snow, we fought on the roads day and night. I had already arrived at the bridge I worked on before 3am.
It surprised me when two residents came to us around 7am.
Thank you for your hard work and for clearing the snow from the streets overnight, they said.
At that time, I felt very warm, warmer than any honor I have ever won.
I think this city is very warm and its residents are very enthusiastic.
As a common sanitation worker, I grew up in work. I am confident and will work even harder with my team to make the city beautiful.
On the 40th year of reform and opening-up, we will continue to spruce up the city with toil and sweat.
Source: SHINE Editor: Shen Ke Special Reports