Thinking of avoiding the rush? Think again
08:33 UTC+8, 2019-01-18
0
The city has a large population of workers from Sichuan, Guizhou and Chongqing which is why Shanghai Railway Administration began extra trains ahead of the travel peak.
08:33 UTC+8, 2019-01-18
0
Xinhua
The first of the season's extra trains, the K4636, left Shanghai at 8:55pm yesterday, carrying 1,039 passengers home for Spring Festival. It is due to arrive at Chengdu in southwest China's Sichuan Province before dawn tomorrow.
Spring Festival, or Chinese Lunar New Year, falls on February 5 this year. The holiday travel peak, chunyun, will last from January 21 to March 1.
The city has a large population of workers from Sichuan, Guizhou and Chongqing which is why Shanghai Railway Administration began extra trains ahead of the travel peak.
Passengers arrived at Shanghai Railway Station early. Li Zhongbi and Long Taiping turned up in the afternoon. The couple from Deyang in Sichuan have been working at a brick factory in Shanghai for over a decade.
They purchased two seats online a week ago. "We used to line up outside the stations to buy tickets, but the Internet has made it so easy," said Li.
They will take another train from Chengdu to Deyang. Last time their son drove them. "It took us two nights and a day to finally get home," said Long. "It was exhausting. I wouldn't choose that route again."
Long said they only go home every two or three years. Communication technology has improved a lot, but it is always good to go home for a family gathering.
Jiang Xiaowei / SHINE
Someone else also arrived early. Liu Zhihui, an officer from the railway station, volunteered to provide water, newspapers and first aid for passengers. He pushed his trolley into the waiting hall at around 7pm.
This will be the fifth time Liu has spent his Spring Festival in the station. "I have already volunteered to come on New Year's Eve," Liu said, as he poured a cup of hot water. "It makes me happy to help out."
A woman surnamed Luo who got a band-aid from Liu for a cut finger said this was the first time she had gone back to her hometown in northwest China's Shaanxi Province for nine years.
As the clock ticked, she said she was more nervous than happy, as her home must have changed so much. Who would meet her and how would her hometown embrace this long-gone wanderer?
A 72-year-old Shanghai local, Bu, was also taking the train. He was going to Sanmenxia in central China's Henan Province to watch the migration of the swans.
Although caught up in the Spring festival exodus, Bu was still excited about the prospect of getting some fine pictures of the swans.
"Photography has been my passion since I retired," he said. "The swans overwintering from the north is something you can't miss."
As the train was an old-fashioned green one, the crew took measures to make the trip as comfortable as they could.
Zha Jing, head of the crew of K4636, told Shanghai Daily the train had prepared food for people from all over the country. The price of meals ranges from 5 to 25 yuan (US$3.7).
"We have spicy dishes of course, for the destination is Chengdu," said Zha. "We have also prepared halal meals."
Six carriages are sleeper cars and 10 are seating. "We have kept back about 400 seats for passengers who will board the train at stations along the way," Zha said.
The crew also invited calligraphers to write traditional couplets and the character fu (good fortune) in the dining car to help them celebrate the upcoming new year with passengers.
Another 24 extra trains will take passengers home before the travel rush officially kicks off.
A total of 13.1 million people are expected to leave town by train during the rush, 5 percent more than last year.
The peak of the rush is likely to be on February 2 where about 513,000 people will leave town, a new daily high.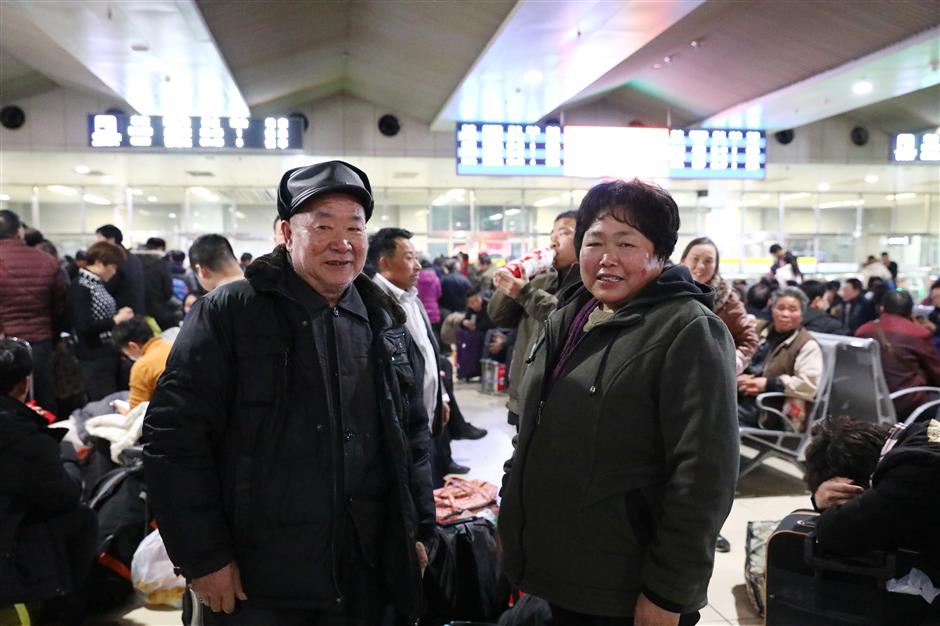 Jiang Xiaowei / SHINE
Jiang Xiaowei / SHINE
Source: SHINE Editor: Wang Qingchu Special Reports