Boundary tablets mark traces of city development
22:39 UTC+8, 2019-03-05
0
The Collection Museum of Shanghai Modern, covering 400 square meters near the Lujiazui financial hub, has collected over 40 such historical tablets as its key artifacts.
22:39 UTC+8, 2019-03-05
0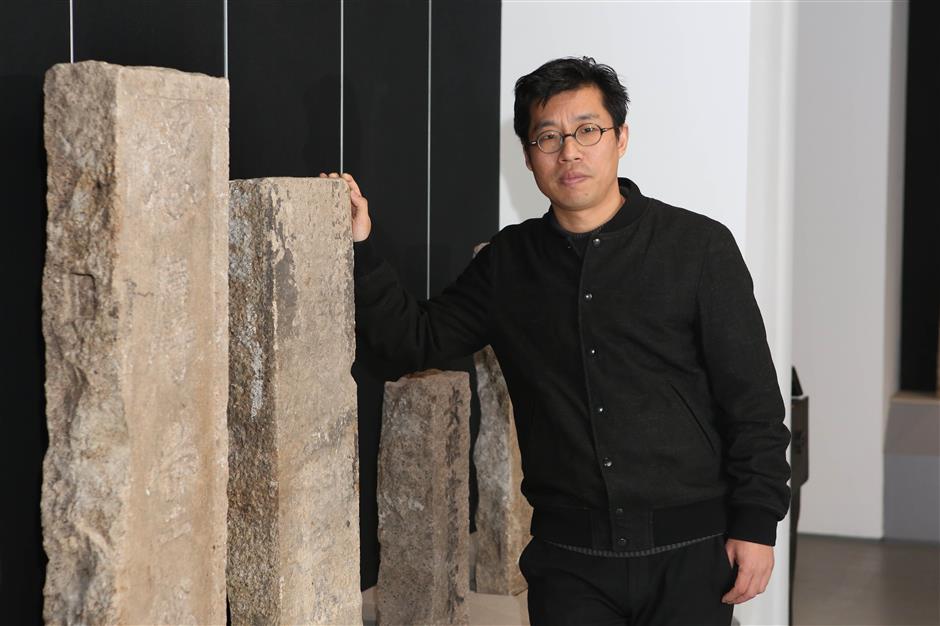 Wang Rongjiang / SHINE
The inscription on the stone says "Tongren Fuyuan Charity Boundary," recalling what was once the city's largest charity. From 1804, the foundation offered free coffins and built tombs for those who could not afford their own.
The stone is one of thousands of similar jiebei, boundary markers, that were set up on almost every street corner in the city even before construction began on the buildings which were to occupy the vacant lots.
The homes of government bodies, industrial organizations, charities and companies, even large private houses were all graced with a nearby jiebei.
Most of them have been lost, buried or bulldozed during urban renewal, especially in the old town area in Huangpu District.
But these boundary tablets have a key role in charting Shanghai's growth and development.
A new private museum that opened in the Pudong New Area last month is dedicated to these waymarkers that map out the city's urban memory.
Wang Rongjiang / SHINE
Wang Rongjiang / SHINE
The Collection Museum of Shanghai Modern in Lujiazui has brought together 40 of these tablets as its exhibits. The tablets, some more than 100 years old, are intended to be representative of those once posted all over the old town.
The Chinese name of the museum came from the Chinese title of Whitfield & Kingsmill, the earliest foreign architecture firm that opened in Shanghai in 1860. Curator Chen Bai almost managed to get his hands on the boundary tablet for the Whitfield & Kingsmill building but deeply regretted his failure to do so.
"They are the roots of Shanghai. If nobody saves them, they will be gone and forgotten forever," said Chen, who began saving them from bulldozers ten years ago when many old residential buildings were being demolished.
"The tablets have great historical and cultural value. They are evidence of the city's history," said Xue Liyong, a researcher at Shanghai History Museum.

Xue has helped Chen work out the stories behind the stones.
Boundary tablets identified foreign companies, government bodies, roads and private homes. A tablet was put up for the Shen's House, a 150-year-old downtown home which was nearly torn down by real estate developers in 2012 until the Huangpu government intervened.
Erecting stone boundaries was a Western practice, introduced in former foreign concessions and later used by local authorities, said Xue. They marked the changes of farmland into commercial and industrial land and bear witness to the evolution of Shanghai from a county to an international metropolis.
Wang Rongjiang / SHINE
Chen, a native of Jiangsu Province, became interested in the tablets around 2009, when taking photos of neighborhoods slated for demolition around Shiliupu Pier and Dongjiadu area in Huangpu. The tablets were seen as rubbish and easily broken by the rampant bulldozers that ruled the streets at the time.
Chen began rescuing them. He paid the demolition companies for the stones and "bribed" workers to tip off him. He purchased tablets from other collectors or companies, sometimes for large sums of money. The vaccine bureau tablet, for instance, cost him nearly 30,000 yuan (US$4,500).
"I could not prevent the houses from being torn down, but at least I can save something for our descendants," Chen said.
A lover of Art Deco architecture and designs of the 1930s, Chen first began collecting from antique markets and recyclers. Much of his early collection is displayed in the museum, including advertisements, an old piano and a typewriter. Visitors can even touch some of items.
"They are beautiful and should be admired by more people," Chen said.
Wang Rongjiang / SHINE
Wang Rongjiang / SHINE
Exhibits include the nameplates of rickshaw pullers and an early flight ticket from Shanghai to the United States.
"The design and aesthetics of Shanghai in the 1930s will never be seen again," Chen said. "Today's designers, including me, cannot create anything that can reach that standard."
The city's unique East-meets-West flavor motivates him.
"Many items recall my childhood. They were once used by my father," said Wang Jianguo, a 68-year-old citizen who visited the museum with his wife. "I assumed the curator would be my age, and was surprised that he is only 40."
Yu Ming, another visitor and a photographer with an interest in historical buildings, once found a tablet in the former Nanshi District, but the next day it disappeared.
Wang Rongjiang / SHINE
Chen has an expansion plan. Along with the tablets, he has also collected handrails and decorations from the wooden stairways of the city's shikumen (stone-gated) houses. The items, now stored in a warehouse, will be exhibited in the future.
"I just hope this beautiful historical stuff can be enjoyed by more and raise public awareness," Chen said. "If someone wants to sell an antique to me, I would definitely reject the offer and tell him to keep it at home as a family treasure."
Exhibition details
Opening hours: Tuesdays-Saturdays, 10am-5pm
Address: 288 Pudong Ave
Admission: Free (reservation required)

Source: SHINE Editor: Liu Qi Special Reports