Creative recycling plans let nothing go waste
11:16 UTC+8, 2019-03-28
0
With a tap of their mobile phones, white-collars workers in the Jiangning Road subdistrict can summon rubbish collectors to come to their desks and gather up waste for recycling.
11:16 UTC+8, 2019-03-28
0
Jiang Xiaowei / SHINE
With a tap of their mobile phones, white-collars workers in the Jiangning Road subdistrict can now summon rubbish collectors to come to their desks and gather up used paper, magazines and express boxes for recycling.
The subdistrict first tried the "waste-recycling-by-app" service in neighborhoods last August, the first area of Shanghai to institute such a project. It teamed up with Alipay in an app that makes recycling both convenient and profitable.
To date, 2,199 orders have been fielded, resulting in the recycling of more than 25,300 kilograms of papers, 974 kilograms of plastic bottles, 337 kilograms of glass and 103 kilograms of fabric.
The service expanded to office buildings in the subdistrict this month. It is set to cover more than 30 office buildings and industrial parks by the end of this year.
Bella Song, an employee with cosmetics company Mary Kay, was among the first to use the app.
Just several minutes after she tapped in an order, rubbish collector Yuan Yurong appeared at her desk and took away a large bag of express delivery boxes. He used an electronic scale to weigh the boxes, and the weight directly appeared on Song's mobile screen.
She earned 1.2 yuan (25 US cents) for 2 kilograms of boxes. The money went directly went into her Alipay account.
"It's convenient, especially for white-collar workers accustomed to online services," Song said.
Yuan, who has been recycling for nearly 20 years, has gained a good reputation in two local neighborhoods he services. So, he was selected to respond to the app. He and others like him have received training about how to use the app and how to talk to customers.
Besides directly recycling the waste, Jing'ansi is also engaged in projects to give junk a new life.
Jiang Xiaowei / SHINE
On Yan'an Road near Huashan Road, one of the city's most popular night clubs once thrived. It moved out at the end of 2017. Left locked and empty, many people turned it into a waste-dumping site.
"They randomly threw garbage there," said Zhang Hanyun, Party chief of the local Jinghua community. "It was an eyesore next to an upmarket commercial zone."
The local community decided to spruce up the inglorious site, cleaning up the rubbish and redecorating the staircase leading to a gate in rainbow hues. They also erected an eye-catching "bike tree" formed from junked bike parts.
"Piles of bikes in disrepair are a headache in our community," Zhang said. "They are piled on roadsides and in neighborhoods. People actually don't use them, but many are reluctant to discard anything as if they feel there is even the slightest chance it may be used again."
Piles of junked bikes crowded public spaces and posed safety risks, but local officials had grappled with the problem to no avail.
"The owners still thought those bikes had some value, and so we finally made them valuable," Zhang said.
Last year, a policy was initiated allowing local people to trade in their old bikes for rice allocations offered by Bright Dairy, which has office in the community. So far, more than 70 old bikes have been collected.
"We dismantled the bikes that are too old to be repaired, and used the bike hubs and tires to erect the bike tree," Zhang said. "For those with only minor damage, we had them repaired. Volunteer residents patrol every day to check the neighborhood environment."
Now, the rainbow-colored stairs and the "bike tree" have become a popular photo-taking site.
Mengmeng, who works in the memorial hall for Cai Yuanpei (1868-1940), the former president of Peking University, sat on the rainbow steps during a lunch break and took selfies.
"It's such as delight," she said.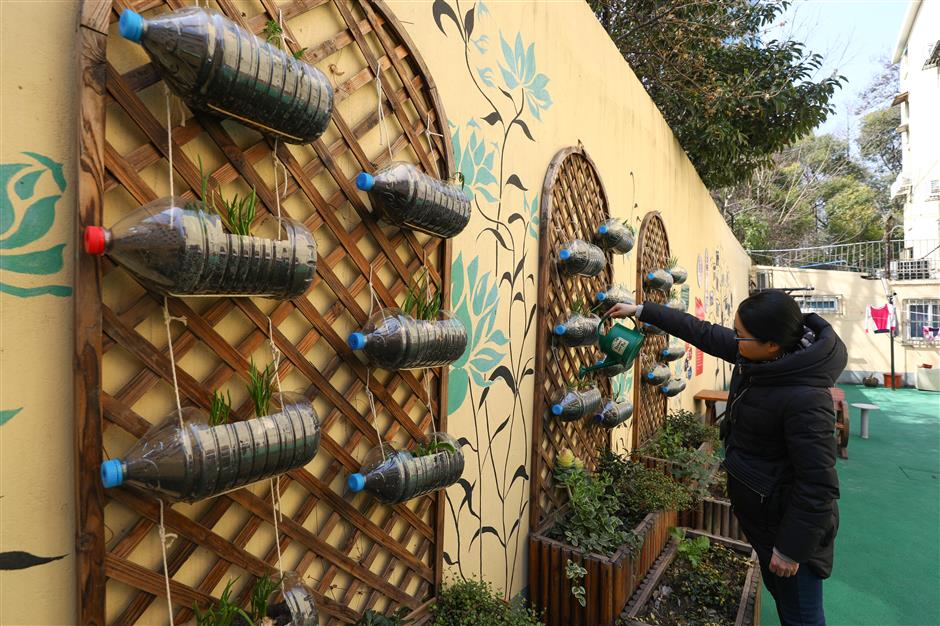 Jiang Xiaowei / SHINE
Just about 500 meters away, an old neighborhood on Fumin Road had an abandoned site where residents chucked out discards or stored belongings. The site has now been turned into a beautiful garden.
Empty plastic bottles were cut and turned into pots for vegetables and herbs. About 35 such pots hang on walls, growing garlic, fennel and scallions.
"We collected the empty bottles from nearby office buildings," said Zhang. "The narrow alleyways now have vertical greenery."
He added, "Also, we collected abandoned cabinets and bed frames, and turned them into wooden racks to hang other pots."
Each household has an average of two pots and can decide what to plant.
"I planted scallions and greens," said resident Shen Yumin. "I plant carrots and greens at home, and it's not hard. Sometimes we share what we plant, and we volunteer to keep the area clean and tidy."
She added, "Previously, it was an abandoned land. Now, it has mini garden, fitness equipment and benches. We can sit down to enjoy spring sunshine, dry our clothes, plant vegetables and have a chat. It makes for great social interaction."
Source: SHINE Editor: Chen Xingjie Special Reports