Treasuring our heritage
21:39 UTC+8, 2019-06-08
0
Shanghai and China have a rich cultural heritage, and we need to preserve it.
21:39 UTC+8, 2019-06-08
0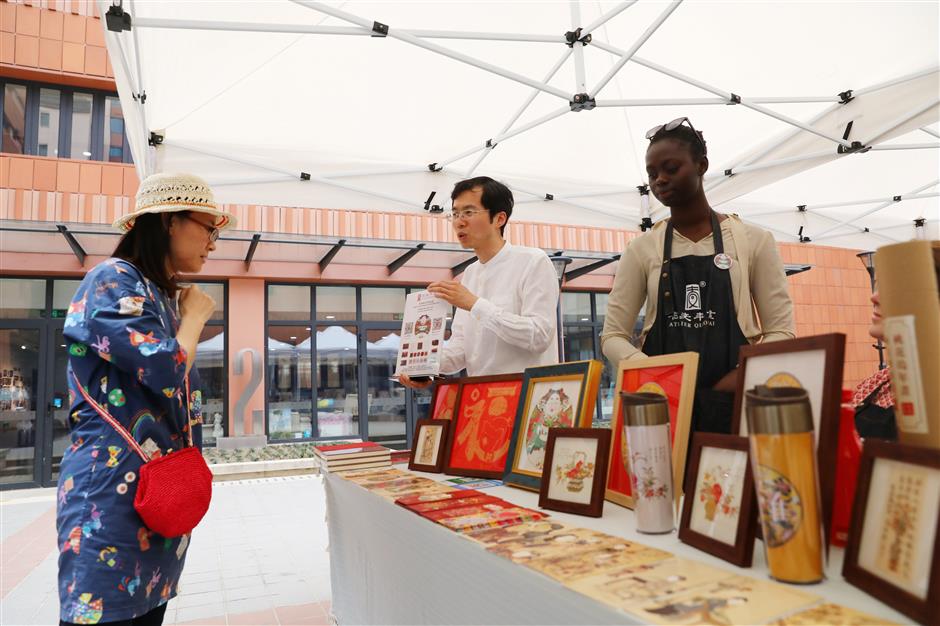 Jiang Xiaowei / SHINE
---
1 Photo | View Slide Show ›
A girl plays a "color empty drum," which combines elements from traditional Chinese musical instruments and modern manufacturing.

Jiang Xiaowei / SHINE
Jiang Xiaowei / SHINE
Shanghai brims with traditional cultural charm over the three-day Dragon Boat Festival holidays, with a wide range of activities to celebrate Friday's festival and the Cultural and Natural Heritage Day that falls on Saturday.

The Jing'an Culture Center launched a celebration on Saturday to honor our tradition and heritages, featuring an exhibition showcasing intangible cultural heritages.
The district has designated 27 categories of traditional art and customs as cultural heritage icons, including local snacks and the historic qipao.
Two new categories added in April is Shanghai-style rubbing techniques and leiyunshang' traditional skills of making gaofang.
Chinese rubbing is an old technique earlier than the invention of printing. In Jing'an, the old technique has been well passed on. Previously, the famous Lu'an inkpad of Jing'an, a highly prized possession for artists to make seals, was designated for heritage preservation in 2008.
Invented by pharmacist Zhang Lu'an at the end of the Qing Dynasty (1644-1911), it is made of oil, cinnabar and processed mugwort grass. The inkpad quickly gained a reputation for reproducing bright colors that didn't fade quickly, making it popular among painters and calligraphers like Zhang Daqian, Wu Hufan and He Tianjian.
Gaofang, Chinese herbal pastes to sustain health, is one of the most popular products of 300-year-old TCM pharmacy Leiyunshang. The process of making gaofang is strict and scientific, with extremely high values. It is a wonderful asset for traditional Chinese medicine and extremely valuable heritage.
Displays feature items and photos telling the stories of each of them, and interactive experiences were available.
Master tailor Jiao Yigang from the 80-year-old Longfeng Cheongsam, showed visitors how to make cheongsam buttons called pankou and frog fasteners.
Longfeng is synonymous with masterful cutting and delicate embroidery, including the unique skill of making pankou, sometimes described as the "eye" of the cheongsam.
Jiang Xiowei / SHINE
Pastry chefs from Kaisiling taught children how to make signature cakes.
Kaisiling, formerly known as the New Kiessling Cafe, was the first Chinese-run Western-style restaurant in Shanghai. It opened in 1928.
Kaisiling pastries became the talk of the town after pastry chef Ling Qingxiang and his two sons joined the staff.
Influential writer Eileen Chang (1920-95), also known as Zhang Ai-ling, was a regular patron at the Kaisiling coffee shop.
Today, it is still a popular site and serves unique pastries like hadou, an oblong dessert with chocolate icing and a custard-cream filling.
Jiang Xiaowei / SHINE
Besides, instructors, wearing hanfu, traditional Han Chinese dress, taught visitors how to make traditional handicraft pieces such as making five-colored bracelet.
Ancient Chinese wore a five-colored sting on the wrist during the Dragon Boat Festival.
They believed the five colors correspond to the five elements of the world: yellow for soil, black for water, cyan for wood, red for fire and white for gold.
And it was perfect to wear five colors in the Dragon Boat Festival. Also, they believed it could help to repel evil things and sustain their health.
For young ladies, they preferred making tuanshan, the Chinese circular fan usually painted with beauty portraits and written with poems, and filling in the colors of cup mats printed with traditional Chinese paintings to represent the 24 solar terms, known in Chinese as 24 jieqi.
Not just remembering the past, there are also things combining the old and the new. Color empty drum, displayed at the center for people to experience, is one of them.
It is a giant egg-shaped musical installation, inspired by the -bianzhong, an ancient Chinese musical instrument dating to the Warring States Period (475-221 BC) comprising a set of bells hung on wooden racks.
Jiang Xiaowei / SHINE
Source: SHINE Editor: Yang Meiping Special Reports