District's tireless volunteers charged with sorting out waste from the trash
10:50 UTC+8, 2019-07-22
0
Cleaner Li Tao could finish dumping a garbage bin into a truck within minutes, but now he has to spend more time inspecting whether the waste in each bin has been sorted correctly.
10:50 UTC+8, 2019-07-22
0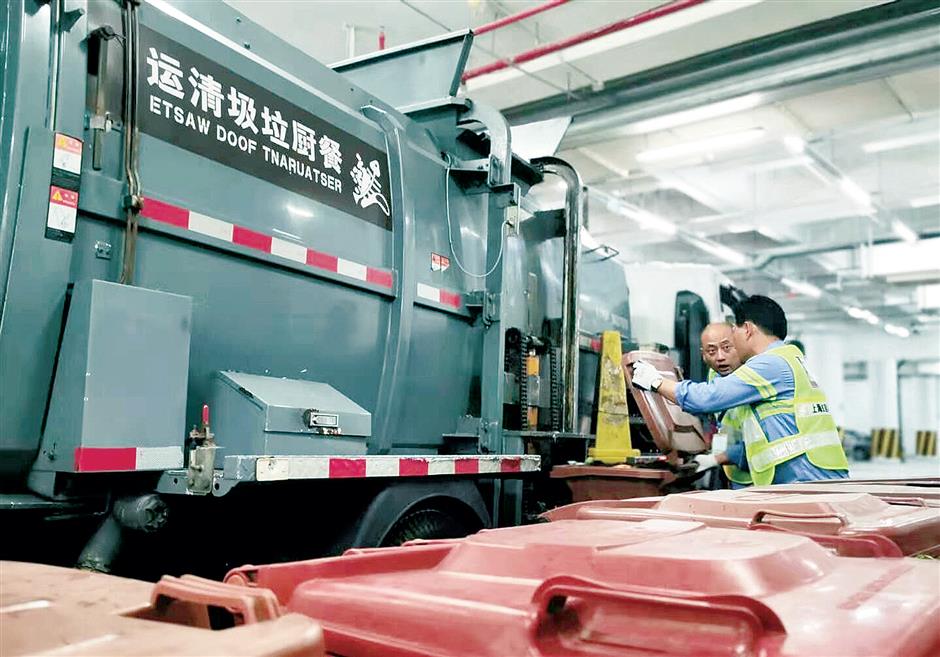 Qi Chuanbin / Ti Gong
Cleaner Li Tao could finish dumping a garbage bin into a truck within minutes, but now he has to spend more time inspecting whether the waste in each bin has been sorted correctly.
Senior cleaners with Donghong Cleaning Company have been dumping and transporting garbage in Hongkou District for nearly two decades.
As the city's first garbage sorting regulation took effect, Li and his colleagues, of Hongkou Urban Construction Development Co., have been working overtime to ensure waste regulations have been implemented. Before dumping a rubbish bin, Li puts on rubber gloves and goes through the waste and picks up wrongly dumped trash. He can spot mixed garbage in a single glance.
Most of the garbage bins have been sorted correctly, but it is also common for residents to mix residual and kitchen waste, Li said.
"We had to work overtime for about two hours due to the additional sorting procedure every day," Li said.
Apart from inspecting each rubbish bin, he also has to ensure the garbage truck arrives in each neighborhood on time otherwise trash might overflow overnight.
While Li was busy inspecting and collecting garbage bins in each neighborhood, his colleague Shen Zhigeng was collecting kitchen waste at hotels in Hongkou.
The 58-year-old Shen takes charge of garbage transport for the Hyatt on the Bund hotel and nearby shopping complexes. The busiest period for Shen and his colleagues is usually after 11:30pm when hotels finish collecting the kitchen waste they generate throughout the day.
Shen also needs to check the condition of each bin before dumping waste on to a truck.
The hotel's nearby landmark, the 320-meter-high Sinar Mas Plaza, also known as the White Magnolia Plaza, on the North Bund in Hongkou, appears another major challenge to Shen.
The North Bund area is being transformed into a financial and shipping center.
Office buildings, restaurants and malls have been planned for the area, according to the Hongkou District blueprint.
As the tallest landmark in Puxi, the shopping complex of the Sinar Mas Plaza features a large number of restaurants and stores that generate tons of garbage, mainly kitchen waste every day.
Wang Lei / Ti Gong
The district government aims to make the plaza a demonstration zone on garbage sorting.
Before the garbage was dumped into the truck, Shen and his colleagues will climb into it for a final inspection on whether there is any other waste mixed into the kitchen trash.
They normally prepare bread and other snacks on the truck for dinner and night snacks because they have to work after midnight every day.
"Hongkou is my hometown so I'm happy to contribute to its environment," Shen said.
As the new regulations took effect, shortages on garbage trucks and labor has been noted. But all the cleaners have been working hard to ensure the regulation is well-implemented.
Employee volunteers
To support the cleaners' work, a volunteer team composed of employees at office buildings at the North Bund has been established to help inspect and promote waste classification.
The team named "woodpecker" has signed a cooperative agreement with the city's urban management authority. Team members can tip off any violations to law enforcement officers, while urban management officers will guide employees on waste sorting, according to the Beiwaitan, or North Bund, subdistrict.
The city's urban management and law enforcement authority said such cooperation between law enforcement officers and local employees are expected to get promoted citywide.
Furthermore, a rainbow promotion volunteer team has also been established in Hongkou.
Team members, including students and employees, are carrying out various promotional campaigns at local communities, campuses, companies and parks.
Volunteers have promoted garbage sorting at 269,000 households and released 280,000 booklets about the waste sorting.
Over 10,000 posters have been stuck up around the neighborhoods, companies, industrial parks and office buildings.
About 40,000 residents and employees have taken part in various promotional activities on garbage sorting since early this year.
Thanks to these efforts, 593 tons of dry garbage has been collected every day across Hongkou, a 6.5 percent decrease on year. Household food waste has increased by 53 percent to 177.65 tons per day. Recyclable waste has also increased to 82.6 tons daily in the district.
Hongkou covers 23.4 square kilometers and features the city's most densely populated residential complexes. The authority will further improve the facilities, such as garbage houses and bins, while enhancing promotion and guidance to the residents, said Yang Jing, director with the district's greenery and public sanitation bureau.
Source: SHINE Editor: Chen Xingjie Special Reports