Culture festival celebrates district's progress
14:16 UTC+8, 2019-10-15
0
The 2019 Suzhou Creek Culture and Art Festival features more than 200 activities, as well as integrating cultural venues, shopping complexes, sightseeing spots and communities.
14:16 UTC+8, 2019-10-15
0
Ti Gong
The 2019 Suzhou Creek Culture and Art Festival features more than 200 activities, as well as integrating cultural venues, shopping complexes, sightseeing spots and communities.
It aims to boost Putuo's brand as the "18 bays of Suzhou Creek."
At the opening ceremony on September 15, a stage performance including chorus, folk music, traditional talk shows and dances was presented.
It showcased the construction and development of Putuo as well as people's happy lives.
Walking tours
There is also an activity to encourage a million citizens to travel and walk across Putuo admiring historical buildings.
Various exhibitions and performances have been planned to celebrate the 70th anniversary of the founding of the People's Republic of China.
They include a photo exhibition featuring historical pictures of milestone events over the last seven decades, a calligraphy and painting exhibition, a public dance performance and a reading exhibition of Putuo schools.
Citizens and tourists can also watch these exhibitions and cultural events on the Internet through a culture cloud online platform.
A closing ceremony on October 11 at the Shanghai Convention & Exhibition Center of International Sourcing will be themed on "Love to the Homeland."
Putuo's achievements over the last seven decades in improving people's livelihoods, its economic development and contributions to national prosperity will be showcased through cultural and art performances.
The sightseeing tour aims to showcase the district's culture, industry and history. Several "micro-tourism" routes have been designed to allow participants to learn the history of the region through walks and games.
Historical buildings and bridges have been equipped with QR codes giving information in Chinese and English.
Tourists are able to read text, listen to audio, watch videos or even have virtual reality tours of these structures simply by scanning the code with their smartphones.
Shopping carnival
Putuo has launched a series of cultural and tourism products. A travel promotion event set up bazaars for tourism exhibitions and on-site consultations.
The tourism and culture shopping festival at the Global Harbor Mall will feature many popular national brands including time-honored brands for customers.
The shopping carnival will include visits by music stars, cultural exhibitions such as a piano concert, and a bazaar featuring Tarot readings and horoscopes during the National Day holiday.
The M50 art hub along the creek is hosting an art exhibition about the city's Huangpu River and Suzhou Creek.
Putuo and the China Maritime Museum have launched a community exhibition campaign to display maritime history dating back to the 15th century.
The exhibition will also be presented in various local communities and schools.
Various public competitions have been organized to enrich the daily life of citizens.
They include a reciting contest at the Changzheng Town, traditional Chinese opera contest at Yichuan Community and a singing competition in the Changfeng area.
The culture and art festival has been held for 12 consecutive years in Putuo and has become a characteristic brand of the district's public culture.
As part of the Shanghai International Arts Festival, the event has also become a popular brand in the city and the Yangtze River Delta region.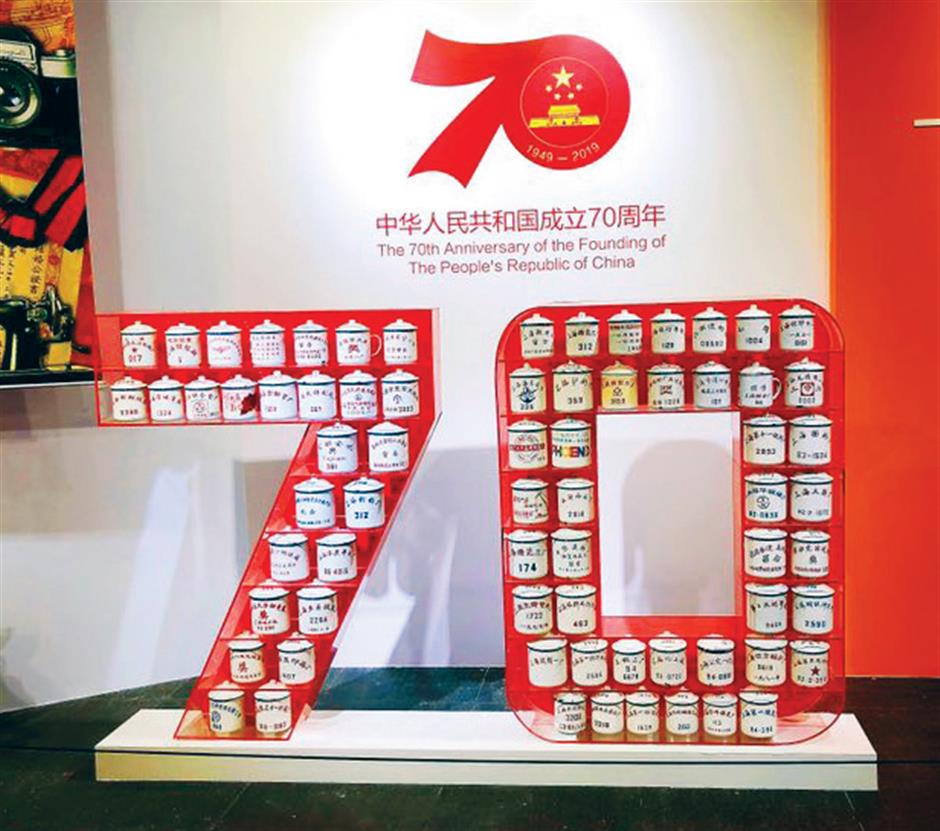 Ti Gong
Everyday items are now special
More than 100 enamel cups, once widely used by local families, are displayed in the shape of "70" at Putuo Cultural Center. An exhibition is underway at the center to showcase everyday commodities used by local citizens over the last seven decades revealing the great improvement in people's lives since the founding of the People's Republic of China in 1949. Other exhibits include the first edition of Renminbi notes printed at the Shanghai Banknote Printing and Minting Co in Putuo, newspapers from 1949, as well as cameras and communication tools. The exhibition is open to the public for free through October 20.
Source: SHINE Editor: Chen Xingjie Special Reports