Decades of great development
10:50 UTC+8, 2019-10-29
0
Jiading has achieved great strides – in its overall strength, its urban and rural construction and improvements in people's lives in the past 70 years.
10:50 UTC+8, 2019-10-29
0
Ti Gong
Since the founding of the People's Republic of China 70 years ago, Jiading has achieved great strides — in its overall strength, its urban and rural construction and improvements in people's lives.
Having a reputation for placing an emphasis on education, the renowned historical and cultural area in jiangnan (the region to the south of the lower reaches of the Yangtze River), has become a typical example of historical changes in China.
As a major site to achieve Shanghai's ambition to become a global science and technology innovation center and to establish a cluster of high-end manufacturing industries, Jiading is taking innovation as the driving force to lead development.
Jiading is making every effort to promote integrated development of the innovation, industrial, talent and capital chains and to become an important innovation technology source, innovation factor distribution center and innovation achievement transformation center in the Yangtze River Delta area.
Taking the real economy as the focus of promoting high-quality development, Jiading will continue to optimize and improve its industrial layout to build a globally competitive automobile industry ecosystem, a 1 trillion yuan (US$141 billion) automobile industry cluster, and accelerate the cultivation of two 100 billion yuan industries — integrated circuits and the Internet of Things, high-performance medical equipment and precision medicine.
The output of strategic emerging industries in Jiading exceeded 100 billion yuan last year, and industrial output exceeded 600 billion yuan.
The integration of industry and the city has been further promoted. A number of high-quality projects, such as the Poly Grand Theater, Ruijin Hospital North Branch and Shanghai HuaEr Private Middle School, have been completed.
Blue skies, green trees and clear water have become a beautiful backdrop for the district. Jiading is accelerating implementation of its rural revitalization strategy to improve agriculture, beautify the countryside and make farmers prosperous.
The district is the birthplace of Shanghai's first domestic-produced car. It rolled off the production line on September 30, 1958. After 61 years, the 1,000th race in F1 history set off in Jiading.
Cars in Jiading "drive faster and faster" and have become the epitome of Jiading's development in recent decades. From a "science satellite district" to an "innovation district," Jiading is taking scientific and technological innovation as its engine, making every effort to strengthen advanced manufacturing, strategic emerging industries and the modern service industry, constantly enhancing regional economic strength and promoting the transformation of economy from quantity to quality.
In addition to economic development, Jiading's urban functions are also improving.
Jiading New Town, which was constructed in 2005, now has such wanghong (Internet celebrity) landmarks as the Poly Grand Theater, Jiading Library, Xiyunlou Cultural Street and Yuanxiang Lake.
A modern new district with independent and perfect functions and integrated development of industry is attracting more people from near and far away.
Powering the automotive industry
Ti Gong
In the spring of 1983, in an old factory in Anting, seven workers from the then Shanghai Automobile Factory assembled the first Volkswagen Santana in China by hand. Jiading has now been leading China's automotive industry for decades.
Today, Jiading has more than 300 automobile and parts enterprises such as SAIC Volkswagen and Volvo, six national public service platforms, such as National Center of Supervision and Inspection on Motor Vehicle Products Quality (Shanghai), Shanghai Auto Motive Wind Tunnel Center, National Engineering Technology Research Center for Fuel Cell Vehicle and Power Engineering Systems, more than 100 research and development institutions and more than 30,000 automobile professionals.
However, Jiading never stops. It has mapped out a blueprint to build a globally competitive automobile industry ecosystem, and accelerate the construction of a world-class automobile industry center ahead of 2035.
However, achieving this goal isn't easy. A world-class automobile industry center requires not only industrial agglomeration but also technological innovation to lead the future of the automobile industry and improve market competitiveness and influence.
The National Intelligent Connected Vehicle (Shanghai) Pilot Zone, the first closed test area approved by the Ministry of Industry and Information Technology, was launched in Shanghai International Automobile City in Jiading in June 2016.
Up to now, 270 intelligent connected vehicle (driverless vehicle) tests scenarios have been built in the closed test area, and it has become an international platform with complete test capabilities and advanced technologies.
Since the first batch of road test licenses were issued to three automakers — SAIC Motor, BMW and NIO — in 2018, the testing work has been going well. Auto companies have tested on an 11.1-kilometer stretch of public road in Anting. The testing distance has totalled more than 24,000 kilometers with a duration of more than 1,200 hours without traffic violations or accidents.
In the near future, it is planned to further expand the test road to 52.2 kilometers and to realize the open test of cross regional, cross provincial and urban expressways.
Apart from the development of driverless vehicles, Shanghai Hydrogen Park is to be built in Jiading to cultivate an industrial chain for vehicles powered by hydrogen fuel.
With a planned space of 2.15 square kilometers, the industry park is expected to have a production value of 50 billion yuan by 2025.
Innovation-driven development
In 1958, Jiading was named Shanghai's "science satellite town." Sixty years later, on November 20, 2018, a satellite named "Jiading No. 1" was successfully launched from the Jiuquan Satellite Launch Center. The high-performance satellite was developed by Shanghai Space OK Co Ltd in Nanxiang Town.

A science and technology innovation gene is deeply rooted in Jiading's development. It has now gathered 11 national scientific research institutes, seven universities, more than 50 members of the Chinese Academy of Sciences and Chinese Academy of Engineering and more than 20,000 research fellows.
Focusing on the construction of a high ground of talent development, efforts have been made to form a talent system to meet the demands of innovation. Up to now, the total number of all sorts of professionals in Jiading has exceeded 370,000.
At present, Jiading is actively seizing development opportunities in three major industries — integrated circuits, artificial intelligence and biomedicine, striving to build the integrated circuits and Internet of Things and high-performance medical equipment and precision medicine industries into two 100 billion yuan industrial clusters.
With the help of science and technology to boost industrial development, Jiading is also paying attention to connectivity with surrounding areas, and enhancing the synergy of science and technology innovation.
Last November, the first Scientific Technology Fair for the Yangtze River Delta region was held in Jiading.
More than 170 enterprises from the region participated in the fair, which facilitated the capitalization and commercialization of their research and development achievements.
Pursuing quality life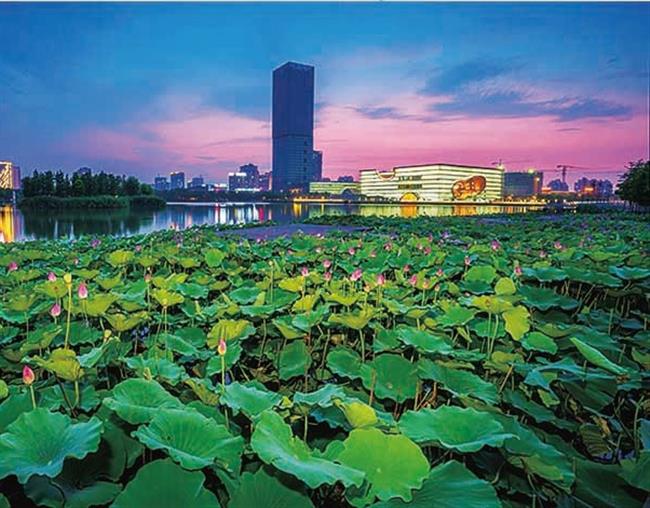 Ti Gong
Since the opening performance at the Poly Grand Theater on September 30, 2014, nearly 540 performance groups and 30,000 professional actors and actresses have performed on its stage.
This summer, the average attendance rate at the venue was more than 80 percent.
This is the perfect example of Jiading's urban functions — not only industries can support regional development, but also urban facilities can meet the need for a high standard of living.
In order to provide a comfortable living environment for its residents, Jiading's pursuit of high-quality life has never stopped.
In January 2017, the city's first 24-hour "Home Study" public library opened as an example of government-enterprise cooperation in Juyuan New Area. Now there are more than 30 "Home Study" outlets in the district.
Last summer, a footpath along the inner edge of the 6.5-kilometer Huancheng River in Jiading, Shanghai's only existing moat, was opened to the public.
When people walk on the path, the Jiading part of the renowned Chinese painting "Along the River during the Qingming Festival" is revealed in successive scenes.
Ti Gong
Meanwhile, first-phase construction of Xiangyang Village has been completed. The village will develop into a countryside complex featuring floristry, rural tourism, makerspace, catering services and elderly care.
In Lianyi Village, residences were concentrated to free up nearly 10 hectares of land which will be the cornerstone of a strong agriculture in the future.
By deepening cooperation with the Shanghai Land Group, Lianyi Village has established its own company. The village-owned company invested in the joint venture by pricing land use correctly while Shanghai Land Group invested in cash. Shareholders receive a portion of company profits in relation to their number of shares. Open market operation is adopted to ensure the interests of all.
Source: SHINE Editor: Chen Xingjie Special Reports