A different homecoming awaits returning students
22:43 UTC+8, 2020-03-19
0
As campuses shut in the West, some students are making the long trip back home. Although they have to be quarantined after landing in Shanghai, most see it as a necessary step.
22:43 UTC+8, 2020-03-19
0
Julia Jiang / Ti Gong
"When mom picks you up.

No hugs (sorry).
Mom will spray sanitizer on your bag.
…
Go straight to your room and take a shower.
Let's have a hug."
Rachel Yu found it funny when she read that part of the detailed two-page "tough time travel" guide written and sent by her parents, as the sophomore from the University of Southern California in the United States and her brother James prepared to return to Shanghai.
But it wasn't so funny when they landed at Pudong International Airport on Tuesday afternoon, just before a new policy kicked in to halt the spread of imported COVID-19 cases in Shanghai.
As of Wednesday, Shanghai has reported 24 imported cases, with 17 other suspected cases. Despite flight cancellations since late January, Shanghai's two airports still welcome 100-300 flights a day, many of them packed.
Yu filled out her health details before heading toward a temporary site for medical observations and tests.
The temporary site — a hotel room — was better than she had anticipated. Expecting no meals, Yu finished almost all her snacks and was surprised when dinner was delivered, which included pork and tofu. Breakfast was also abundant, though it was merrier when she learned she was tested negative and could head home to unite with her parents.
Julia Jiang / Ti Gong
Rachel Yu / Ti Gong
"Initially I was a bit upset because we had no idea about the new policy and just wanted to go home," Yu, who tested negative and was allowed to go home for a 14-day home quarantine, told Shanghai Daily on WeChat.
"But it was also necessary. The virus is a big deal. I know they are trying very hard to stop the virus from spreading further.
"I'm not mad that I had to go through the process. I can see the value in it. It makes us feel safer too, knowing that I don't have the virus, and will feel more comfortable when seeing my grandparents later."
Tracing every possible case and strict quarantine measures are essential to Shanghai's efforts to cut off transmission and protect the city amidst the epidemic in China.
Now, passengers from 24 countries can no longer go home or to their hotel for self-quarantine despite showing normal temperature and with no obvious symptoms upon arrival. Instead, they are taken to a temporary observation site for nucleic acid tests for the novel coronavirus.
Those with negative test results, usually available after eight to 12 hours, are then escorted to their residences or designated sites for a mandatory 14-day quarantine.

Their family members are also quarantined for the same period. Nobody leaves the house and nobody can visit them. Community workers help with grocery shopping and garbage sorting, among other necessities.
They are required to have their temperatures taken twice a day, along with other medical observations.
Yu's parents were prepared for the scenario once they persuaded Yu and her brother to return last week. In the "tough travel guide," they asked their children to wear masks for the entire duration of the trip, and change them frequently.
"Have some food onboard but eat fast. Wash hands whenever in doubt. Sleep well," they said.
Their grandparents, who used to stay with them, moved out and are scheduled to return only after they finish the quarantine. The family's dog was also taken away with nobody being allowed to walk the dog outside for two weeks.
"My parents wanted us to come back. Initially, it sounded somewhat counterintuitive," Yu said. "Then I realized it was getting worse in America. Now I'm relieved to be back home."
Ti Gong
As of Wednesday, the US Centers for Disease Control and Prevention has reported 7,038 confirmed cases, and 97 deaths. Though many young people presumed they were less vulnerable to the virus, recent studies in various countries showed otherwise. World leaders have also urged young people to cut down or stop going to public gatherings to protect themselves and others from the virus.
Yu had been on spring break, but even before that campuses were starting to close down with classes conducted online.
Schools and universities in the US started shutting off campuses as early as late February before a state of emergency was announced by governors and later by President Donald Trump. Some schools urged students to leave the campus by early to mid-March while others kept limited dorm rooms open for international students unable to travel home.
But it would have been difficult to stay in the dorms, as canteens were to shut, too.
Facebook help groups were formed to help connect international students and alumnae willing to host them, while many parents of Chinese students studying abroad started preparation for in-house quarantine and pushed hard to ask their children to return home.
As the global coronavirus situation evolved quickly and countries announced stricter measures and emergencies, including closing borders, international flights to China came back packed.
As Yu recovers from the jet lag, she has decided to take advantage of the quarantine to do more drawings and prepare for the online class starting next week. She can't wait to see her grandparents after the quarantine period is over.
"We are fortunate enough to be home now," she said.
"Tough time travel" tips by Rachel Yu's parents
1. When in the US

• Wear a mask wherever socially acceptable.
• Don't touch your face.
• Wash hands often with soap for at least 20 seconds.
• Wash hands whenever in doubt.
• Bring a set of clothing (in a separate bag) in your backpack you can easily change to when arriving at the Pudong airport.
2. When in flight
• Bring sanitizing wipes to wipe down your personal space, especially the screen area in front of you and the tray table. Don't use the pocket in front of you.
• Don't take out anything unless absolutely necessary.
• Wear a mask LAX-Taipei-Shanghai (I assume most passengers are Chinese) – change every four hours.
• Use disposable gloves when going to the restroom (watch out for the door handles).
• Sleep as much as you can.
• Don't get starving, but minimize eating and finish eating fast.
• Use hand sanitizer often and whenever in doubt.
• Don't touch your face.
3. When arriving at Pudong airport
• Wait time can be 4-7 hours.
• You will go through temperature checks and questioning by an epidemic control team multiple times. Stay together to the best you two can. Have your China phone ready.
• They will then decide whether you go home for self-quarantine (most likely for you) or go to a centralized quarantine hotel.
• When waiting for your checked-in luggage, take off your outside clothing, change to the clean clothing in your backpack, and put the clothing you took off in the bag that comes with your clean clothing.
4. When you get home

• Take off your outside clothing and shoes at the entrance.
• Leave all your backpack and luggage at the entrance.
• Go straight to your room and take a shower.
• Let's have a hug.
• Wipe everything you have taken out during travel.
5. When you are home
• You can't leave the house for 14 days.
• Grandparents will stay at DD's house for 14 days.
• No one (including grandparents) can come to our house for 14 days.
• We have no ayi so you need to clean up right after everything you do.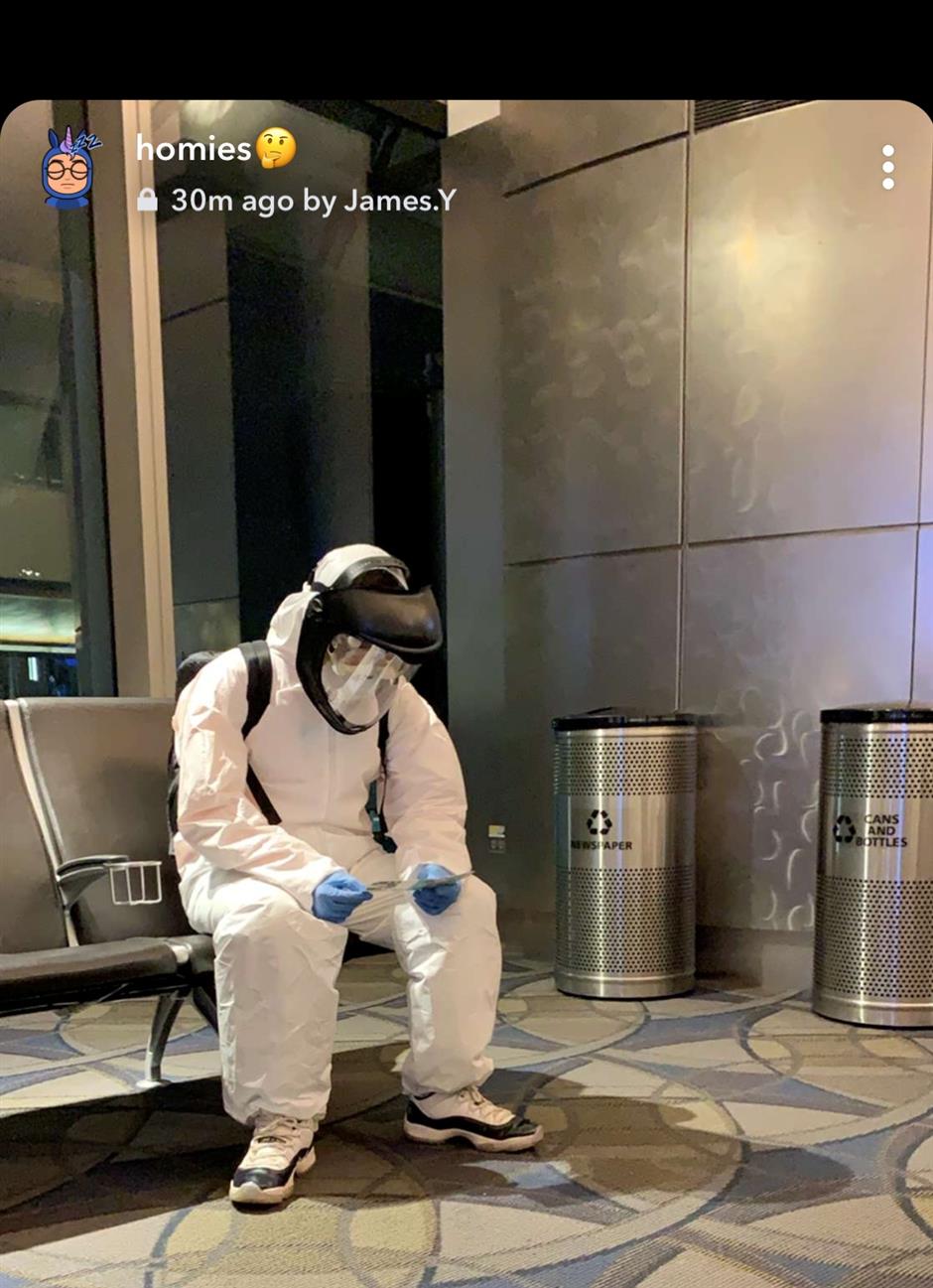 James Yu / Ti Gong
Source: SHINE Editor: Liu Qi Special Reports