Team's thumbs up to continuing the fight
17:05 UTC+8, 2020-04-01
0
A total of 758 doctors and nurses returned to Shanghai from Wuhan on charter flights on Tuesday afternoon with a Pudong team "signing" a petition seeking to keep fighting COVID-19
17:05 UTC+8, 2020-04-01
0
Ti Gong
After their return from Wuhan, a medical team from the Pudong New Area are seeking to continue fighting on the front line to prevent and control imported coronavirus cases in Shanghai.
The 19 medics from hospitals in Pudong traveled to Wuhan in central China's Hubei Province on January 24 as part of the first batch of Shanghai medical workers sent to the region hardest hit by the COVID-19 outbreak in China.
"We've accumulated full experiences against COVID-19 in Wuhan, so we apply to join the fight in Shanghai right after the end of our 14-day quarantine period," said Zhao Yunfeng, head of the Pudong team and director of Punan Hospital's respiratory department.
The Pudong medics have submitted a petition, signed with their thumb prints, to the area's health commission, which is under great pressure to screen and quarantine COVID-19 cases among the large number of inbound travelers at the Pudong International Airport.
A total of 758 local doctors and nurses returned to Shanghai on three charter flights with China Eastern Airlines on Tuesday afternoon. They included the first and ninth Shanghai medical teams, the second nursery team, the fourth traditional Chinese medicine team as well as medics from the city's Huashan, Zhongshan and Ruijin hospitals.
"The 68-day experience in Wuhan is engraved in my heart for for life," said Zheng Junhua, leader of the first Shanghai medical team and vice president at Shanghai General Hospital.
The 135 doctors and nurses from 52 local city and district-level hospitals assembled within three hours on Chinese New Year's Eve on January 24, the most important day in a year for family reunions in China.
They were the first medical assistance team to arrive in Wuhan on January 25.
At Jinyintan Hospital, which mainly treats serious coronavirus cases, the Shanghai team looked after a total of 170 patients, including 123 in a serious condition. Most (80 percent) of the patients have recovered, with the recovery rate for those in a serious condition over 72 percent.
"The first 10 days were the darkest period, when many patients died," said Zhou Xin, a senior respiratory expert with Shanghai General Hospital. To cope the increasing number of patients, the team had to add 200 beds in corridors.
"At the beginning, many patients suffered pneumonia and respiratory failure as well as damage to heart, liver and spleen, which brought great challenges for their treatment," Zhou said.
"It was like a real war. You can never imagine the horror of COVID-19 without entering the wards for patients in serious condition," Zhou said.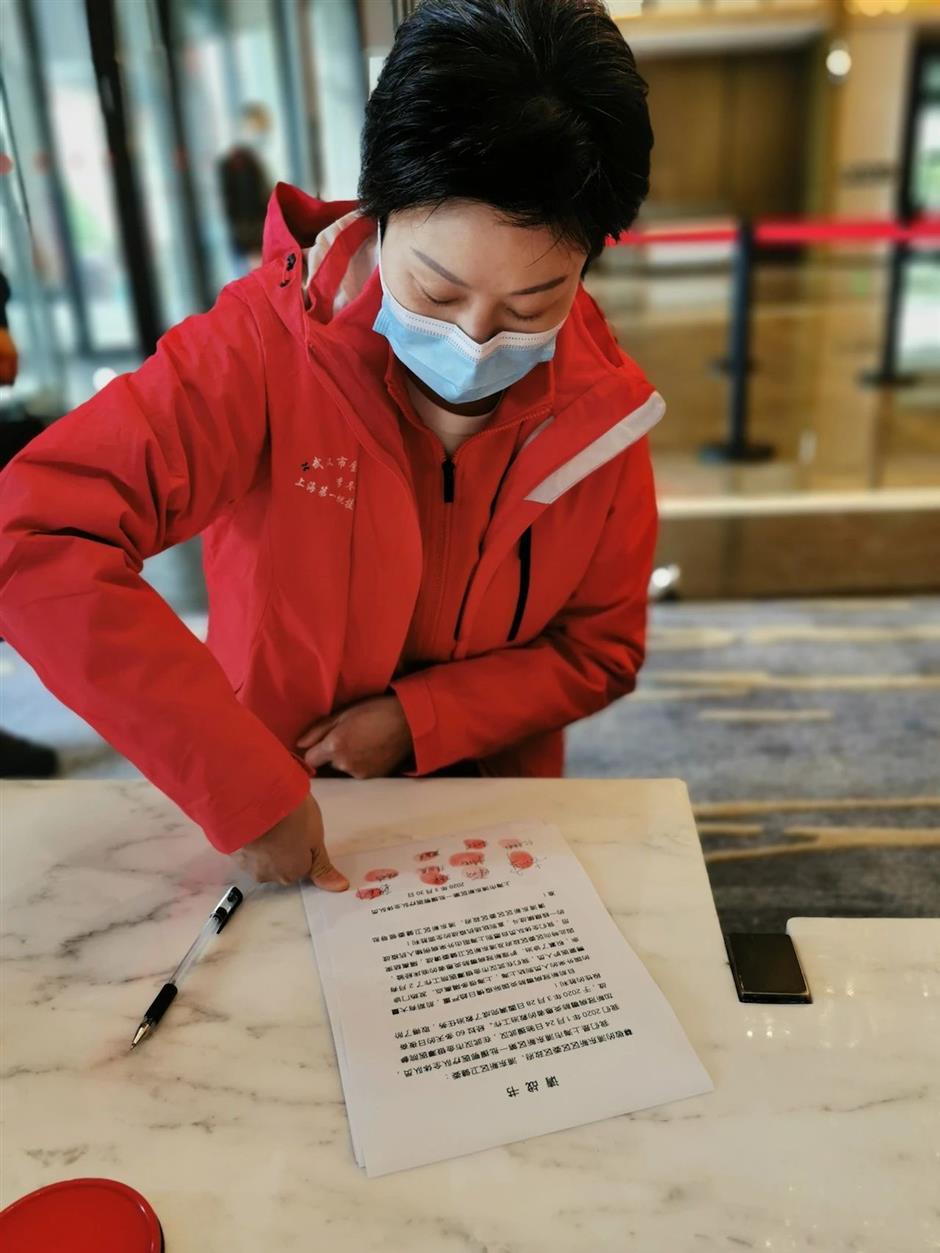 Ti Gong
Zha Qiongfang, a respiratory doctor with Shanghai Renji Hospital, kept a diary to relieve her mental stress.
"Whenever a patient died, I had to call to inform the family, which is the most depressed period to me," said Zha. She recorded every detail of her work in Wuhan. Sometimes, she had to work continuously for 15 hours in a hazmat suit and could only get a few hours' sleep.
Chen Shu, a professor with Shanghai Huashan Hospital, said his memories of the past two months in Wuhan included both pain and happiness.
"The feeling of helplessness when patients pass away is just like yesterday," Chen said. "But the excitement and happiness when we managed to bring back those in a dangerous condition are also impressive," he said.
"I just feel lucky to be part of the historical event and contribute my efforts," Chen added.
Jiang Jinjun, deputy director of the respiratory department at Shanghai Zhongshan Hospital, was dubbed as an "inventor" at Jinyintan Hospital. He led a treatment team to take care of those in dangerous conditions.
Combining the experience of Jiang's department and remote consultation with experts in Shanghai, many patients were made stable.
Jiang led an team to develop an innovative "nose mask" to protect medical workers when they had to remove face masks to eat or drink.
Members with the Shanghai team have published their experience in Wuhan on professional medical websites. Their research papers have attracted tens of thousands clicks and over 40 consultations from counterparts across the world, Shanghai General Hospital vice president Zheng said.
Before returning home, the team members cleaned the wards and offices they had worked in. All their remaining medical supplies were donated to Jinyintan Hospital. The Wuhan hospital presented a jacket to each of the Shanghai medical team members.
China Eastern's MU9004 flight carrying 264 local medics left Wuhan at 2:15pm and landed at Hongqiao airport at 3:16pm, followed by Shanghai Airlines' FM9012 and China Eastern's MU9006 with other team members.
Nationwide, more than 7,000 medics returned to their hometowns from Hubei Province on 51 charter flights on Tuesday, the largest retreat of medical workers from the epicenter of the COVID-19 outbreak.
Over 32,000 doctors and nurses from across the nation who helped fight the pandemic in Hubei went home on a total of 235 charter flights between March 17 and 31, the Civil Aviation Administration of China said.
Ti Gong
Ti Gong
Ti Gong
Source: SHINE Editor: Wang Xinzhou Special Reports